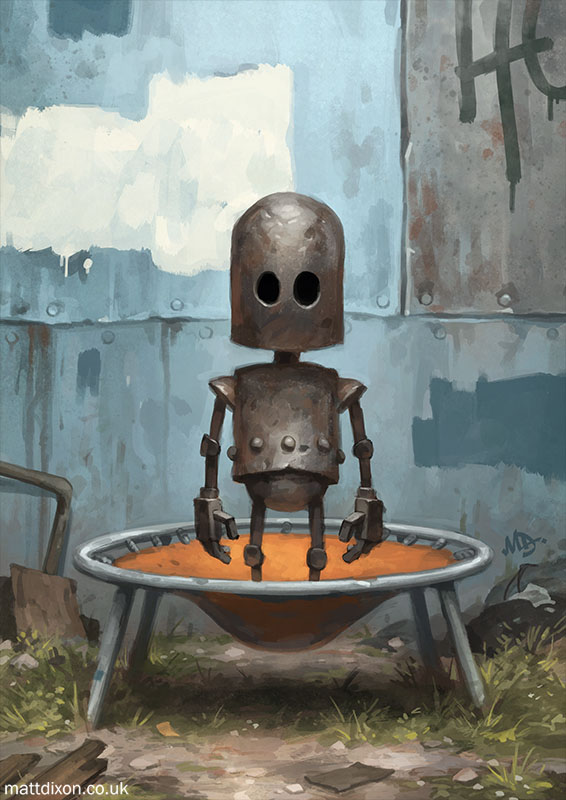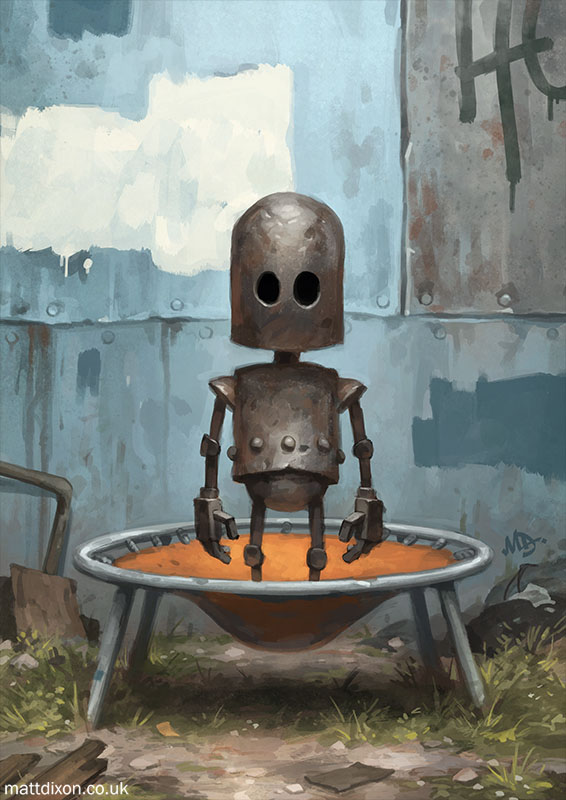 Taken from my new robot art book, Transmissions 5, now funding on Kickstarter -
bit.ly/TranS5

unique. strong image. really enjoy it!
Reply

Reply

Reply

Cute

can he bounce on the trampoline or is he too heavy??

Reply

Reply

Transmissions 5. Robots in Disguise.
Reply

Excellent work!

Reply

That someone with your skills and talent still has to go to Kickstarter to release an Art Book shows only how damaged our World is

...wich is not funny at all )...
Love your Artwork, and will watch for shure...end of transmission...

Reply

You suggest that Kickstarter is somehow a worse route to publication than a traditional, established book publisher?
Far from it. Kickstarter means that I have complete control over the design and format of the book. I also set the schedule, pricing and the way the book and campaign are marketed. I would have less influence over that stuff if someone else was publishing the book. True, a publisher could get the book out to a larger audience but they also keep the majority of the profit.
It's a lot of work. Especially once the campaign ends and the book and rewards have to be printed, warehoused, packed and then shipped out but I'm happy with that extra time and effort in exchange for complete control over the process and the knowledge that the project is fuinded by people who love the work.

I've had several books published through traditional publishing methods but I much prefer Kickstarter. It's empoweing for creators and that contact with the backers who make it possible is truly special.

Reply

You made some valid points there for shure, but if you count all the Hours that you have to invest into such a
kickstarter campain ( offering little Gifts/ Rewards for higher Donations, and all the other stuff that comes allong with that, for example Administration Work ) then i must say i does not pay off.
Take the traditional way for example, a Publisher, who has all the connections and none the less a Distribution Network they take care of everything ( if it´s a good Publisher ), you can not denie those fact´s.
It is the same illusion as if a Sculptor would say; yes, i´ll release a Garage kit, and make some Money...that is impossible, because most Artist´s forged to pay themself even a minimum wage for all thier Work...it will just never pay off.
Ad all the Hours and Work that you have to invest and multiply it only with the Minimum wage, you would be surprised about the end result...( and that is not meant to be funny )...

Please dont get me wrong, i realy like your Art, ...and if that makes you Happy then it is of course totaly fine, but dont tell me that you can make a real Profit out of it...

Reply

Reply