Art We ♥ is a hand-selected art feature, chosen by deviantART staff members, showcasing art we believe the community will enjoy.

Some thoughts from Katie (thesmallwonder)
"See a penny pick it up, all the day you'll have good luck!"
It doesn't matter that I'm not a little kid, I still pick up pennies for luck when I see them. Though they have to be heads-up, of course. I also refuse to walk under ladders, I don't open umbrellas indoors, and I try my best to avoid cracks in the sidewalk. It might be silly superstition, or maybe there's something more to it.
What ever you believe, cultures and countries around the world and throughout time have decided that different symbols, animals, and events represent good luck.
Check out some of our favorite signs of good luck below!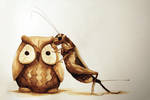 I want to hear from you!
How did these symbols get their meaning?
Do you believe in good luck and bad luck?
What symbols represents good luck to you?
Share your thoughts in the comments below!