Welcome to the Ketucari beta event!
Ends Saturday July 2
Ketucari
is now open and ready to welcome our first wave of beta members! Make sure to read this journal in full, as it'll explain how this event will work and what's going to happen with the group in the future. We hope you guys will enjoy what we've begun to create and will stick with us to see what becomes of the project!
What exactly is the group's beta phase?
We've been working on putting this group together for the past few months, trying to make it as much like a "real game" as we can. It was previously our intention to wait until the group was completely finished before we opened it, but I (
Umbrafen
) have come to the realization that the group's development simply cannot go forward without seeing how some of our systems actually work, and getting the opportunity to fine tune them. It goes without saying that you can't do that without players, so we've spent the last few weeks getting the group tidied up and functional!
Basically, we will be temporarily opening up the group for the first ketucari owners, as well as handing out free genotypes, to help us test and tweak the game before it's opened up permanently. This opening will last only a week, so hop on board while you can!
What's expected of beta members?
Simple. Just play the game! By participating, you'll help us find out what numbers and systems need fixing up so that we can get the group running as smoothly as possible. We'll be wide open to suggestions and any feedback you'd like to offer that will help up fine tune the game.
All aspects of the game are subject to massive changes.
We will listen to anything you think we should make simpler or more conducive to continuous game play!
What happens when beta week closes?
Hopefully, you guys will continue playing the game and we can continue developing it. Other than that, nothing will really change other than the fact that we will no longer be handing out free genotypes. Since beta members will be able to breed their ketucari, new members will still be able to join the group by purchasing genotypes from existing members as well as admin-offered customs if there is enough interest.
There is no set time frame for when group development will be considered "finished", but when that happens we plan to open up some sort of adoption center so that new members will have an easier time joining.
Are there any other events I should be aware of?
Yes, indeed! Here's a list of what else we have going on:
I'm interested! How do I get started?

Here is a good place to start:
Getting Started and FAQ
You can find all sorts of useful links there and begin exploring the group to see if it floats your boat!
Next, click the join button on our front page to become a member of the group! Join requests are automatically accepted.

Make a journal with a link to the group and our beta event. We want to rake in as many people as possible over the next week so that we can get as much feedback
and test subjects
as we can!

Your next task will be to figure out what you'd like for your free genotype! This is a "thank you" from the group for taking part in our beta phase! Read the limitations below carefully:

Bases for these genotypes will be limited to
buff, bronze, brown, and charcoal
. You can find what those look like here, under base colors!
Design Guides

Only the
smooth
feather type is available.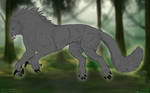 You are allowed a maximum of
four
genes. You can choose any four from this list:
Silvering
Speckling
Spotting
Vent
Washout
Sable
Shell
Barring
Bleaching
Blood Burst
Pangare
Mottling
Mantle
Lace
Hued Points
Hood
Frill
Filigree
Fading
Ember
Dusky Points
Charring

Once you've figured out what you want, respond to the comment here to claim your genotype with the following form filled out!
comments.deviantart.com/1/6174…
Link to your advertisement journal:Chosen base color:Genes (up to 4):Sex:
As soon as an admin confirms your genotype and gives you the lineage, you are free to design it! Follow the instructions here to submit your ketucari for approval and upload:
Submitting Your Ketucari
Once that's done, you can begin taking part in the group!
At the end of beta week, we will be randomly selecting one of the sign-ups to receive a free fantail semi-custom!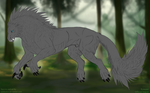 There is a max of ONE free geno per person! Free genos may not be sold.