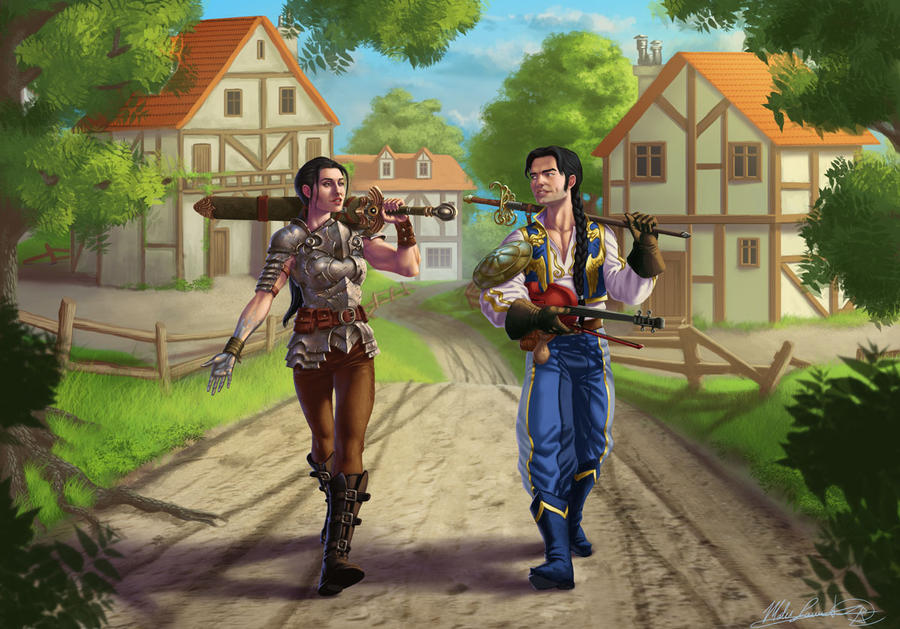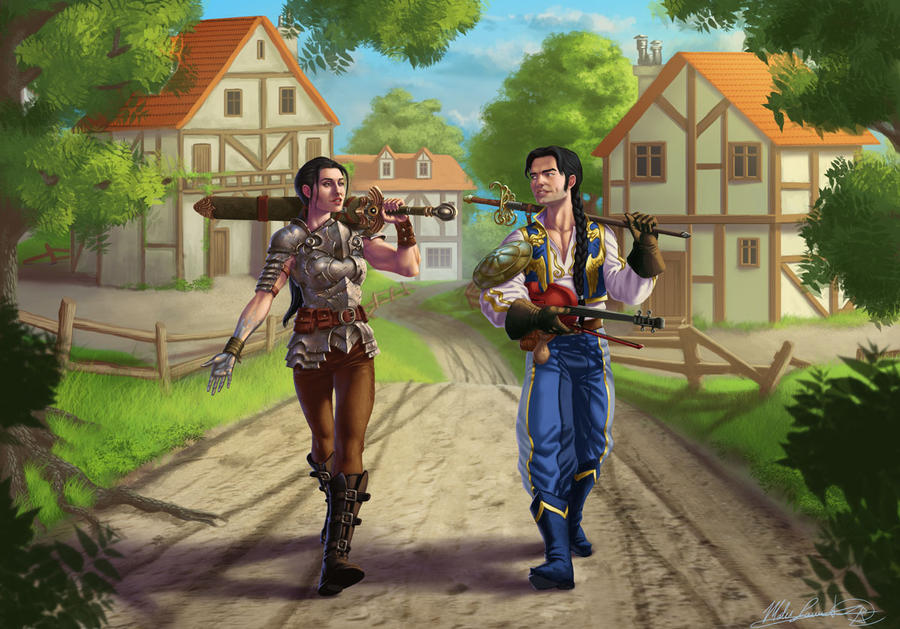 Watch
This was another d&d commission, two partners going to spar in the morning, outside the village. I hope you like them and the overall image.

Reply

wow - i really love the female armor!
Reply

The story goes she made it herself and its her first armor, thats why it looks more haggard and not that polished.

Reply

the guy is a bard?
lovely work

Reply

Yes, he is - or at least thats what I was lead to believe from the description. But in all fairness, what other kind of adventurer would carry an instrument with him to a sparring?

Reply

You never cease to amaze me with your art.

Love the obvious camaraderie between them! And I love how the girl has a bigger sword.

Reply

Lol, well, between them I'm guessing she's got the more physical strength too. Karim, her friend is more of the jump around and stab you in the heart kind of guy, rather than pure slashing power person.

Reply

Will be real sparring between them, or just hack'n'slash

?
Reply

Wow! That's awesome! I really like the outfits, the poses and the weapons! Very well done indeed!

Reply

I'm glad you like it. Part of all this is due to the client since I envisioned his description.
Reply


I simply love how your painting looks so real.. their faces and expressions like if they are really in the middle of a friendly talk

Yet I have several questions:
- why the violin? (is he going to play it to calm her when she gets into rage?

)
- why has he got the small shield on his arm? (I guess she is lefty due to bigger muscles on her left hand and therefore I understand he has the shield on his right arm if it's a cover)
- what is with her right hand? Looks metallic.
- and why the hell she has such a big sword against his thin rapier? A male chauvinism, dear painter?

They have beautiful and imaginative cloths as always

And the background is so romantic and pure

I don't know how you paint the street, but it looks like a photo.. even with the realistic shadows.. so many words for just one - beauty

Reply

Oh Evi, so many questions... Lets see:
- I don't know exactly whats up with the violin. The guy is a bard and perhaps carries it with his everywhere. Maybe its kind of like a Stradivarius nd he wants to keep his eye on it at all times.
- the small shield is called a "buckler". Its the balance against bigger weapons (like the girl's broad sword). She doesn't has a bigger arm, the armor and the angle give that impression. Actually a sword that big would pretty much need both hands to be swung a sword like that. The buckler is used to parry and open the guard of the adversaries so the rapier can go in and do its job.
- Her right hand is afflicted by a weird disease which makes her skin look like metal.
- I don't know why she has a bigger sword, maybe because she is so strong and you have to use what you have. She traded dexterity for some extra power. A big sword has advantages and disadvantages as a thinner sword has. It grants more cutting power due to the weight but it takes from the maneuverability.
And no, no chauvinism.Remember this is a commission and I did what I was required by the client. Its part of the reason my answers to your questions are not 100% guarantied to be true.
The background had to be in tone with their friendship and goodwill. As for the road, its texture and painting, both. I initially tried to achieve the road effect by painting alone but I wasn't arriving at the desired effect. So I combined a dirt road texture with my painting and the result you can see.
Reply

Thank you very much for the answers

This is why I love your paintings so much - a beauty for eyes and new knowledges together with thoughts about it as food for brain

=> more than a painting, really

Reply

I'm sorry most of the time I don't know the answers to all the questions. I base all of my commissions on descriptions and sometimes on references from the clients. But most of the time I just have to imagine how things would look even if I don't understand myself exactly why it must be like that.
Reply

I'm sorry most of the time I have too many questions

It must be extremely difficult to unite your client's fantasy with yours.. yet I really enjoy those maybes and perhapses

Reply

Honestly talking my own imagination is suffering. I was used to create a lot, characters with my own back stories. Each scar, each scratch had its own story. the belt buckles and the weaponry. Now I only bring to life other people imagination. Its why I have my own projects going on the side, engraving and sculpting and working with metal. I feel to be creative on my own.
Reply

Hmm, I understand. It would be interesting to see the instructions you get so the watchers can appreciate, how difficult it was to fulfill the request and what is purely your imagination.. but I guess nobody can set so many details as you paint, so beautiful expression and the lovely mood

Reply