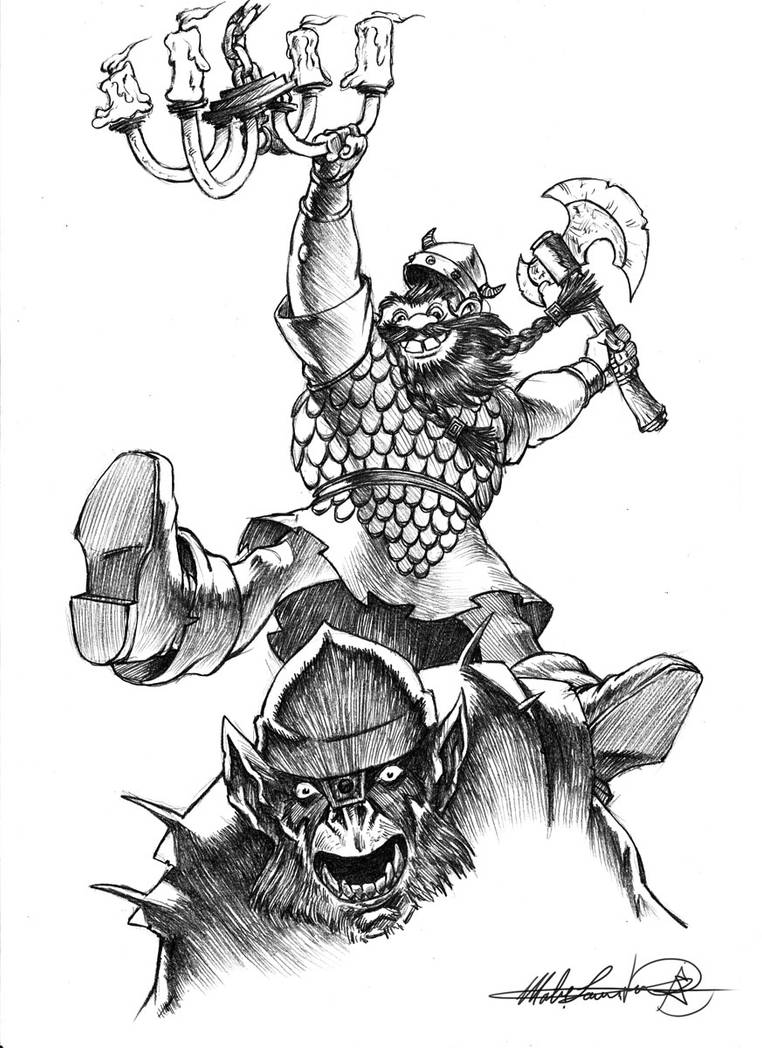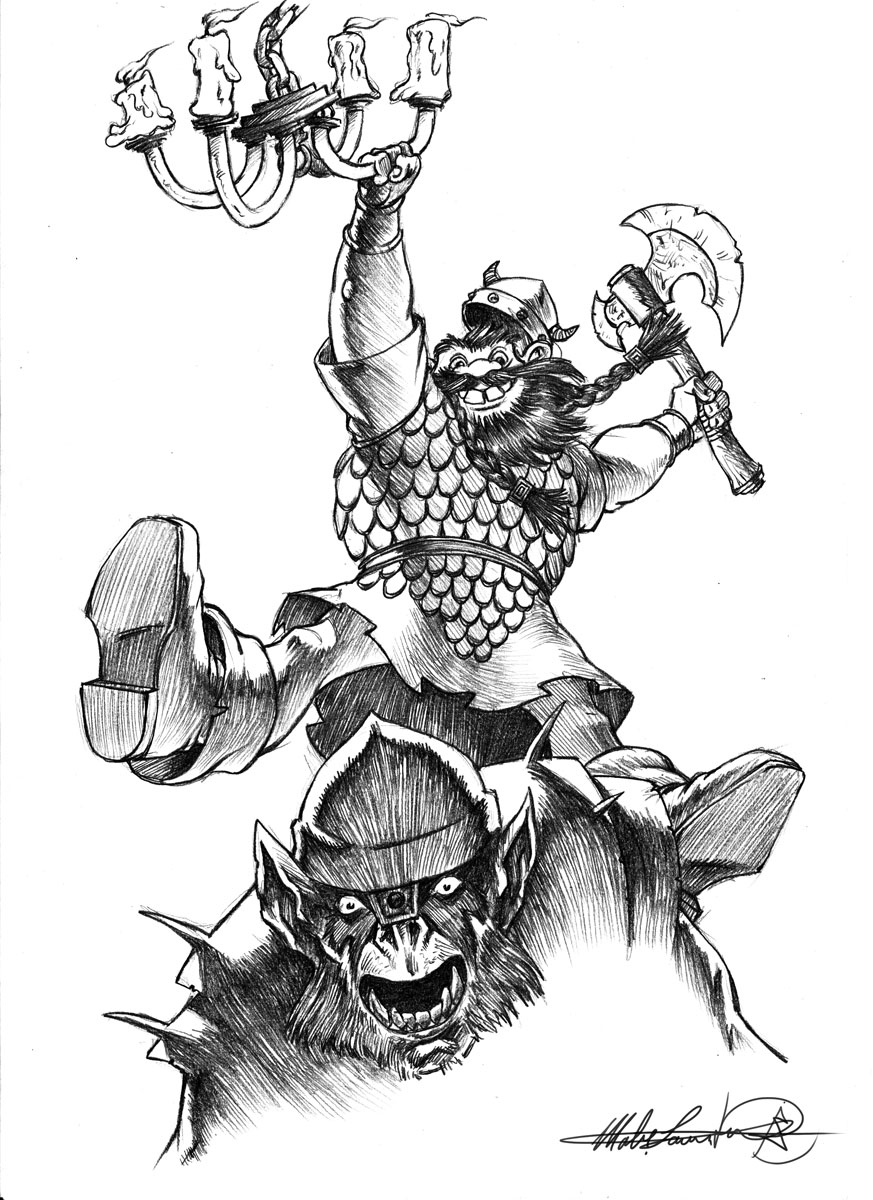 Watch
This is supposed to appear soon in an article on Dungeon Mastering on a frequent D&D problem of the DM's: the over the top player. You know whom I speak of, the one guy at the table who's character is trying to kill an ogre by hanging upside down on a chandelier with his little toe while making a precise shot to the ogre pineal glad in mid swing with a tooth pick.
So if you're a DM having issues with such a player or if you are an exaggerated player trying to bump into common sens, keep an eye out for the article on this site: www.dungeonmastering.com
I've already illustrated another article there considering the perspective and views on damage and hidden hit points. You can view the illustration and the article here:
[link]

lovely expression on both of them.
Reply

Very energetic and fun, I love the shading and the dwarf's expression is priceless.
Reply

Yeah, he looks like he's having a blast. But so are the player who over play their character. Its just the DM that doesn't always smile

Reply

Oh man... I really hates that players... jajajaajaja, anyway, good job as always (even in cartoons you rock! XD)... and checking the link... I need ansews. XD
Reply

Do check, they have developed a nice system of hit point and a logical one for playing the character in battle while receiving damage. This article about the uber nasty players I'm not sure its up yet but soon.
Reply

jajajaja, i did... But I prefer my system... We use a nasty "Hit table" (with d100 (%)), so when someone sussecfully hit an oponent, I roll the d100 and search for the kind of damage (Cut,Blow,Stab,etc) and the part of the body that was damaged, the table also tells the acumulative efect in the body of continuous hits in the same area (example: penalties in habilities, atacks, movement,etc). Ans allows the suden death (with a percent of succes) in some cases (like a stab in the heart)...

jajajajajajaja, The players hate the table... Because the magic of the basic manuals only heal bounds or recover Hit points, but donīt remove scars or regenerate members. So, we have to create new magics because the sissy sorceres donīt want a giant sacr in the middle of his prety face.

JJAJAJAJAAJAJAJA
Reply

Lol, sounds complicated and messed up. Its pretty much what I used myself. I had one guy once who got smashed by a giant in a barn and was resurrected in a hurry. So, because they didn't took properly care of the remains and just were content to resurrect the guy on the spot, I raised him with hay sprouting up on his head and on his body here and there, he was oozing crap and mud instead of sweat and he smelled like cow and horse dung at a mile around him until they managed to find a temple and do a cleansing ritual to remove the bad stuff from the guy.

I know, I'm evil.

Reply

Great as always my friend

Reply