As I've been tagged by

here
, I'll do my best to answer her questions.

1. You must post these rules

(and/or edit them to your liking)




2

. Answer the

9

questions the tagger gave you and then invent 9 of your own


3. You must legitimately tag 9 people




4. Tagbacks are allowed!


5. You must make a journal entry

1. what is your favorite song right now and what was it in the past? (youtube links appreciated)
I don't know about right know, but these were among my favourites fairly recently:



2. what is the meaning of life?
42.

But besides that, I suppose it is to live. Or, more precisely, to live well.

(What does that mean? That's another question...)

3. what plants do you have at home? what do they think about you?
Mostly cacti and some devil's ivy (Scindapsus). Others starved to death. Which should also answer the question what they most likely think about me. (But I like plants and flowers, I just sometimes forget about them

)

4. imagine you know nothing about earth and universe and you look up at night and see the stars, what would you think? what would you think about the moon and it's changes?
That these are the most beautiful jewels I've ever seen; perhaps I would desire to see one fallen down on earth. The moon would most likely seem very mysterious, with its phases, ever changing and returning. But maybe I would also find it useful for measuring time.

5. what is the most epic book you have ever read?
Lord of the Rings, definitely.

6. what are the three most meaningful pictures for you from your favorites?
That's so difficult to tell, there are so many of them. But if I choose just from among the most recent ones, then perhaps these: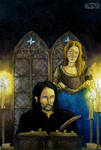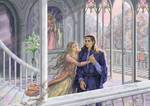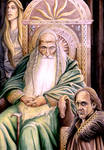 (Apparently I like Tolkien and I like blondes

)

7. imagine you have the skills you wish you had and you don't have to worry about money, what would you create?
A great, beautiful, richly decorated book (or more books) which would be some kind of cross between a medieval illuminated manuscript and a modern graphic novel. Either as an adaptation of Tolkien or as my own story.



8. what is your favorite idea/thought/problem/question?
That's a difficult one.

Perhaps recently I think about the problem how to reconcile imagination, fantasy, artistic creativity, the desire to make beautiful art with the need to be "realistic" and "practical" about life, in other words how to create art that is at the same time beautiful, imaginative, meaningful and relevant.

9. what kind of person would you like to be?
The one I'm supposed to be. Which is quite a hard work most of the time...

Questions:

1. Which artists (outside of dA) do you think have influenced you the most?

2. And which artists here on dA?
3. What is currently your favourite piece from your own gallery, or which one you are most proud of?
4. What is your favourite colour combination when creating your own art?
5. What is your favourite architectural style? And some particular example?

6. Which fictional character you have not yet depicted, but you would like to?
7. What real-life place and what fictional place would you like to visit?
8. If you could change one thing in history, what would it be?
9. What is your favourite mythological creature?

Tag:










(I apologize in advance to anyone affected, but if you find it interesting, I'm looking forward to see your answers, and if not, it is Ffey's fault

)