This autumn I was working on a booklet about the church of saint Ludmila in Prague, as you may have already noticed if you watch my gallery.

It was a commission for the municipal government of Praha 2 (the 2nd district of Prague) and part of an ongoing series about the churches in this part of Prague – I've already made eight of them and hopefully the series will continue (there are still several more churches to cover).
I designed all of these booklets and for some of them I am even the author of the text. I love art history, so It was a pleasure to study and read about the churches and their history, architecture and decoration. Compiling all the sources into the final text certainly isn't an easy task, but still it was quite interesting and I think a good practice in writing. Almost simultaneously with the St Ludmila booklet, I also worked on another special booklet about the destroyed (demolished in 1791) Corpus Christi Chapel on the Charles Square; the text for it was written by a famous Czech author Petr Stančík.
But most importantly (from the point of view of me as an artist), for three of the booklets including the latest one I also provided cover illustrations of the churches. To my pleasure it seems to be quite popular: Several people told me these booklets with a painting on the cover stand out from majority of other publications with only photos, so I hope I was successful in carrying out my idea.

The three churches which I painted for the booklets so far were these: Church of Saint John of Nepomuk on the Rock, Church of St Ignatius and finally the church of St Ludmila (For more information about the churches, click on the thumnails below):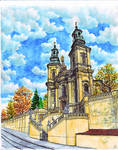 As I already mentioned, I enjoyed working on this project, though this time I had to finish it in a bit of a hurry before the deadline, so it was quite hard work and I was not completely satisfied with it, as I didn't have as much time to fine-tune both the composition of the booklet and the cover painting itself.
But still I was looking forward to seeing the finished product. Now finally I have got my copies of the printed booklet, so I'd like to share some photos of them with you.
Here is the cover: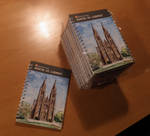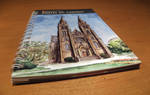 And some pages of it as an example (unfortunately the text is only it Czech):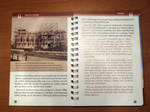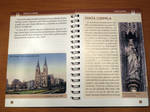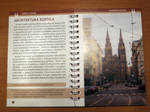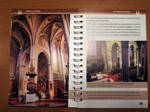 So what do you think about it?

The booklet series can be also viewed in PDF format
on Praha 2 official website
.