After I finished my latest painting, the
Message in a Bottle
, I realized an interesting thing. As I mentioned in the description, it was painted for the December 2017 monthly challenge on the Czech illustrators' website
Projekt ilustrace
. And exactly two years ago, for the December 2015 challenge, I made the picture
Lady of the Beech Wood
. I can't help but see a striking resemblance between these two.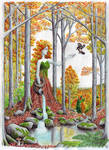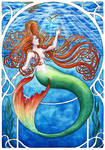 Both depict a female half-human being, strongly associated with certain natural environment, with a long and rich hair, shown in profile looking right, with her left hand reaching up towards something...
But when I showed this to my wife, she didn't find them that much similar – one being more of a spirit or personification of nature, while the other an actual (if mythological) creature, one painted more realistically with detailed background, while the other is more stylized Art-Nouveau-like with the decorative border.
So I don't know, is it just me, or do you see there an interesting similarity as well? What do you think?