Some people recently have asked me about my creative process, so I made a piece explaining some of steps I take when composing a more complex illustration such as
Tom and Goldberry's First Meeting
. It doesn't focus so much on the drawing technique itself, but it is more about the way I collect reference pictures and use them for inspiration when I compose my own picture. Here it is:

And the finished piece: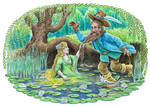 Do you find it interesting? what is your creative process? And would you like to see more pieces like this, perhaps focusing more on my drawing process as well?
Also, I'm thinking about making some tutorials, but I'd like to know, whether you would be interested?
Or should I rather cease such rambling and focus rather on drawing?