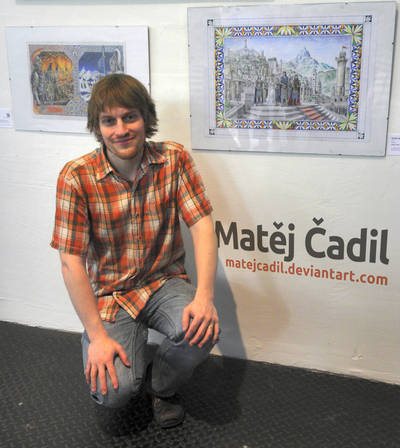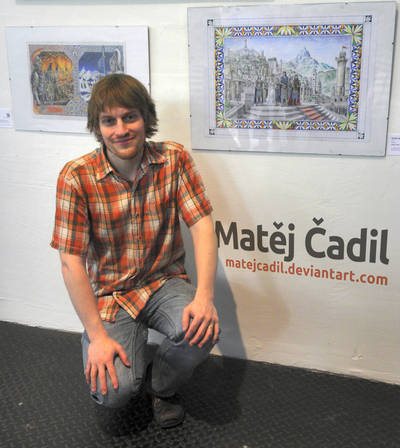 Watch
Time to change my id photo


Well hello there

Reply

Nemůžu se nezeptat: co je ta ilustrace napravo?
Reply

Haha, zajímalo mě, jestli si toho někdo všimne!

Je to obrázek, který jsem původně vymyslel pro soutěž "Never seen before" tolkienovských skupin tady na deviantArtu, ale nestihl jsem to udělat. Tak jsem to dal aspoň právě na tuto výstavu, i když taky ne v úplně dokončeném stavu (např. rámeček okolo). Pak jsem na tom ještě trošku pracoval, nicméně kvůli jiným obrázkům a dalším povinnostem jsem úplné dokončení musel trochu odložit. Ale už to snad brzo bude připravené ke zveřejnění.

A pokud jde o to, co na tom obrázku je – zatím nebudu prozrazovat. Myslím, že je možné to uhodnout, i když na téhle fotce je to asi moc špatně vidět.

Reply

Je to nějaká svatba. Těžko říct jaká, ty postavu nejsou moc dobře vidět, ale podle okolí bych skoro tipla na jistou v Gondolinu... Anebo by to mohl být i Tirion...
Reply

Svatba jo.

Ale jinde.

(napovědět může styl architektury ve srovnání s jinými mými obrázky) Ale rovnou říkám, že nejde zase o tak zásadní událost v rámci nějakého příběhu a ty postavy, jichž se to týká, jsou spíš vedlejší, ovšem jsou všechny známé a tahle svatba měla význam hlavně pro další vývoj událostí.

Reply

great!

Reply

You look so friendly (so it fits to your kind behaviour

). Very nice photo, I'm enormously happy about your art's exhibition, gratulacje!

Reply

Very nice picture. Congrats on your gallery, it's magnificent!

Reply

It's nice to see you next to your pictures

Reply