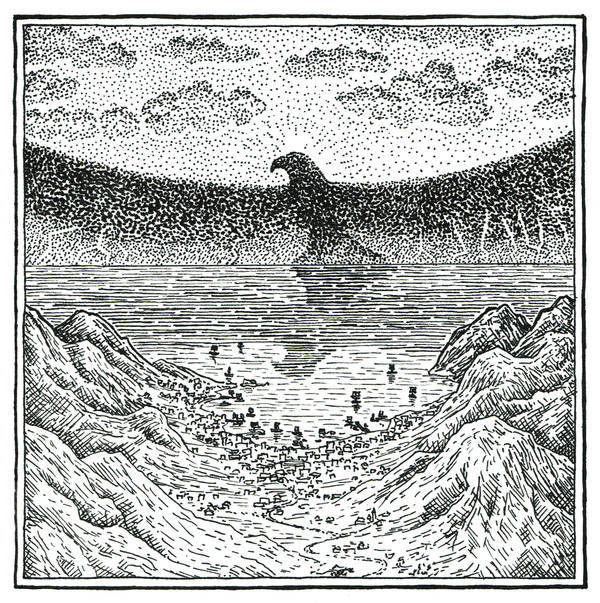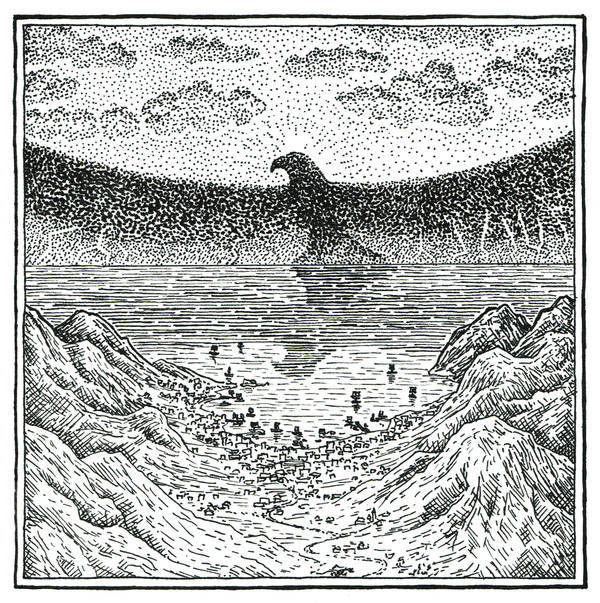 Watch
And out of the west there would come at times a great cloud in the evening, shaped as it were an eagle, with pinions spread to the north and the south; and slowly it would loom up, blotting out the sunset, and then uttermost night would fall upon Númenor. And some of the eagles bore lightning beneath their wings, and thunder echoed between sea and cloud.
Then men grew afraid. "Behold the Eagles of the Lords of the West!" they cried. "The Eagles of Manwë are come upon Númenor!" And they fell upon their faces.
Then some few would repent for a season, but others hardened their hearts, and they shook their fists at heaven, saying: "The Lords of the West have plotted against us. They strike first. The next blow shall be ours!" These words the King himself spoke, but they were devised by Sauron.
J. R. R. Tolkien: The Silmarillion: Akallabêth – The Downfall of Númenor
I concieved this picture for the inktober 2018 Day 27 prompt "thunder", but I had so busy end of October that I couldn't make it in time. Still I really liked the idea, so I finished it at least belatedly.
I love this vivid imagery in Tolkien's description, the end days of Númenor feel really apocalyptic. There is a similar picture by Ted Nasmith which might have inspired me, so the concept of this picture is not quite new, but I tried to do it in my own way.
Coincidentally it is also quite similar concept and technique to my previous picture The Realm of Sauron is Ended (Inktober Day 26) (though the meaning of the scene is in fact rather opposite).


Deft work with that difficult medium, and superb impression with the storm eagle. If one was to wish for more, then it would have been a bigger fleet with some visible galley oar rows to be glimpsed, but that's mere nitpicking. Great artwork!

Reply

Thank you for your comment! I was thinking about drawing more ships, but I was afraid of overdoing it.
Reply

This is really lovely. the line work is nice, i like the reflections in the water and the hatching in the mountains.
It reminds me of Tove Janssons illustrations for The Hobbit
Reply

Magnificently cosmic. THEY WERE WARNED.

Elendil the Tall listened, at least...
Reply

I love your interpretation. Your ink work is so good.
Reply

That's great! I enjoy it so much.

Akallabeth deserves more love and pictures. A short tale, but such greatness, hubris, passion, such tragedy, such cunningness and intrigues and the dramatic ending as there, they are rarely seen elsewhere. Sauron singlehandely subjugated the greatest empire of the Children only by using his great intelect.
Reply

Indeed, it is a powerful story, a good connection between the old world of the First Age and the later time coming up to the Lord of the Rings.
Reply

I would love to know more about the Second Age, especially Celebrimbor and the forging of the Rings and the War of Elves and Sauron.
Reply
I love the reflection of the eagle on the sea! Actually, I think the whole illustration is magnificent, but that detail struck me the most. Very powerful.
Reply