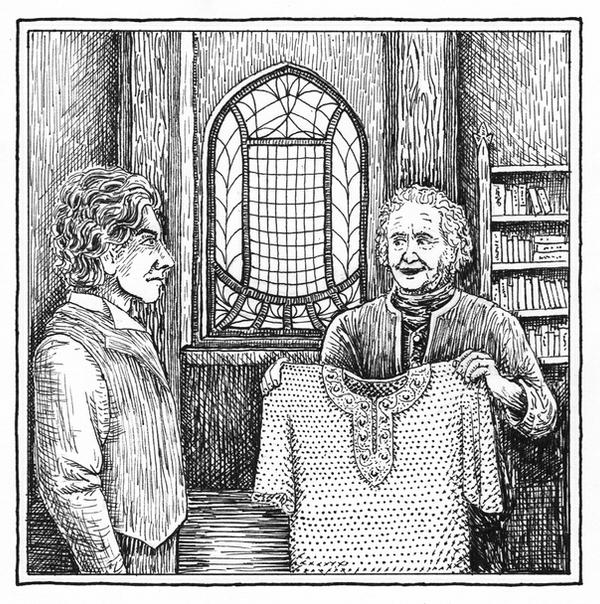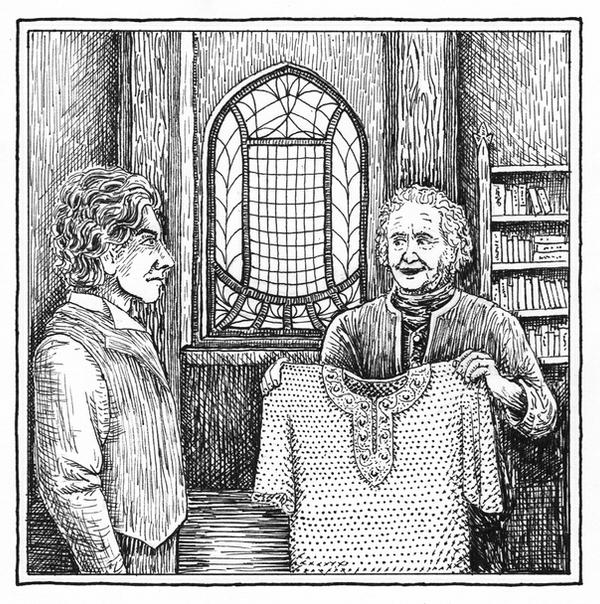 On the morning of the last day Frodo was alone with Bilbo, and the old hobbit pulled out from under his bed a wooden box. He lifted the lid and fumbled inside.
(...)
"Also there is this!" said Bilbo, bringing out a parcel which seemed to be rather heavy for its size. He unwound several folds of old cloth, and held up a small shirt of mail. It was close woven of many rings, as supple almost as linen, cold as ice, and harder than steel. It shone like moonlit silver, and was studded with white gems. With it was a belt of pearl and crystal.
"It's a pretty thing, isn't it?" said Bilbo, moving it in the light. "And useful. It is my dwarf mail that Thorin gave me. I got it back from Michel Delving before I started, and packed it with my luggage."
"I should look, well, I don't think I should look right in it," said Frodo.
"Just what I said myself," said Bilbo, "But never mind about looks. You can wear it under your outer clothes. Come on! You must share this secret with me. Don't tell anybody else! But I should feel happier if I knew you were wearing it. I have a fancy it would turn even the knives of the Black Riders," he ended in a low voice.
J. R. R. Tolkien: The Lord of the Rings, The Fellowship of the Ring. Book II, Chapter III: The Ring Goes South
I think this is the first time I made an illustration really closely showing these two central characters. And I found it very interesting trying to depict them, as it forced me to clarify my mental image of them. At least to a degree, because I didn't have enough time to spend on it (still I finished it late for the inktober day). But still, Ilike the way they came out – Bilbo perhaps more similar to the film version (which was not intentional, but I don't mind that, I liked his portrayal by Ian Holm), Frodo less so, perhaps rather inspired by Anke Eißmann's illustrations.
What do you think?


I very much like this Frodo. Much preferred Ian Holm's Bilbo. That shirt was ever so much more than treasure.
Reply

so cool

Reply

Reply

Reply