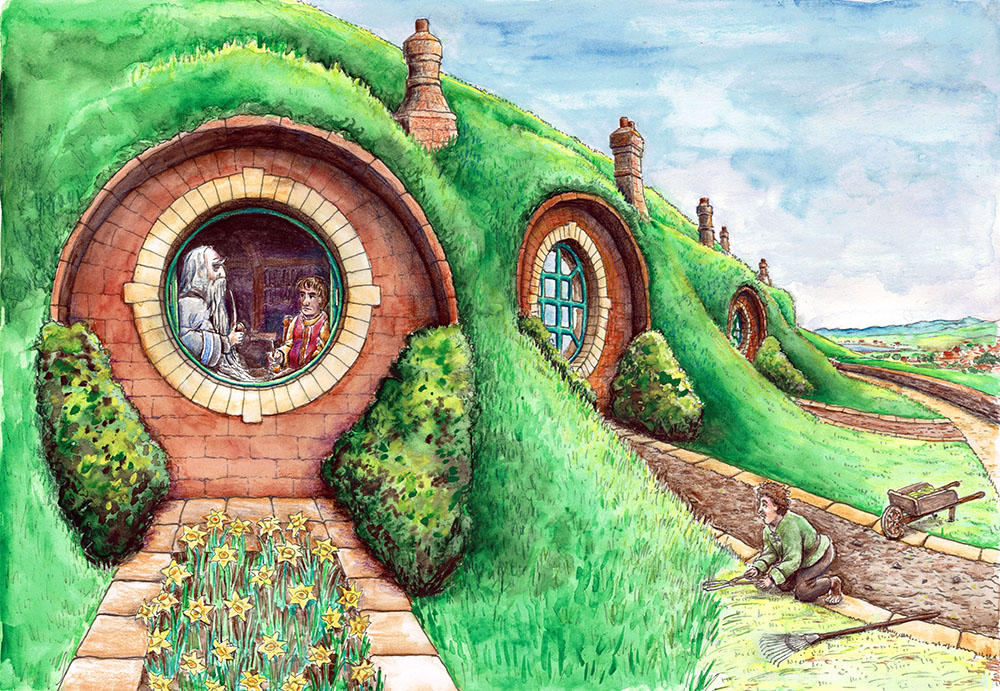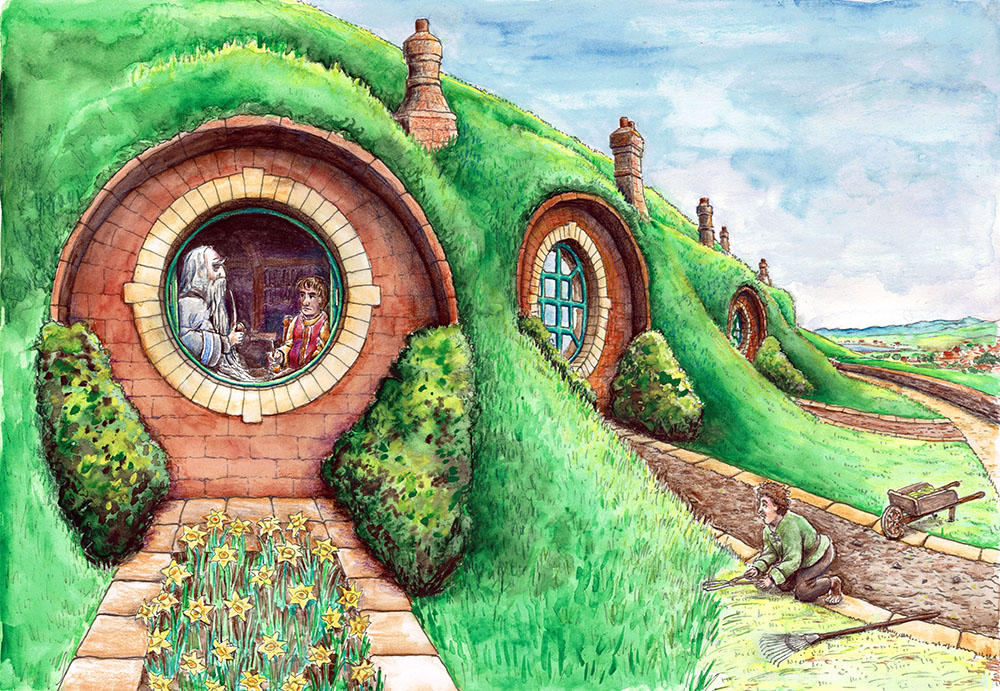 Watch
Next morning after a late breakfast, the wizard was sitting with Frodo by the open window of the study. A bright fire was on the hearth, but the sun was warm, and the wind was in the South. Everything looked fresh, and the new green of Spring was shimmering in the fields and on the tips of the trees' fingers.
Gandalf was thinking of a spring, nearly eighty years before, when Bilbo had run out of Bag End without a handkerchief. His hair was perhaps whiter than it had been then, and his beard and eyebrows were perhaps longer, and his face more lined with care and wisdom; but his eyes were as bright as ever, and he smoked and blew smoke-rings with the same vigour and delight.
He was smoking now in silence, for Frodo was sitting still, deep in thought. Even in the light of morning he felt the dark shadow of the tidings that Gandalf had brought.
(...) The sound of Sam Gamgee cutting the lawn came in from the garden.


~ J. R. R. Tolkien: The Lord of the Rings, The Fellowship of the Ring. Book I, Chapter 2: The Shadow of the Past
The famous conversation of Gandalf and Frodo where the identity of the One Ring is revealed has surely been illustrated several times. But I wanted to try a different perspective here. In fact, I wanted to paint the Bag End garden first, prompted by the monthly challenge "garden" on
Projekt ilustrace
, and this scene came as a logical choice of something interesting taking place (partly) in the garden.

As for the depiction of the Bag End garden, I based it closely on Tolkien's own picture
The Hill: Hobbiton-across-the Water
, which is why I put the flowerbeds in front of the windows. Another inspiration was Ted Nasmith's painting
One Morning Long Ago
, which shows quite a similar outside view of Bag End, just from the other side.
I had already made a tribute to Tolkien's picture of Hobbiton in my own illustration:
I love the use of perspective and architecture in this piece. I love that you can see the distant town in the distance. I also love the amount of detail that went into this. From the bricks, inside of the house and the environment, there's a good balance of detail.

The only problem here is the use of green in this piece, it's so overpowering. When I look at this my eyes are immediately drawn towards the green rather than Gandalf and Frodo. You almost don't notice them at all. The colors would look nicer if the green wasn't so saturated.
The Artist thought this was FAIR
7 out of 7 deviants thought this was fair.
Here from projectcomment.
This is a wonderful piece! I have to admit bias here, as the Lord of the Rings has been one of my favorite tales since I was 6-years-old.
The attention to detail here is excellent. It is clear that great thought has gone into the composition here, from the position of doors and windows, walkways and the village in the background. The characters themselves are well detailed. I don't know exactly how big the surface being worked on here was, but I do know that doing the little details on characters is a pain no matter the size of the medium.
It is easy to recognize the characters without ever reading the description. Even though the piece is rendered in the artists particular style all three characters are very easy to recognize by appearance, which is important when doing a piece based on literature.
This is a wonderful piece that captures such a precise moment. This looks like it could have been taken right out of a concept sketch book for illustrations for a copy of the Fellowship (or even from an original copy!). A truly glorious piece to behold!
The Artist thought this was FAIR
4 out of 5 deviants thought this was fair.