#DA19thBirthday
This was just my take on the
Deviantart 19th Birthday challenge
, featuring my main OC/Persona, none other than the
Rainbow Maestro
!

Celebrating 19 Years of DeviantArt!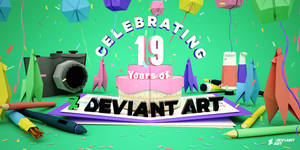 Fella's birthday decorations could use your personal touch! Celebrate DeviantArt's 19th birthday by joining our Finish-What-You-Art Challenge, then comment on our journal to get the exclusive 19th Birthday Badge!

Nineteen years ago on August 7th, DeviantArt was created in a big bang of art and heart, quickly becoming the leading platform to inspire the world.
Whether you're just getting started on your creative journey or consistently challenging yourself to future greatness, we're honored to be your artistic home, and today's celebration is all about our gratitude that each and every one of you have helped make DeviantArt what it is to
I completed this within only a couple of hours. Nothing crazy special about it.
Still, I wanted to be as creative as possible with this, so I kept on adding a few ideas as I went through the process of drawing this.
This was all done in my personal, pure, unadulterated art style, and NO sketching was involved either. You can bet it's wacky and cartoony as ever.
Yes, it is kinda satirical (
and most DEFINITELY surreal
), but it's all in good fun and games.
Still, I think a lot of people will still appreciate the all little details I put into this pic. Try to pic them up as you look through it!
I may not have been a Deviant artist for too long, but if anything, I hope to continue to prove my worth as artist in the years to come.
Hope to cause a couple of smiles or giggles in the comments below! Enjoy the art nonetheless!
Image size
3840x2160px 2.16 MB