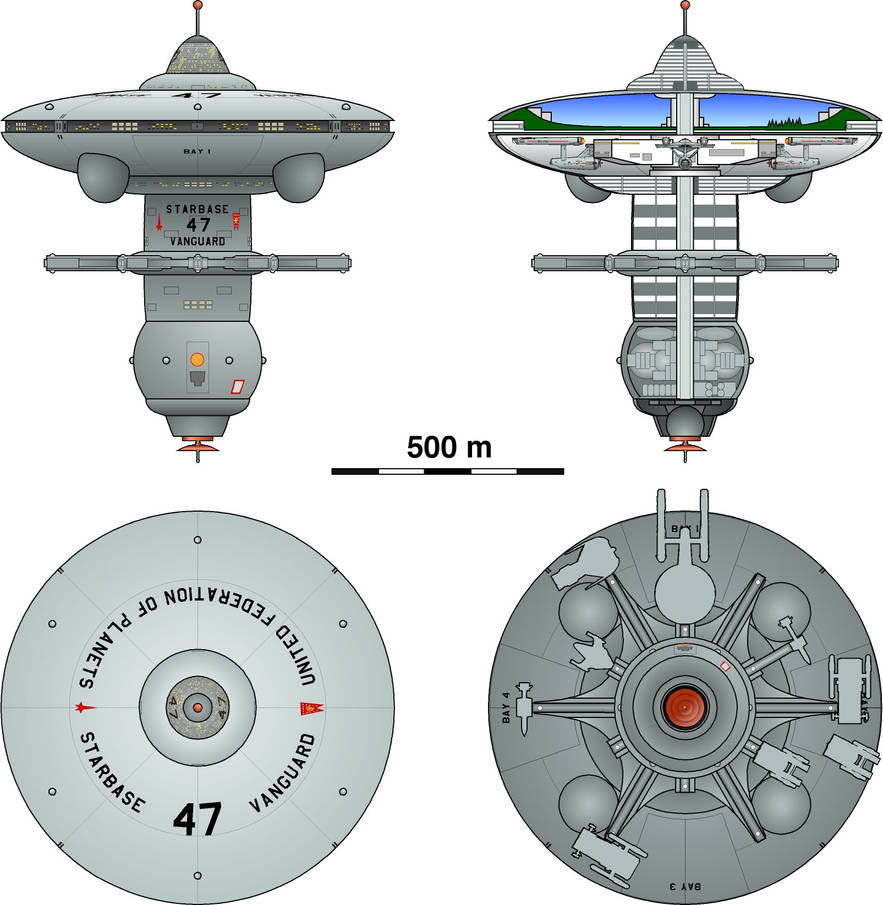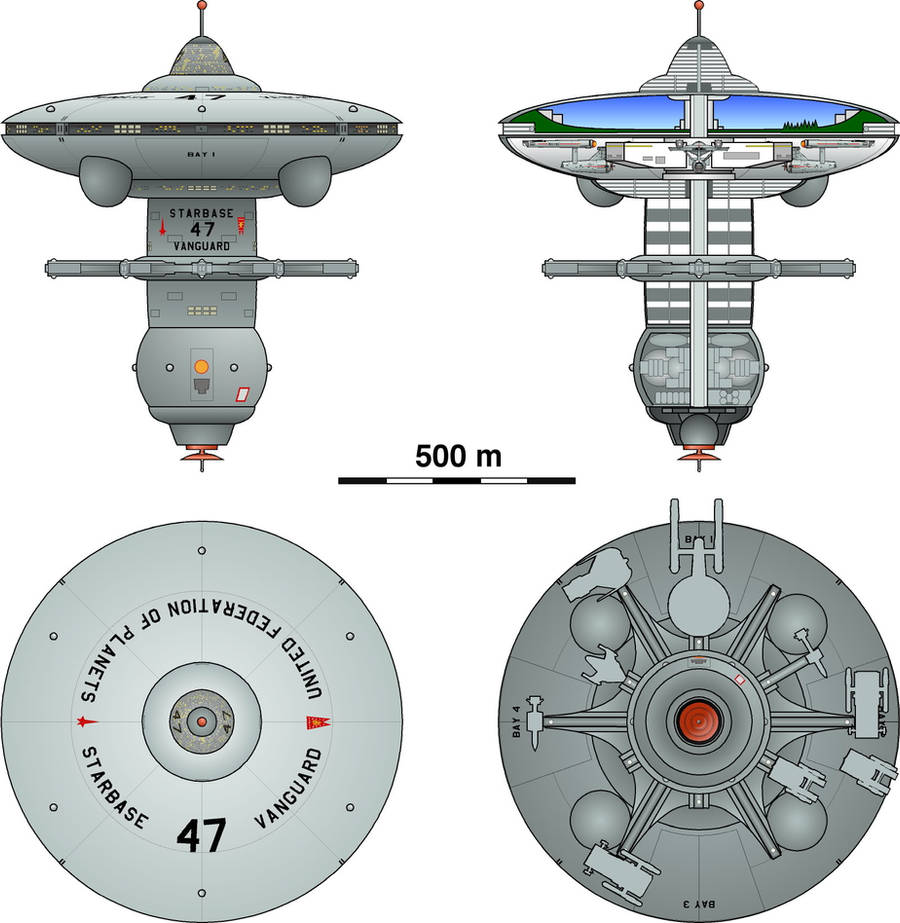 In 2004 I was hired by Marco Palmieri of Pocket Books to design a space station for a new series of Star Trek novels set in the original series era. He had seen some preliminary stations I had posted at my Starfleet Museum website. This schematic was done late in the design phase and shows an almost final design. I added a lot of Animated Series ships to the docking ring, with the vain hope they would appear on a book cover (oh well).

I love the Vangaurd Starbase!!!! Very sweet. Did you see your design with my Titan set for next years Ships of the Line?
Reply

No, I don't think I've seen it. Do you have a link?
Reply

Stations are a real pain to design, but at least in this regard you had a design philosophy to follow as the TOS general layouts were covered in the technical manual of that era. I like what you have done here, as you have successfully (of course) managed to capture the feel of that era and have augmented it with what we have seen of Federation station design in Star Trek III: The Search for Spock (the interior layout of spacedock). I know how you feel about being picked up for publishing as I produced a lot of basic blueprints and such in the nineties for RPG companies both in the UK and in the US.
Reply

The space stations on my website were designed to fill in the "evolutionary pathway" from K-7 to Space Dock. I was asked to base the station of the largest of those designs but to add a interior space big enough for 4 Constitution-class starships. I "borrowed" the idea of the parklike environment from Franz Joseph's SFHQ in the Star Fleet Technical Manual but changed the orientation (from the rim of a disc to a flat surface) to make better use of the space and to match Star Trek custom.

You're right, space stations are a pain to design. But if I were to be hired again, I couldn't say "no."
Reply

Any idea which Starbases aside from 47-Vanguard use the Watchtower design?
Reply

Do I spy some DY class ships docked too?
This station is fantastic, it fits in perfectly with Starfleet design lineage. Oh, and was the 47 an intentional in-joke? I know that number crops up in Trek more often than any other
Reply

Yup DY-100s. Of the ships I drew, they're the only ones that actually appear on the cover art. A few of the other ships are from the animated Star Trek, so they didn't make the cut. The Star Trek III Merchantman is probably too hard to model.

I think the 47 was not an in-joke, but I'm not sure how it was chosen. I might have been told, but I've forgotten by now.
Reply

Love the ship silhouette variety and the cross-section's pretty cooltastic, too!
So what's the smaller "diamond-shaped" ship supposed to be? I can ID all the others.
Reply

I think it's that repurposed/nacelled Tholian ship from "Eden," "SS Aurora." I think. But it looks a bit too large.
Reply

Yeah, I've been looking for these for a while! Thanks Masao!
Reply

You could have just asked, Dave!

The version of the schematics printed in the first Vanguard book was released in PDF form years ago. This version is missing the "Stars Landing"/Mojave buildings in the terrestrial enclosure.
Reply

In my Polarisverse, there is a Watchtower/J-class starbase, "The Glaive". It orbits a gas giant in the Mizar system and is the operations centre of Starfleet in the outlying Western territories. The Glaive is much more a military installation, given that civilian establishments are located on one of Mizar's moons. However, this station was acting as a final line of defence during the Federation-Kzin War/One-Man-Kzin War of 2270.
Reply

How would you modify a Watchtower to allow it to serve a more military role?
Reply

There is no "terrestial enclosure", those parts are basically big factories, barracks, yards, so that with enough material from the planets nearby, the station can serve as a multi-level assembly dock. The station is also equipped with multiple phaser banks, fightercraft and a crew dedicated for defence, not exploration. The Glaive was built to be a military operations centre, and for the single purpouse of serving as a stronghold should the Kzinti attack again (in my Polarisverse, the Kzinti had many raids on Human colony worlds and numerous wars with Cait).
Reply

That makes sense. I would imagine, at least, that the terrestrial enclosure would become a mirror of the dock below it. With smaller bays, you could probably fit 8 smaller cruisers in there.
Reply