Thanks for all the llamas, faves, etc! If you wanna thank me for the llama or fave you're welcome to;
please reply to this comment to do so!
Any comments above will be HIDDEN.
But you can do me one even better if you check out my best bud,
Novasterr
's art!!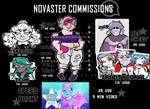 Oh shit, amazing and cheap sketchbook art!!
Ko-Fi with art rewards!
Catch cos on twitter!
Novaster