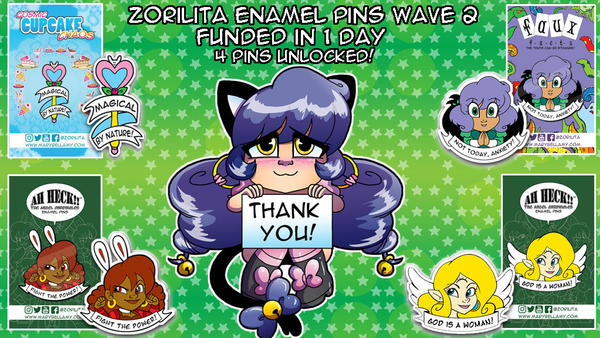 Kickstarter is done!

I want to give a huge thank you to everyone who backed my Kickstarter. Some of you are longtime fans and some of you are new to this campaign and my work. Thank you!
And for the future, we didn't quite get to the $1000 goal I had in mind for doing books and plush dolls in a future campaign. I still think I want to go ahead and try to do both of those projects but I will have to see when I want to proceed. Also, if I do one more enamel pin run I am going to probably shorten the length of the Kickstarter to 2 or 3 weeks because I funded in one day with this one and it dragged a bit. For those wondering, I am thinking of doing some pin-up pins and pins that embodied my Zorilita Guardians line as the plush dolls are now almost extinct.
In other news, I'm back to working on Faux Facts! I'm now on volume 9 and will probably wrap up with issue 10. Cosmic Cupcake Chaos was not able to finish it's run in an anthology so I am revamping it to make it more as I had originally envisioned. This book may be a limited run Kickstarter project. We'll have to see.

I am also open to commissions via Patreon.

Recently I have been able to do many pin-ups for my Ah Heck!! series as a result.
Check it out here www.patreon.com/zorilita