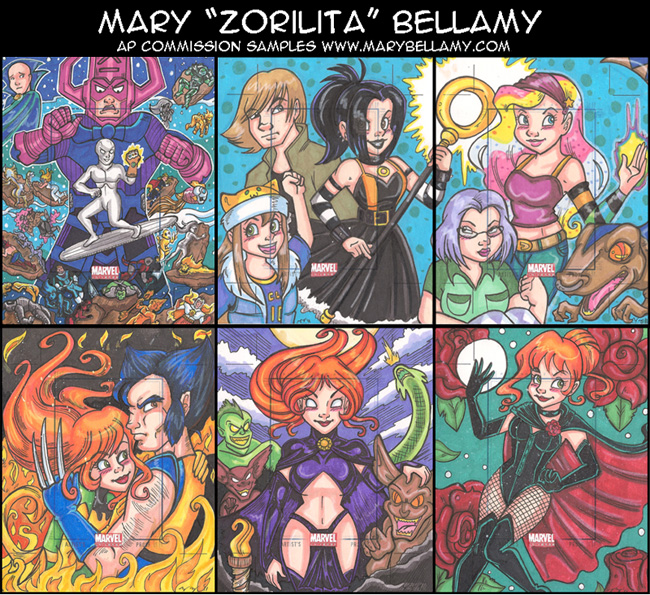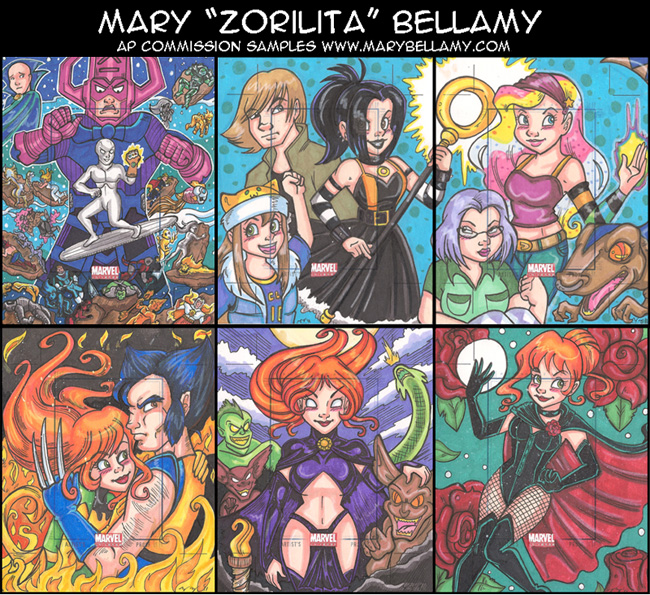 I will be receiving my AP cards for the Marvel Greatest Heroes set soon and so here is a sample of the work I can do on the cards for commissions. Note me if interested!

The Silver Surfer

wearing the Infinity Guantlet? He could use that to satiate the never ending hunger of Galactus
, and bring back all those(and their planets) who were destroyed by the devourer of worlds

! These are all fantastic, and the colors really bring the characters to life(did you use Copics, or something else?)! Inter-connecting cards are a great idea, and how can you not love one including Wolvie

and Phoenix

? My fav. of these though has to be the upper left piece, as there's just so much detail in it! Seeing the other heralds of Galactus strewn about, and the Watcher...um, watching...it's simply superb work!

Reply

Thank you! I use Prisma markers, micron pens and gel pens. That Galactus card took quite a bit of time but I'm glad it turned out as well as it did. I hadn't even heard of half the characters on there. XD I'm currently selling commissions of my AP Avengers/MGH card sets if that interests you at all. Oh and thanks for the llama!
Reply

You are more than welcome! I use Micron pens all the time, but I stopped using Prisma color markers once I started using Copics...cuz they are A-MA-ZA-ZING!

Did someone give you the info for the characters you didn't know about, or did you look 'em up? I can definitely see how that Galactus piece took so long, and it's even more impressive when you account for the over all scale/size that you had to work with!

Also, you're quite welcome for the llama

! Your gallery is filled with stunning work!

Reply

Reply