History of Roman typefaces
Typefaces are our instruments to construct words and sentences. Of course this very article couldn't be written without type other than writing by hand and scanning it in, but I wouldn't know how to save the file or how to access the website to upload it to if I had no access to typefaces. Of course I don't have to say where type can be found; it's absolutely everywhere. However, most people don't consider where typefaces come from. Most of my life and even the first 5 years or so of my design career I was absolutely ignorant of where typefaces came from. I mean, they were just "there" on the computer and I never considered someone actually had to make typefaces for us to use—letter by letter. In this article I will discuss the history of Roman typefaces; how it progressed during the ages, how each style can be recognized and how to select typefaces consciously and logically rather than by personal taste alone.
The printing press
While the first movable type (the system of printing and typography that uses movable components to reproduce the elements of a document) was developed by Bi Sheng in China around 1040, the German Johannes Gutenberg was the first to use movable type in Europe in around 1439. In that time Gutenberg was involved in a financial misadventure making polished metal mirrors for sale to pilgrims in Aachen, Germany—which supposedly captured the holy light from religious relics. That year the city was planning to exhibit its collection of relics from Emperor Charlemagne but due to a flood the event was delayed by one year and the investors ended up losing money. In order to satisfy the investors Gutenberg promised to share a "secret" which is widely speculated to have been the idea of printing with movable type. Legend has it that the idea came to him "like a ray of light". In 1440 Gutenberg perfected and unveiled his secret of print and released an essay entitled '
Kunst und Aventur
' (art and enterprise). After borrowing money to fund his project and a whopping 10 years later the first printing press was finally operational. In 1455 Gutenberg completed his 42-line Bible, the legendary Gutenberg Bible. The bible was printed in a blackletter typeface, which was a script commonly used during the Middle Ages. The specific style of blackletter for the Gutenberg Bible is a form of Textura called '
Donatus-Kalender
'.
Blackletter
The blackletter, also commonly known as Gothic script or Gothic miniscule, was a script used throughout Western Europe from approximately 1150 to well into the 17th century but continued to be used in Germany until the 20th century. The blackletter—as the name implies—is a particularly dark kind of style and tends to be quite illegible to the untrained eye. Styles of blackletter include Textura/Textualis, Schwabacher, Fraktur, Rotunda, Cursiva and Hybrida. The first typeface of the Latin alphabet to become available was a blackletter but this style would soon meet a rival type design: the Roman type.

Humanist/Venetian
The French engraver, printer and type designer Nicolas Jenson went to Venice in 1468 and opened his own printing workshop. It is hypothesized that Jenson studied printing under Johannes Gutenberg for a while, though there are no clear sources to verify that. Jenson would design all kinds of Gothic type but he also designed a new kind of typeface based on the humanist writing of Italian scholars of the Renaissance. For the first time a typeface was designed based on typographic principles rather than the constructed letters from the old manuscripts. He would use his first humanist typeface in '
De Evangelica Praeparatione
' in 1470. In 1471 he introduced a Greek typeface which was used for quotations and in 1473 a blackletter typeface which he used for books on history and medicine. Jenson became a wealthy man and was eventually able to run as many as 12 printing presses at the same time and would release around 150 book until he died at 60 in 1480.
The Venetian typeface was very short-lived but it's quite a prolific style of typeface which even nowadays still has its application. The Venetian typeface can be recognized by the following characteristics:
Calligraphic, often almost handwritten appearance.

Relatively small x-height. This means the lowercase letters are relatively short but with long ascenders and big capital letters.

Low contrast between thick and thin strokes.

Because of the low contrast the color of the text is dark. This means there is a lot of black space per line—as was specifically the case with the blackletter typeface.

Weight distribution according to a diagonal axis.

A sloping crossbar on the lowercase 'e'. Often the right side of the letter featured a so-called 'beak' which is the pointy feature but in case of display typefaces could sometimes be larger and more elegant features.

Very wide 'H', 'M' and 'N' and characteristic is also the double top serifs on the 'M'.

Small counters. This means the 'eye' of the lowercase 'e' and the 'bowl' of the lowercase 'a' are relatively small.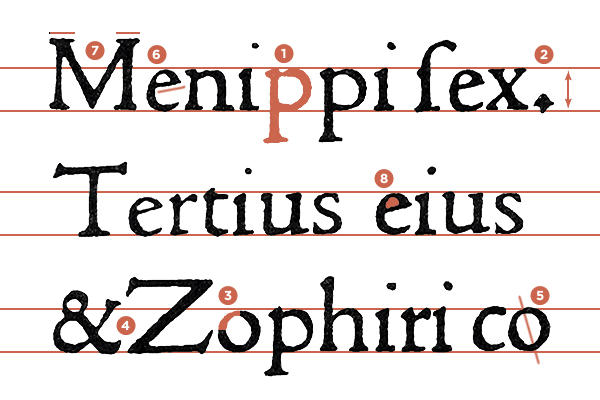 Notable typefaces of the Venetian/Humanist class are
Berkeley Oldstyle
,
Brioso Pro
,
Centaur
,
Jenson
,
Hightower
and
Spira
.
Garalde/Old Style
After Jenson's death his typefaces were employed by Aldine Press, a printing office started by Aldus Manutius in 1494 in Venice. Aldus Press is famous in the history of typography, among other things for being the first to release books in octavo size (comparable in size with a contemporary paperback) and most notably for the introduction of italics. The italic type was first used by Aldus Manutius and the Aldine Press in 1501, in an edition of Virgil dedicated to Italy. The italics were based on the Humanist cursive script first developed in the 1420s by Niccolò de' Niccoli and first started as a distinct condensed type for simple, compact volumes. The punches for these types were cut by Francesco da Bologna also known as Francesco Griffo. It wasn't until later when roman and italic were used together—italic being used for emphasis.
In the 1540's Claude Garamond came to prominence first for a Greek typeface he was commissioned to create for the French king Francis I. Garamond's typefaces would quickly become popular throughout France and Western Europe. Most italics used in contemporary Garalde typefaces are based on Garamond's assistant Robert Granjon. In 1621, sixty years after Garamond's death the French printer Jean Jannon issued a specimen of typefaces that had some characteristics similar to Garamond's typefaces, though Jannon's letters were more asymmetrical and irregular in slope and axis. For this reason many typefaces are misattributed to Jannon but it is said that in fact most modern revivals are based on Jannon's work and not Garamond's but the name just stuck. Whoever designed the typefaces we now know as Garamond, it remains a popular style and typeface even today.
Although the calligraphic influences were still obvious in the Garalde type, the typeface became a lot more constructed and designed. This refinement was the result of the improving skills and tools of the punchcutters. The Garalde style can be recognized by the following characteristics:
Relatively small x-height and very long ascenders.

Medium contrast between thick and thin strokes.

Weight distribution according to an oblique axis—not quite as severe as in the Venetian type.

A horizontal crossbar on the lowercase 'e'.

Wedge shaped serifs.

Often very elaborate, elegant tales on the italic 'Q'.

Athelas
,
Minion
and
Sabon
.
Geometric
With the mechanization and increasingly minimalist approach to architecture and general design at the beginning of the 20th century there was a need for more minimal, modern typefaces. This movement in typography went parallel with the Bauhaus/De Stijl movement and featured the same design elements.
Relatively low x-height (for a sans serif).

Use of geometric elements and repetition.

Often a minimalist approach and stylization of details, such as a spurless 'G' and a one story 'a' and 'g'.

Some of the most prolific typefaces in the genre are
Brandon Grotesque
,
Futura
,
Gotham
,
Neutraface
,
Nobel
,
Sofia
,
Soleil
and
Verlag
.
Humanist
The humanist sans serif—as the name suggests—features humanist elements. It doesn't necessarily have to look that different from the grotesque and in fact grotesque and humanist typefaces tend to have some overlap. However, characteristic for a humanist sans are the chirographic features such as more weight in the curves and a subtle weight distribution according to an oblique axis.
Medium x-height.

Weight distribution according to an oblique axis.

Humanist proportions, meaning the eye of the 'e' and bowl of 'a' are often small and rounded letters tend to be relatively wide.

Calligraphic features such as extra weight in the curves.

Sometimes features soft terminals rather than a straight cut.

Usually has a rather elegant double story 'g' reminiscent of serif typefaces.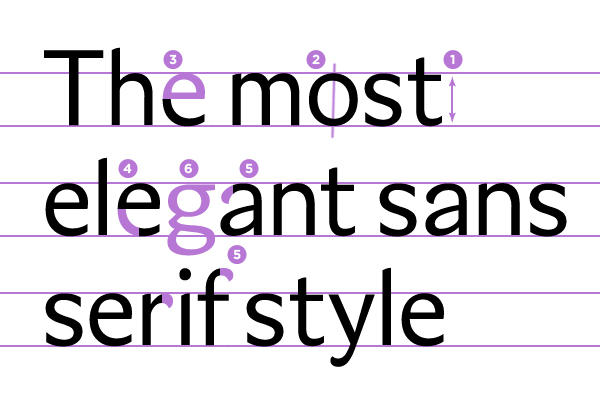 And that's the history of Roman type covered. When selecting a typeface for your design always consider both its appearance and its history. This becomes even more important when pairing two typefaces together because not everything works together. For example, you may pair two typefaces from the same time or the same proportions or you might pair two typefaces which contrast in style, color or proportions and compliment each other. There are so many combinations which work but you have to know a bit about a typeface in order to use it consciously and appropriately—particularly when establishing a brand with more than one typeface.