Hello!
If you want to HELP ME you can ask me for a commission!
These are just examples but if you have any doubts don't hesitate to ask!
I DRAW:
OC
FAN ART ( HARRY POTTER/ STAR WARS/ LOTR/ SHERLOCK/ DISNEY&DREAMWORKS/ GAMES/ ANIME&MANGA etc)
SHIP
...and so much more!

DONE

DONE

DONE
READ PLEASE!
Finally I finished the three commissions I had suspended due to tendinitis!
I wanted to warn that the three customers who have waited for their commission will have a 10% discount on the next one!
I know it's not much but it's the only way I've found to apologize!
COMMISSIONS LIST:

x2 DONE 1
DONE 2

x2 DONE 1
DONE 2

x2 DONE 1





x2





*updated price list*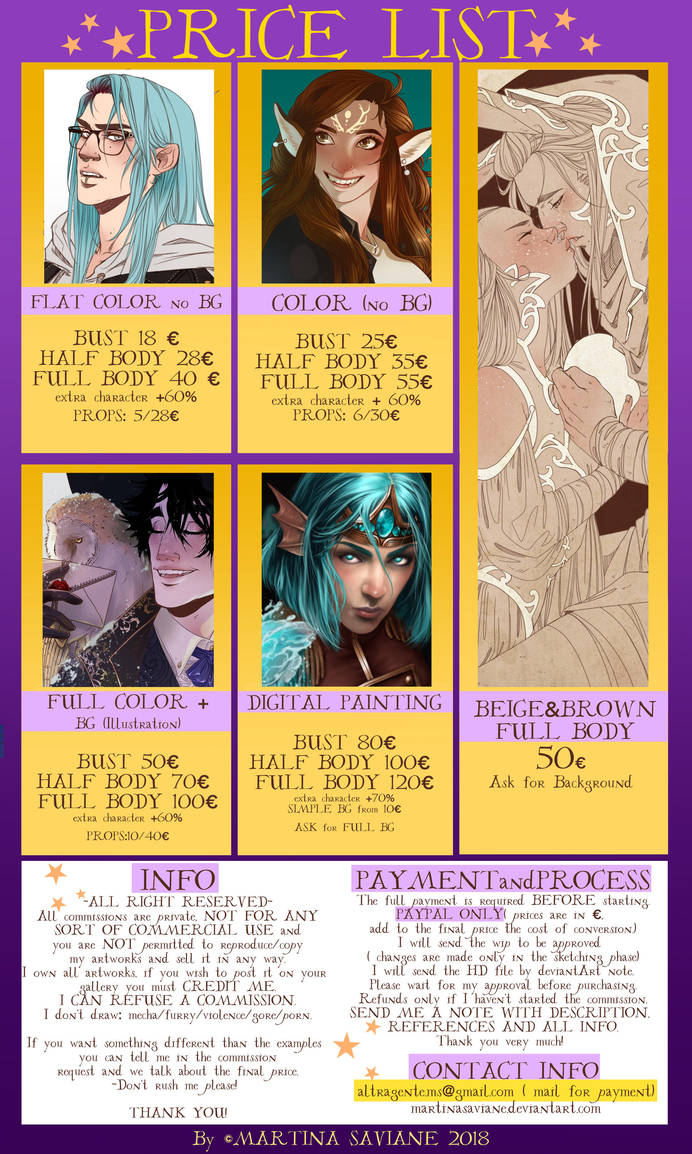 RULES
_PAYPAL ONLY_
-The full payment is required before starting.
-Paypal only (prices are in euro, add to the final price the cost of conversion)
- I will send the definitive work by DeviantArt notes
-Please wait for my approval before purchasing
-SEND ME A DEVIANT ART NOTE WITH: Clear references description and all info about the character
TERMS OF SERVICE
-© ALL RIGHT RESERVED-
- DO NOT COPY,TRACE OR REDISTRIBUTE MY ART
-All commissions are private,NOT FOR ANY SORT OF COMMERCIAL USE
and you are not permitted to reproduce/copy my artworks and sell it in any way.
-I own the artworks,if you wish to post it on your gallery,webpage,FB,etc. you must CREDIT ME.
-I will post it on my DeviantArt,FB page and portfolio
-An extra payment will be required for changes.
-Changes are made ONLY in the sketching phase.
-I CAN REFUSE A COMMISSION.
-
For the "Full Color" / "Digital Painting" and "Beige & Brown" categories, the background is intended as a simple background;
the starting price may change based on the request for a different and more complex background.
© Art&Character by me