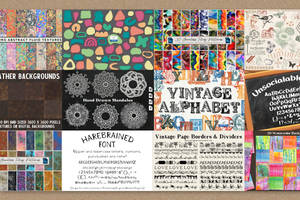 HG Designs Subscriber Area
Lots of high resolution goodies for graphic design including textures, photoshop brushes, seamless patterns and more.
---

MangaStudio 5 - clip studio paint - brushes pack2
145.2K
Views
1
Collected Privately
Description
some of the brushes I created for Manga Studio 5 / clip studio paint.
to import you should go in the sub-tool tab and click on the small icon on the top-right that opens the menu and choose "import sub-tool"
I did those in Clip Studio Paint, that is the japanese version of Manga Studio 5, and it has some updates more if confronted with MS5, so I'm not 100% sure those will work in Manga Studio 5, if you manage to try it can you please tell me? thanks!
oh, some of those requires the wacom art pen with rotation.
other packs: