It took me a while, but i finally revamped my commission infos!
I removed some old offers, added new ones and revamped the prices a bit. So from now on please, refer to this new info sheet (and journal) for the commissions!
Click here to read it!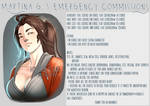 Also! For everyone that want to support me or can't afford a commission, i've added
Ko-Fi rewards
!
For every donation you'll get a pencil sketch like this:
sta.sh/01tx1si8f8iv
Just send me via pvt message or note a screen with the proof of your donation, and the character you want (fanart or oc are both good, as long as you can provide me a good reference)!
Thank you in advance!
For any other info, just ask