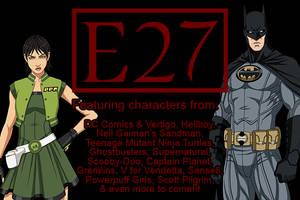 Earth-27 Pass
Get access to all the full-res Earth-27 character portraits and other content!
---

Description
GET A LIFE!
EPISODIO 4: IL RITORNO DEL FANTASMA DEL TOPKAPI
COPERTINA<<
PAGINA 1 (DI 6)
>>PAGINA SUCCESSIVA
Arte di Seb

Storia e lettering di Franco

Supervisione di Luca
NOTE
Tavola originale (pagina 1)
Ian è l'ospite umano del fantasma di Rogers, come rivelato in
Zona X n. 10, "Magic Patrol: Dieci secondi per morire!"
.
Per capire come mai il Sentinel Prime del film
Transformers: Dark Of The Moon
non sia quello vero, basta leggere
SoD: Sentinel Prime
.
Il turista in primo piano di vignetta 1 è comparso anche in
GaL 1: Il segreto del Teschio di Cristallo
.
Il presente fumetto è stato realizzato dai fan come tributo al lavoro di Alfredo Castelli, Carlo Recagno, Vincenzo Beretta, Giancarlo Alessandrini e gli altri autori che da anni danno vita ai veri fumetti di Martin Mystere.
Il presente fumetto è distribuito solamente in rete, e in modo completamente gratuito; tale deve restare. La sua realizzazione non ha contemplato alcuno scopo di lucro, in alcuna forma.
Non è intenzione degli autori violare i relativi diritti d'autore e proprietà intellettuali in alcuna forma o modo, e questi restano naturalmente proprietà degli aventi diritto, che in qualunque momento possono chiedere la rimozione del fumetto dalla rete, a loro completa discrezione.
Image size
960x1321px 835.18 KB