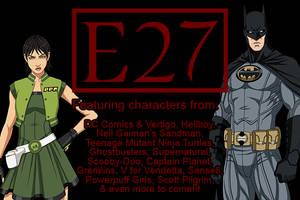 Earth-27 Pass
Get access to all the full-res Earth-27 character portraits and other content!
---

Description
GET A LIFE!
EPISODIO 1: IL SEGRETO DEL TESCHIO DI CRISTALLO - OVVERO MARTIN MYSTERE N. 12bis
PAGINA PRECEDENTE<<
PAGINA 4 (DI 6)
>>PAGINA SUCCESSIVA
Arte di Seb

Storia e lettering di Franco

Supervisione di 7777
NOTE
Immagine ridimensionata. Per il file a piena risoluzione, fare click su "Download Image".
Tavola originale
Il guerriero della prima vignetta è Adam, il fondatore degli Uomini In Nero visto per la prima volta in
Martin Mystère Gigante n. 3: "Gli Uomini in Nero"
.
Ma ciò significa che Adam ha lavorato anche per l'Impero di Mu?
La vignetta due dimostra che il Teschio non ci prova solo con le turiste. Ora sappiamo anche la verità su ciò che le ha spinte a buttarsi dalla balconata (o dalla finestra, dipende dalla versione dell'albo).
Il presente fumetto è stato realizzato dai fan come tributo al lavoro di Alfredo Castelli, Carlo Recagno, Vincenzo Beretta, Giancarlo Alessandrini e gli altri autori che da anni danno vita ai veri fumetti di Martin Mystere.
Il presente fumetto è distribuito solamente in rete, e in modo completamente gratuito; tale deve restare. La sua realizzazione non ha contemplato alcuno scopo di lucro, in alcuna forma.
Non è intenzione degli autori violare i relativi diritti d'autore e proprietà intellettuali in alcuna forma o modo, e questi restano naturalmente proprietà degli aventi diritto, che in qualunque momento possono chiedere la rimozione del fumetto dalla rete, a loro completa discrezione.
Image size
960x1301px 776.69 KB