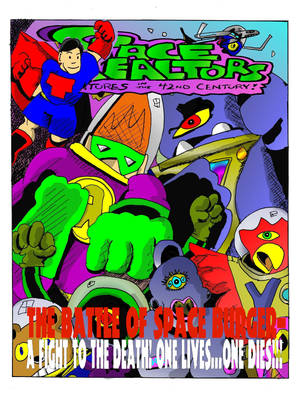 Space Realtors
A place where I will stick my comics. You can also NOT pay and follow me. Why would i tell you this. Because you can't make money on digital art. So why bother.
---

Description
GET A LIFE!
EPISODE 19: MYSTERY AT MOHENJO DARO (PART 2)
PREV<<
PAGE 5 (OF 6)
>>NEXT
Art by Seb

Story & lettering by Franco Villa

Edits by
Luca Salvadei
&
Cristian Di Biase
NOTES
Future Martin is already married with Diana Lombard!
He's also aware that he is older than he looks.
The origin of the title "detective of the impossible" is dubious: Martin used it in high school, but Sergej Orloff apparently created it in the late 1970s.
Cameos: Godzilla, Ronald McDonald, a Star Wars X-Wing and Castle Grayskull from "He-Man and the Masters Of the Universe".
You might remember how, in the classic cartoon, the Castle was at least once thrown in an extradimensional limbo.
"Xanadu" (Martin Mystère Gigante n. 2)
is the comic book that revealed the first clues about Mohenjo Daro
That same story told about Martin Mystère's first "big memory removal": it was about how he forgot everything about the Murchadna.
At the same time, the book told about how Sergej Orloff forgot everything about his own face under the mask.
The present time scene is set in 2012, because it's related to another miniseries of our Get a Life! comics: it's "The Hollow Earth" saga, still to be translated.
Image size
960x1358px 726.76 KB