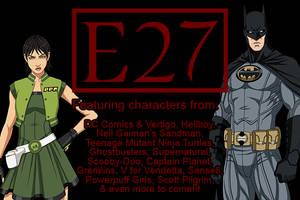 Earth-27 Pass
Get access to all the full-res Earth-27 character portraits and other content!
---

GaL 24 - T-Rex Tremendae Maiestatis copertina ITA
Description
GET A LIFE!
EPISODIO 24: T-REX TREMENDAE MAIESTATIS
GALLERIA DELL'EPISODIO <<
PAGINA FINALE<<
COPERTINA
>>PAGINA SUCCESSIVA
Arte di Damiano De Gaspari

Coordinazione di Franco Villa

NOTES (Eng)
Check out the English version of the comic (in full colors!):
24. T-Rex Tremendae Maiestatis
NOTE (Ita)
Copertina speciale "non esattamente a tema", che replica quanto accadeva un anno fa con
Affari di famiglia allargata
e quindi ci permette di avere come ospite sulle nostre pagine un autore che altrimenti non apparirebbe mai, in quanto troppo impegnato per firmare un'intera storia.
La suggestiva illustrazione sembra sufficiente per ispirare una sceneggiatura sul tema: qualcuno vuole raccogliere la sfida?
Image size
960x1234px 719.29 KB