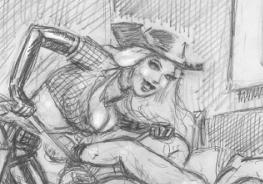 Oldies but Goldies
Previous posted old stories but available after numerous requests to repost. All hand drawn and a little rough and ready femdom themed drawings!
---

GAL 48 - L'altro segreto delle Piramidi 2 - p4
Description
GET A LIFE!
EPISODIO 48: L'ALTRO SEGRETO DELLE PIRAMIDI (2)
PRECEDENTE <
PAGINA 4
> SUCCESSIVA
Arte di Vita-Divata

Storia e lettering di Franco Villa

Supervisione di
Cristian Di Biase
e
Luca Salvadei
NOTE
Come anticipato nelle note della pagina precedente, questo fumetto si ricollega a
Il segreto della grande piramide (Martin Mystère Special n.3)
, e tratta quindi dell'argomento delle scorie radioattive, un letale lascito velenoso e inarrestabile che le civiltà più irresponsabili lasciano a decine di generazioni future, celandone la gravità alle popolazione tramite le chiacchiere dei politici e la propaganda dell'industria interessata al solo ritorno economico immediato.
Il segreto della grande piramide
racconta di come Atlantide e le altre nazioni abbiano costruito le Piramidi come depositi millenari delle loro scorie, ma anche di come li abbiano dotati di guardiani in ibernazione, per sorvegliare i depositi e informare le generazioni future (quindi questa operazione fu compiuta anche nell'ottica dell'incombente Armageddon?).
L'idea che una delle "nostre" Piramidi sia ripiena di scorie radioattive, però, non funziona benissimo, dato che questi monumenti continuano a essere esplorati e analizzati impunemente, senza che nulla del genere venga alla luce.
Il nostro fumetto propone quindi la prima parte di una spiegazione alternativa, che non contraddice
Il segreto delle Piramidi
: per ora, si appura che i depositi di scorie radioattive erano dimensionalmente dislocati, e le Piramidi fungevano da "tappi" tecnologici per i varchi di accesso a queste tasche spaziali.
Da qui il nostro titolo, che è una parafrasi ironica dell'originale dello Speciale di MM.
Le perdite di radiazioni menzionate in vignetta 3 sono le stesse che in
Il segreto della grande piramide
segnano il fato dei suoi custodi.
Image size
960x1344px 607.12 KB