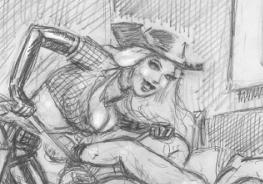 Oldies but Goldies
Previous posted old stories but available after numerous requests to repost. All hand drawn and a little rough and ready femdom themed drawings!
---

GAL 48 - L'altro segreto delle Piramidi 2 - p2
Description
GET A LIFE!
EPISODIO 48: L'ALTRO SEGRETO DELLE PIRAMIDI (2)
PRECEDENTE <
PAGINA 2
> SUCCESSIVA
Arte di Vita-Divata

Storia e lettering di Franco Villa

Supervisione di
Cristian Di Biase
e
Luca Salvadei
NOTE
La frase in alfabeto etrusco dell'ultima vignetta rappresenta un incantesimo in lingua atlantidea, che recita "il teatrino della memoria corta".
Non è solo autoreferenzialità relativa all'episodio
Il teatrino della memoria corta
.
Image size
960x1344px 586.37 KB