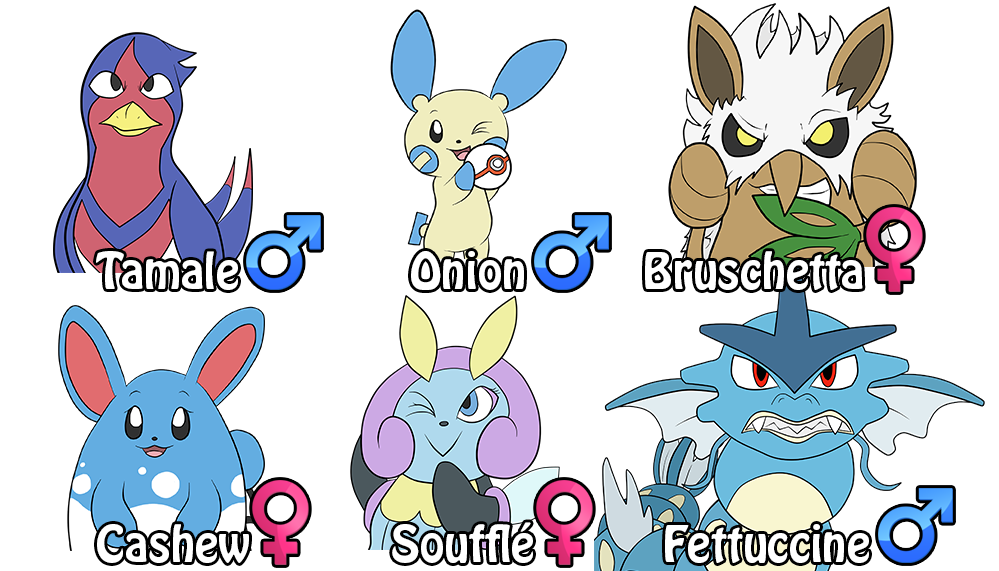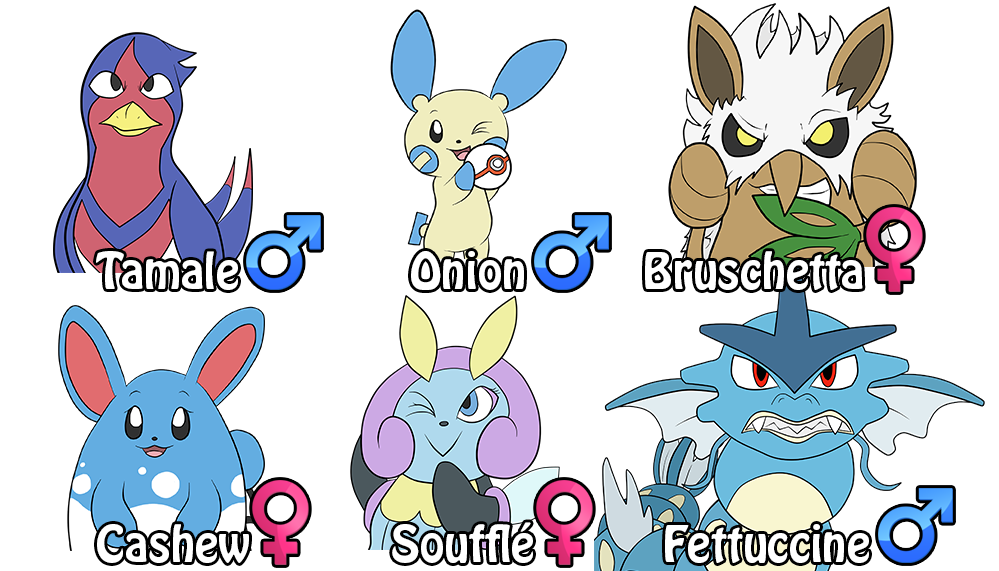 Ohhhhh boy, the final team from my
Omega Ruby Wedlocke
series I did on YouTube back in early-2015. I've got such mixed memories of that series, especially because, ehhhh,
I really don't like Omega Ruby or Alpha Sapphire
for a multitude of reasons. But I figured I would at least give it a chance for a Wedlocke and it had its moments, though what surprised me the most is what my team looked like at the end.
** SPOILERS BELOW, SO TREAD CAREFULLY **
Two of these Pokémon should be very expected to do well, and that's part of the reason why I didn't care for them quite as much, but I still saw it fitting their personalities I guess (mostly Fettuccine — that guy was a
jerk!

). However, three of these Pokémon were used for most of the series — despite their appearance, Onion the Minun and Soufflé the Illumise were actually
really, REALLY good!
I always worried when using them, but they overcame SOOOOO many challenges together, and let's just say that Onion led the series to a particularly shocking finale.
It's such a shame that the end of the series was mired with the whole accidentally-breaking-the-item-limit controversy. It makes me never want to use an item limit again because it's so easy to lose count! (And surprising that, despite this being me third series with a limit, this is the ONLY time I miscounted.) That soured the entire series for me, and it's so sad, because even though I still didn't see it as one of my finer works, there were some good moments in the series and it gave some underdogs a brilliant chance to shine.
Anyway, drawing the first four went very well, and I'm especially pleased with how Onion and Soufflé turned out. Tamale and Cashew? Not really complex. I kinda wish they had a bit more personality to them. I guess Tamale turned out alright... but oh god, Fettuccine is an abomination. I CANNOT DRAW GYARADOS OMG

LIKE SERIOUSLY I SPENT HOURS AND HOURS JUST SKETCHING and it was just miserable. I just kinda resigned myself to the fact that it wouldn't be that great, but oh well, trust me, it nearly was a LOT worse. Bruschetta turned out alright, though.
Well, that's the team, and actually I believe that's the last full team of mine that I've drawn. The X Wedlocke was meant to have art for the final episodes, but that winded up holding up the series for months and it was so frustrating because I just couldn't motivate myself enough to proceed and suffered from the dreaded
art block
to top it all off. Maybe I'll upload sketches or finish some art as a tribute someday, but until then, here's this lot.

Drawn in May 2015
Pokémon is © The Pokémon Company