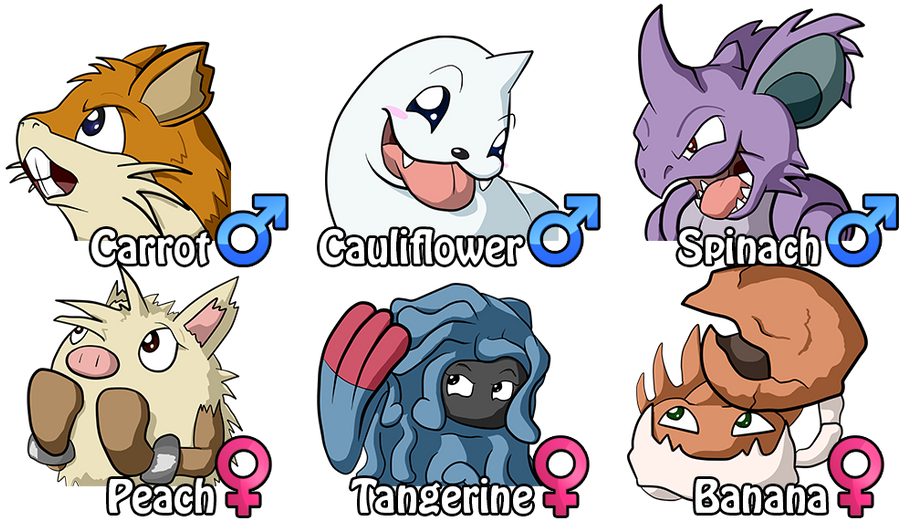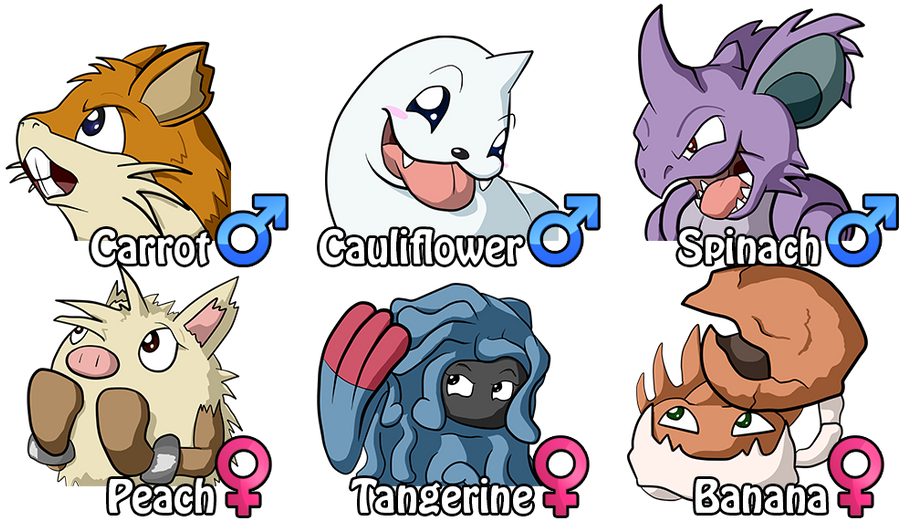 4/18/2013: Updated with biographies! Finally!
Oh man, it's hard to believe that this is the team that I'm bringing in to the Pokemon League in my HeartGold Wedlocke series, but this is it, and as I did in my Emerald Nuzlocke series, I decided to draw headshot portraits of my team for the final fights.
Spent another late night drawing and coloring all six of them, but I'm actually generally pleased with how they turned out.

I've been really busy lately with this, so sorry I am not fully caught up on deviantART. I'll try to get caught up a bit more Sunday since I will be out of town today!
I figured I would share this with you all before it is even revealed in the video! Enjoy!







Species: Raticate
Sex: Male ♂
Caught in: Part 2
Carrot was one of the first Pokémon caught on Legs' team, caught early on over at Route 32 as a Rattata. Legs was originally disappointed not to have encountered a Mareep or Wooper. She soon found that the little Rattata had a lot of guts and fought bravely to defend his partner, Pear (Bellsprout ♀). There were several fights along the way that the two had gotten into that he beat the odds and saved her from an untimely fate against pesky Flying- or Fire-type Pokémon. She admired him for that.

The two became quite close. When the two evolved, they grew even closer, although Carrot felt that his appearance as a Raticate was underwhelming. He was a Raticate, after all, a Pokémon often regarded as ugly. At first, he felt that he would have been better off not evolving, but after Pear evolved once more into a Victreebel, she reminded him that love never need worry about looks or appearances. He took those words to heart and reminded himself that he was, indeed, loved by the one Pokémon he would fight to the bitter end to defend.

However, one day, up atop a perilous cliffside, Carrot and Pear entered a dire fight against a duo of Trainers, each using strong Pokémon — an Electabuzz and Magmar! The one they feared most was the Magmar. Carrot knew he had to fight to protect Pear, but with both of them exposed to the fight, his heart raced, knowing he might not have the means to protect her.

With the crackling hiss of the Magmar's Flamethrower, Pear was cremated before his very eyes, charred to an unrecognizable pile of ash. His heart sank. The Electabuzz paralyzed him as well, only serving as a reminder for his failure. Turnip (Feraligatr ♂), the newly-evolved Feraligatr, jumped into the fight to support Carrot, but he was struck down by a bolt of lightning so strong that he just barely survived and delivered the finishing blow to the Magmar that ended Pear's life. Carrot, mustering up his strength, retaliated against the Electabuzz that nearly took a second friend's life.

It was too late for his true love, Pear, though. The Pokémon he had vowed to protect, the Pokémon he vowed to give his life for... gone, just like that. The poor Raticate felt empty inside, crushed over the loss of Pear.

Papaya (Natu ♀) noted the Raticate's courage and tagged along behind him. He didn't care much for the little green bird; no one could ever replace Pear. Still, despite the fact he could never love her, the loyal Carrot swore that he would protect her.

After she evolved into a Xatu, she began fighting in some battles herself in order to gain experience. During the Rocket's raid in the Radio Tower, though, she failed to take down a Koffing, who proceeded to explode right in front of her, slaying her in a single fell strike. Though Carrot never loved the Xatu, he found himself brokenhearted over her death, vowing to take down Team Rocket so they would never end another Pokémon's life — although not before the lives of Apricot (Furret ♀), Lettuce (Butterfree ♂), Kale (Alakazam ♂), and Green Bean (Onix ♀) were lost as well during the raid.

Having lost two Pokémon he vowed to protect, Carrot lost all confidence in himself. He no longer felt worthy of anything, yet alone life. When he was introduced to his new partner, Peach (Mankey ♀), he sighed, realizing that it was just another Pokémon he would ultimately fail at protecting. The little Mankey handed him a berry — a Payapa Berry, specifically — which reminded him of Papaya and even of Pear. After hearing about the two Pokémon he failed to protect and about his love for Pear, she told him that she knew she could never replace Pear in his heart, but she would always be there for him and someday wanted to be strong enough to protect him for a change. Carrot shrugged, knowing he didn't have a choice, and trained the eager Mankey up.

With Carrot's help, Peach quickly evolved into a Primeape, and joined the rest of her team in being a strong and valuable asset. Carrot, though, realized just how weak he was in comparison to the likes of the team's leaders, Turnip and Plum (Gengar ♀).

That all changed in Ecruteak City. Legs challenged the Kimono Girls, who fought with unrelenting force and fervor. To his amazement, a single Jolteon completely decimated Turnip, Plum, and even a promising new recruit, Scallion (Tauros ♂), leaving Scallion's partner, Grape (Jumpluff ♀), to meet her demise in the very next fight. Just like that, both Carrot and Peach saw their team wiped away before their very eyes. Just like that... Carrot became the new team leader.

Carrot's heart was in shambles after the death of his friends, knowing that he was the only one left of the original Pokémon Legs caught. After the dust had settled, as the little Raticate cried, he was comforted by the only other Pokémon who remained — Peach, who kept her promise and protected him.

Realizing just how precious life is and how fortunate he was not only to be alive, but to have a Pokémon there that loved him, he finally warmed up to Peach and accepted her not as some replacement for his first love, Pear, but as a wonderful Pokémon who loyally stood by his side and saw a strength in him that he couldn't even see himself.

With that courage, Carrot, the new team leader, guided his new teammates, motivating them and reminding them that anything is possible. They never saw Carrot as an ugly Raticate, but only saw him as a hero who had survived many close battles. That was finally what he saw himself as, too, and he felt that way for sure when he avenged the death of Apricot and Lettuce by single-handedly annihilating Arms' whole team.

Before Carrot stood the final test, though: the Pokémon League. The very culmination of his entire adventure stood right before him. Though he at first feared ever getting close to another Pokémon again, his fears had long since passed as he faced the gates of the Pokémon League alongside Peach, the Primeape who reminded Carrot just how great it is to love and to fight for those you love.






Species: Primeape
Sex: Female ♀
Caught in: Part N/A
Peach joined the team after the defeat of Team Rocket in the Radio Tower, following the death of five of Legs' Pokémon. She was paired up with Carrot, who as she soon found out, had quite a tragic history on the team, losing two of his previous partners. After talking with him and pressing him for answers about his past, she discovered the reason he was so sad all stemmed to losing his first love, Pear, and then failing to protect her "replacement," Papaya.

She offered him the Payapa Berry she held, saying that it must have been fate that brought them together. While Carrot agreed that fate was indeed involved, it didn't exactly comfort him. The little Mankey, undeterred, saw in Carrot something great. She saw a noble Pokémon who truly cared for his friends and who suffered from a broken heart. While she knew she couldn't replace his love for Pear, she promised Carrot that she'd always be by his side and hoped someday she could protect him just as he protected Pear and Papaya in the past.

Traveling together with Carrot and the rest of Legs' team, she grew into a formidable fighter, evolving into a Primeape before too long at all. Her skills were put to the test, though, when Legs returned to Ecruteak after earning her final Gym Badge. She witnessed Legs' entire team wiped out before her very eyes. Her entire team... except for Carrot, of course.

Peach bravely stepped in at the end and defended Carrot just as she had promised. While the team she had just begun to befriend had met their demise, she took comfort in knowing that Carrot lived, because he deserved it. She told him just how important he was to her and how, even though she knew she could never replace Pear in his heart, she loved him and never wanted to see him alone again. Even just seeing Carrot's smile was enough to satisfy her.

The two became much closer after that. Peach helped Carrot train up the four new recruits to Legs' time after what would be called the "Ecruteak Massacre." After a lot of training, the four proved to be formidable in battle, and they all respected both Carrot and Peach.

After traveling the tenuous path of Victory Road, when Peach saw the gates of the Pokémon League ahead of them, she knew this could very well be her last adventure with Carrot. The two may not be capable of surviving, particularly not together. But before entering the Pokémon League, Carrot said to Peach what she had always hoped to hear him say. He loved her. As tears of joy fell from the Primeape's eyes, she clutched Carrot close to her, promising that he would never have to suffer again. She promised that they would always be together.

With her confidence renewed and her love reciprocated, Peach felt more confident than ever facing the challenges that lie ahead.












Species: Dewgong
Sex: Male ♂
Caught in: Part N/A
Cauliflower is a bit of a ham, goofy and silly in nature, but also a dedicated worker and skilled fighter. Whenever he does a good job with something, he almost always waits for applause by either Legs or Tangerine. He also delights in looking cute for either of them.

Despite all this, he is also incredibly brave, and not just for attention-seeking purposes. The whole team dubbed him as "The Chosen One" to fight Ho-Oh, realizing that he was more than likely their only hope in order to vanquish the Kimono Girls' secret weapon atop the Tin Tower. Indeed, he stood up to the fiery bird and bested it in battle, relieving Legs' anxiety. Not only that, but fighting the gargantuan bird was his first true battle.

His partner is Tangerine and has been from his entry to the team. He is glad that she is more serious than he is, because it provides a nice offset. He loves it when she swings him around in the air or carries him around in her arms. He'll often give her a playful lick as she totes him about.











Species: Tangrowth
Sex: Female ♀
Caught in: Part N/A
Tangerine joined the team after the Ecruteak Massacre, pairing up with Cauliflower in the process. She's bold and confident in nature, standing up for many challenges without worry. Despite the fact she can be rather serious at times, she's also lighthearted and has a sense of humor, which makes her a perfect match for Cauliflower's crazy antics. Tangerine also has an affinity for flowers of all varieties, although red roses and tulips are among her favorites.

In battle, she enjoys employing a mix of tactics designed to cripple the foe while also giving herself an edge. She moves much faster when it is sunny out thanks to the chlorophyll of her vines, which she uses to her advantage while fighting. She fears Fire- and Flying-type Pokémon, among others, but thankfully her partner, Cauliflower, is usually more than willing to step in to save the day.

She and Cauliflower get along very well together. She enjoys cradling him in her arms and generally being around him. While they're very good friends and are quite close, she has a harder time showing affection than he does, and tends to get shy when he playfully licks her face.








Species: Nidoking
Sex: Male ♂
Caught in: Part N/A
Spinach was caught a long, long time back, before any Pokémon had even passed away, but was stored in a PC Box for most of his life. He was ambitious to prove himself then, and was glad to have the opportunity to do so after the Ecruteak Massacre. However, he had to work diligently as a Nidoran before Legs allowed him to evolve, then she evolved him to the majestic Nidoking almost immediately after he became a Nidorino.

Personality-wise, Spinach is tough, brave, a little hot-headed, but also can get easily confused about things, such as being called a "big purple dino-rabbit," which stumps him more than angers him. He can sometimes come across as a little dopey, but he works hard for his team and strives to secure his place as new leader should anything happen to Carrot and Peach, both of whom he has a lot of respect for. He's definitely a braggart, though, bragging about his own accomplishments to help elevate his ego, which had remained dormant for far too long in a PC Box. He has an affinity for glasses and other fabulous looking spectacles, donning a choice pair quite often.

His partner is Banana, who was first a Krabby, but has since evolved into Kingler. Together, they use their royal-sounding status and are collectively known as "Nidokingler". They are quiet, but caring towards each other. Both believe the other is very capable of fighting, so they don't worry too much in battles.








Species: Kingler
Sex: Female ♀
Caught in: Part N/A
The final member of Legs' team, Banana is a rather chilled Kingler who enjoys long walks on the beach, mostly because she is always able to look at the ocean while walking. She walks sideways all the time, which some Pokémon view as disrespectful at first until they get a chance to know her. It also gives her an advantage against her opponents, who may not realize this and are bewildered by her strange movements.

She is a rather mellow Pokémon. Quite easy going, not too concerned with anything, but likes to snap her claws, blow bubbles, and crush skulls. She has a fascination with decapitation and sometimes chases around the likes of Carrot, Peach, or Cauliflower for kicks. She's rather quiet as well, and enjoys eating cookies for some reason.

As far as the female Pokémon on Legs' team go, she's definitely the least feminine, even less so than Tangerine. She doesn't open up very easily to anyone except Spinach, which is great, because no one else puts up with Spinach's bragging, so they at least listen to each other. Even then, she and Spinach don't express their feelings for each other often, but they both have a mutual understanding for each other and are glad to be together. They suit each other perfectly.
Pokemon is © The Pokemon Company