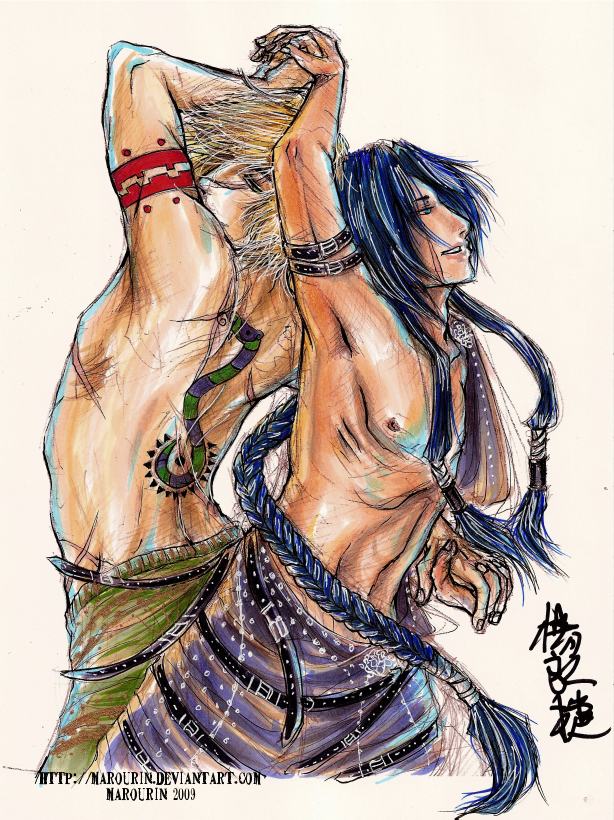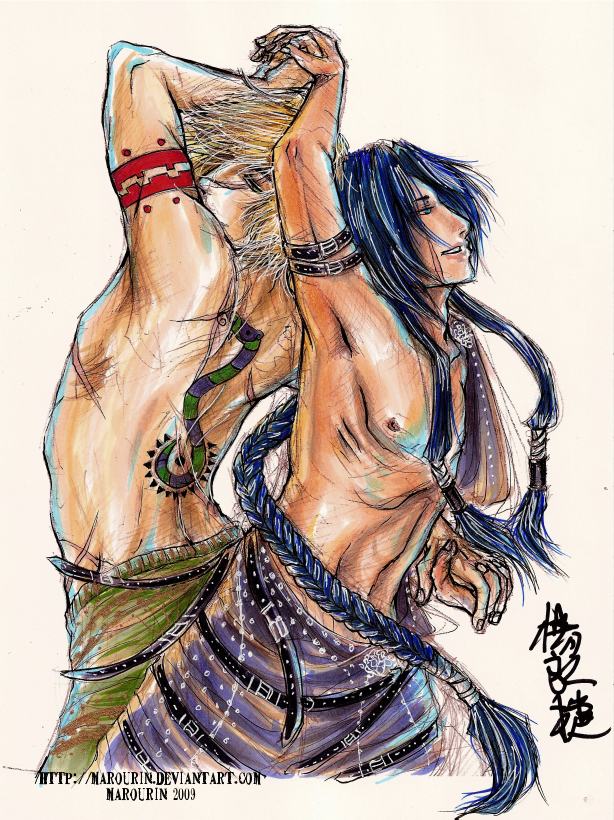 Watch
A commission over on y!gallery for
[link]
<3 I had fun, I LOVE doing copic commissions ;; they're so much fun to play with!

Why have I never faved and commented on this? I am SUCH a tool! Perfect perfect picture of these two and I adore it. We've had a fair few commissions of them and this is my absolute favourite. XP
Reply

<3 thank you very much for hunting me down here, dear! I'm glad you enjoy it, I liked working on it, they were enjoyable to draw! *snug*
Reply

Aha, my lovely Narti reminded me you have a DA too :3

So I get to comment here and remind you AGAIN that I adore this so much <3 I love the sketchiness of your style and the wonderful way you play with colours.

Damn they look so sexy <3
Reply

That has such fantastic energy. I

their funky clothes.
Reply

o.o Soooo prettyyyyyyyy~~~~ Guh, I love the pose(s), too - so fluid!
Reply

XD thank you very much~! <3 went through quite a few versions before I settled on this, admittedly--in fact I think I came back to it
Reply

That's it; time to bust out my Copics and work. D:

Seriously, I'm loving those skin tones. Gorgeously coloured and the blue lighting looks great. I'm also really liking those patterned cloths they're sporting!
Reply

XD thank you~! I love coloring skin really...it's so nice with copics *hates doing skin digitally*

I need to work on my lighting >< been trying.

And yes, you need to get down with the markers XD
Reply

I've been so spoiled digitally that I need to see what I can do with Copics. I bet I'll surprise myself.

I think your efforts with lighting are paying off. Just keep going!
Yes, to work. BTW, HAI AWA ARTIST ALLEY NEIGHBOUR.

Reply

Oh, now, THAT'S pretty!

I wish I had copics!
Reply

Thank you~!

They're wonderful markers--highly recommended even if they cost an arm and a leg ><
Reply

*groans loudly* I KNOW! But I don't HAVE an arm and a leg!
Reply

Reply

For the record, though, I KNOW how good copics are. I'd do ANYTHING for them... almost. I mean, I wouldn't steal or strip, but you know what I mean!
Reply