Journal Entry:
Fri Aug 5, 2016, 1:00 PM
AnimalsPlantsNature
Your Home for APN Photography
Photographing your pet is fun to do and you create beautiful memories to hold on to. The benefit of domestic animals is that they are used to humans being around. Here are a few tips for how to make outstanding photographs of your precious pets. In this tutorial I will be focusing on smaller domestic animals such as: bunnies, hedgehogs, guinea pigs, mice and hamsters. Of course some tips will be useful for photographing larger pets as well, so do not hesitate to read this if you would like to photograph other domestic animals.
#1 Take your time
Just like with very young children your pet does not understand what your intentions are. In general you cannot tell them to look that way or pose like that. You will have to ''go with the flow'' and just see what your pet is up to. So be patient and monitor the behaviour of your pet. If you notice or feel it is not going to work: too bad, pack up your stuff and try again later. Do not push your animal to get a nice shot, it is not worth the stress. With that said, let's move on to the other tips!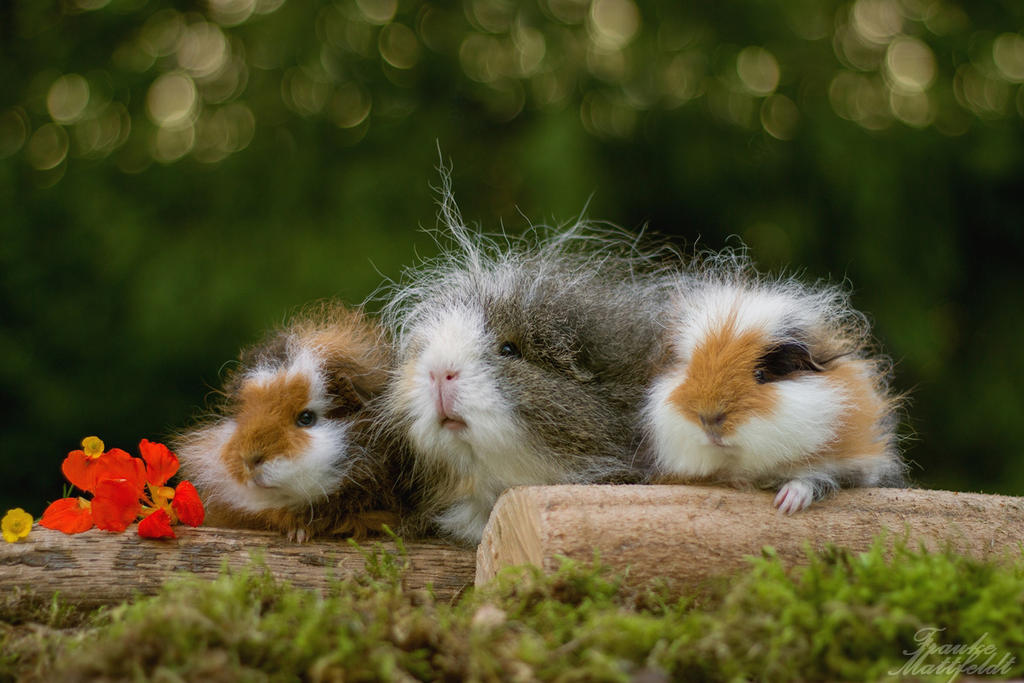 Go with the flow!
#2 Props or natural surroundings
The first thing you should ask yourself is: do I want to photograph my pet in their natural surroundings, perhaps in a grass field, or do I want to take photos with various props in a specific setting. Both of them require some preparation, if you are going to pick the setting you might have to buy or make props to create the setup. You can think of a tea party themed photo shoot, a flower shoot or perhaps something with cute cookies. Once you have an idea you could go prop shopping at flea markets or second-hand stores. If you prefer a more natural photo shoot you should look for a suitable location for it. Take in consideration that you are photographing a smaller domestic animal. They might not have been outside your house! So always wonder if it is safe for your pet to be outdoors. You could look in your backyard if you have small spots with grass, trees or flowers to photograph your pets. With both settings: safety first! Make sure your pet cannot eat toxic things or fall of a high table.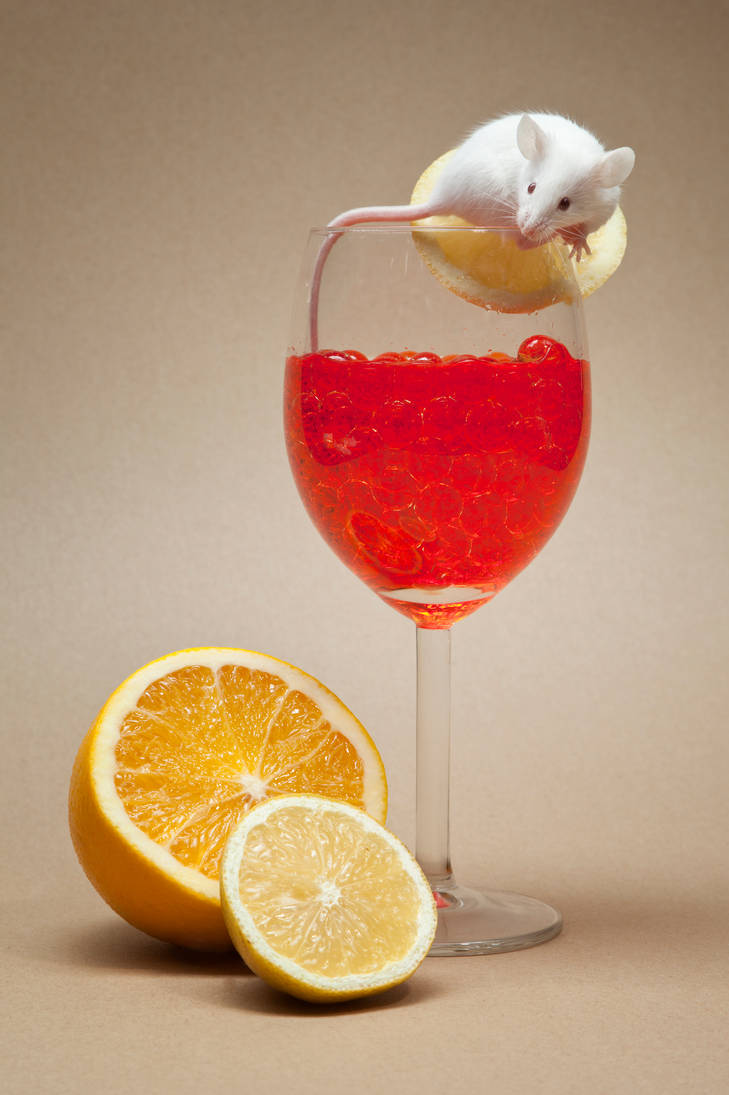 Here the photographer chose for a cute setup with a wine glass!
#3 Composition
Of course a beautiful composition is essential for a strong photograph. A central composition can be very pretty, but if you use it too much it can be a little bit boring. Try to keep your subject out of the centre of the picture. To vary a bit you could use the ''rule of thirds''. With this rule you divide your image into nine equal parts by two equally spaced horizontal lines and two equally spaced vertical lines. Important elements of your photograph, in this case your pet, should be on or close to the lines or intersections. This will create more tension in the photograph and makes it more interesting to look at! You can often pre-set these lines in your camera view, you should check your camera manual how to do this.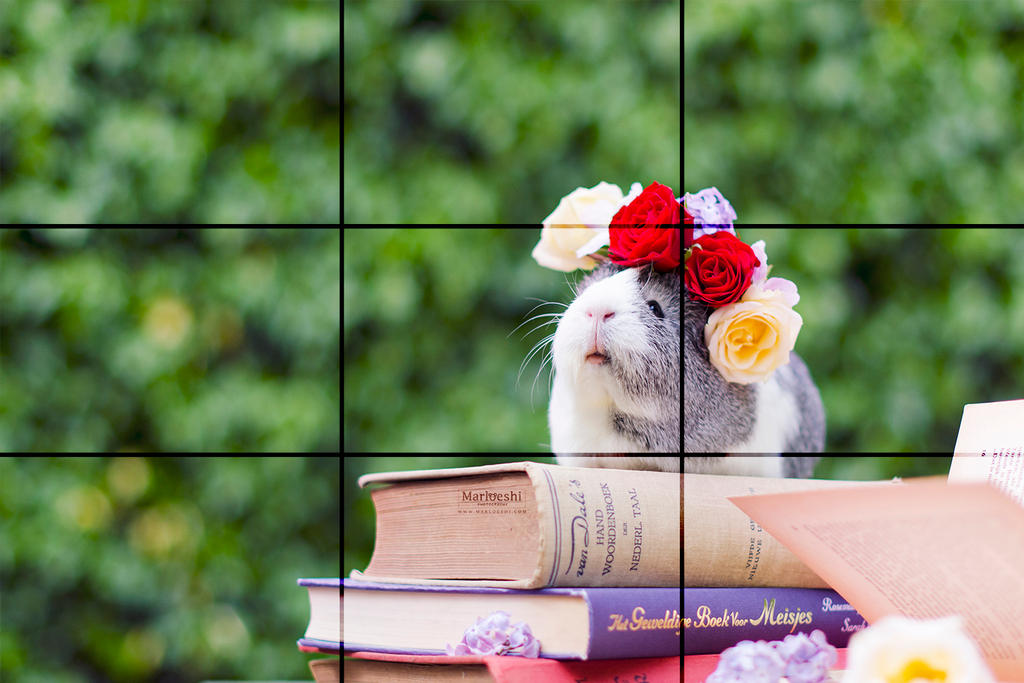 An example of the rule of thirds.
#4 Camera settings
Domestic animals like hamsters and mice are very fast, which requires a fast shutter speed (like 1/2000) to freeze their movement. Try various shutter speeds to find out which one suits best for your animal. Keep in mind that if you pick a fast shutter speed not much light will reach the sensor, so you will have to compensate on that with your aperture or ISO value. If you are not comfortable with picking your own settings you could pick a sports, animal or children pre-set scene. You could choose for the S mode (Tv mode with some brands) as well, you will have to pick the shutter speed the camera will do the rest for you. Of course you want to put the focus completely on your animal. You can do this by picking a open aperture (like f2.8), it will create a blurry background so your pet will stand out! Try to keep your ISO value low, you do not want pictures with noise in them. Of course it depends on the light circumstances, better a bit of noise than no sharp photo at all!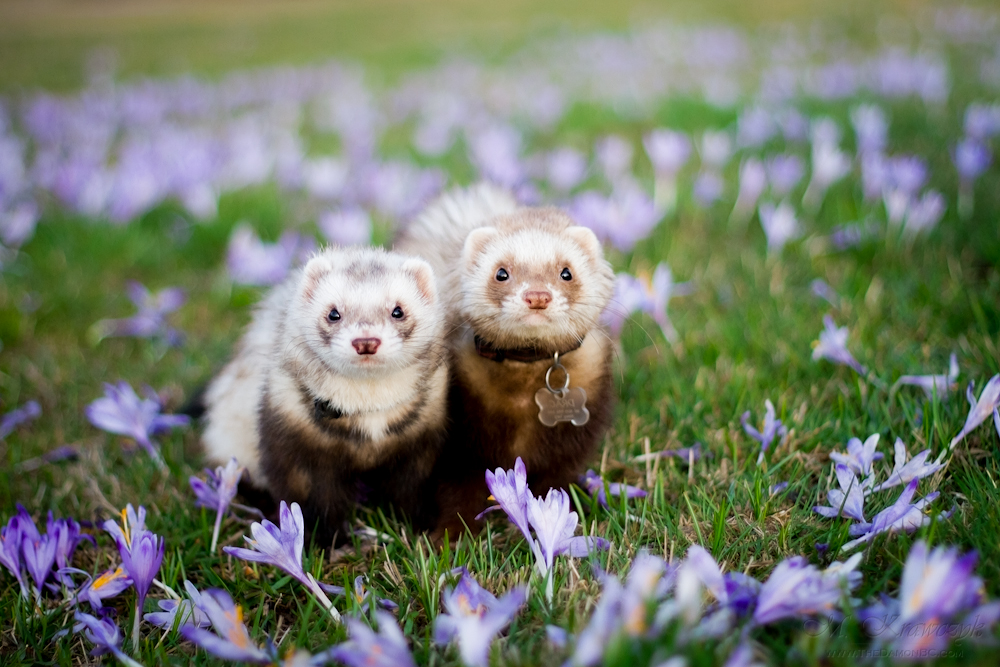 The focus goes to these two beautiful ferrest because of the open aperture.

#5 Perspective
Get outstanding photographs by adjusting your perspective, you probably are used to take photographs while you are standing. Try something different while you are photographing your pets. If you photograph them on their level it will create the feeling that you are part of their world! This might mean you have to lie down on the ground of kneel down. You could take some plastic bags with you to protect your clothes if you have to lie down in grass or sand. Of course you can experiment with this, maybe a shot from right above is very interesting as well! Try to vary the three main perspectives: frog perspective, eye level and the bird perspective.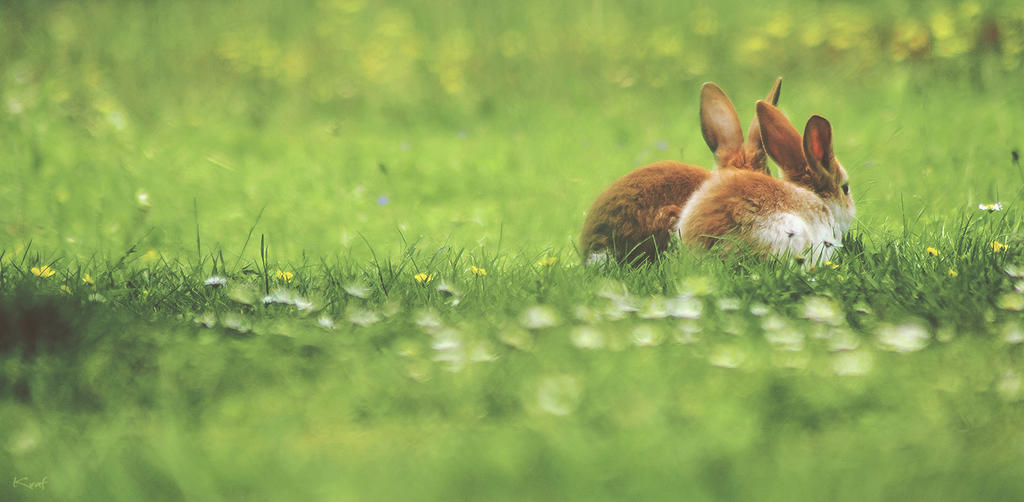 This photo gives you the feeling that you are another bunny watching the other two. With a different perspective you would not get this feeling.

A few inspiring photographs: