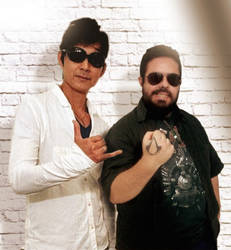 Hello everyone, markolios here and I'm a professional artist and graphic designer.
I make drawings for living, I produce and develop Logos, Arts, Banners, Characters and various other types of drawings for companies and people.
I am a big fan of Tokusatsu and Anime, I am expert in creating Kamen Rider logos, drawing and developing original characters and weapons, all in vector.
I'm always open for commissions
remember, I work really hard on making these drawings so don't use them for anything without asking my permission first!
chances are I'll say yes anyways, but it's better to ask
if you use my drawings without permission or use my ideas, I'll report you and take you down, no matter which platform you use (deviantart, youtube, instagram, pinterest, facebook, uihere) so be careful and NEVER STOLE MY DRAWINGS OR MY IDEAS
I don't work for free, please don't insist ... if you want a logo made by me, wait for the request season or make a commission to support my work