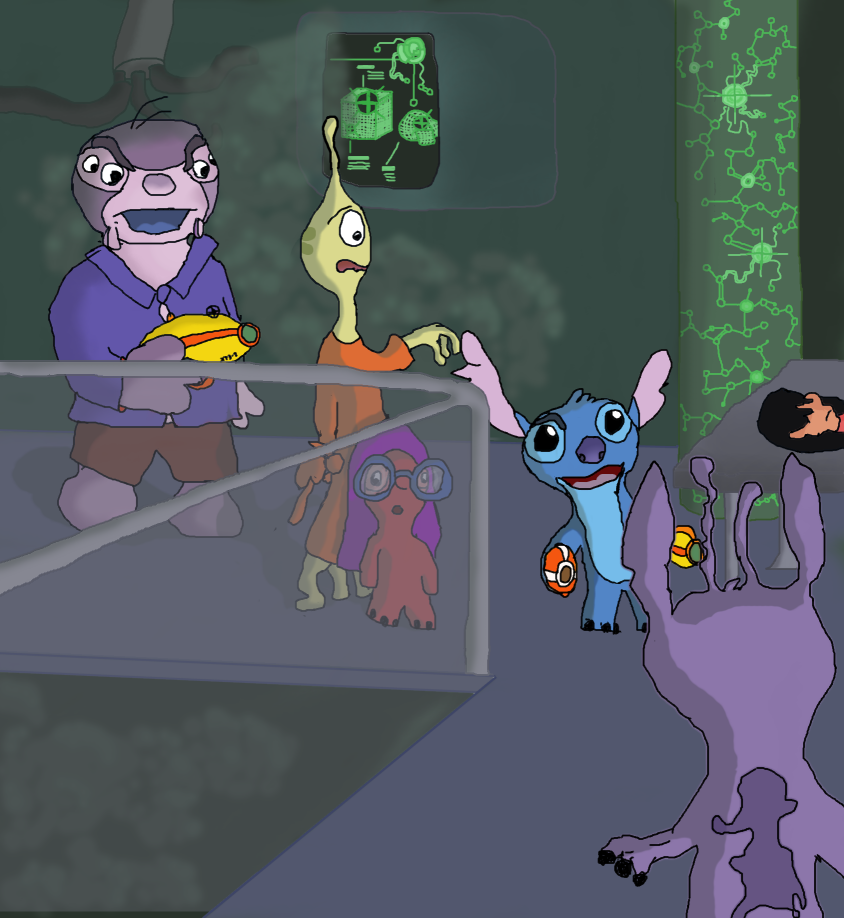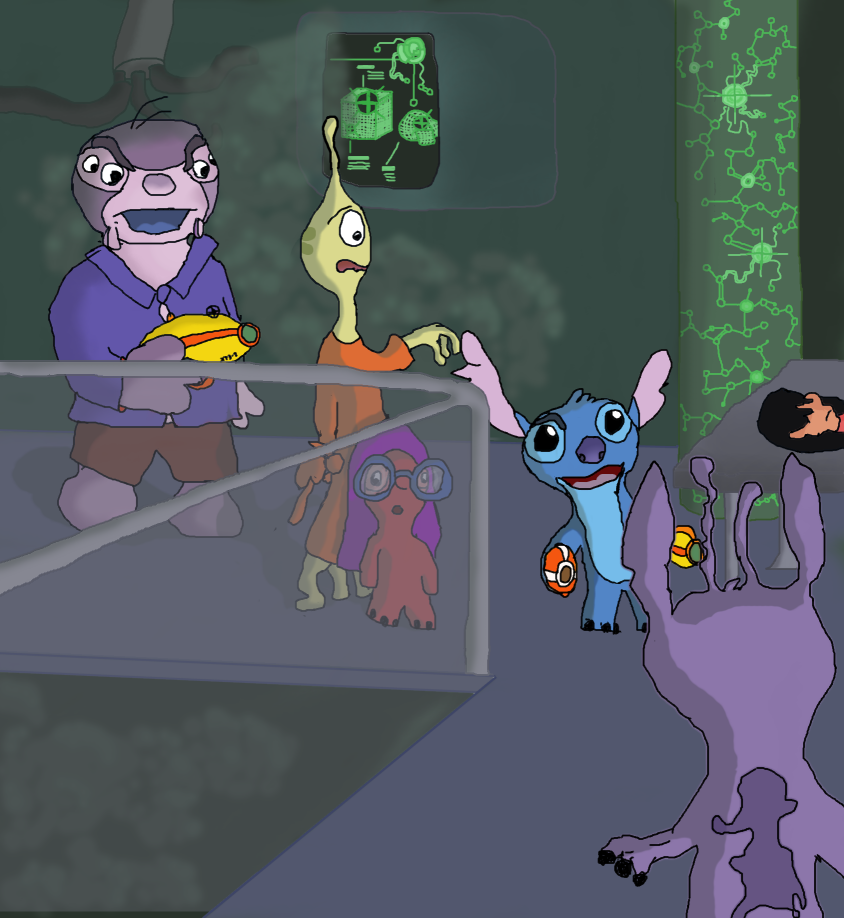 Watch
Wow, this is finally finished!
First, a run-down on what this is about: Jumba, Pleakley, Stitch and 419 confront experiment
628
on the Borg cube after retrieving Lilo. This was an early concept on the climax of
Lilo & Stitch's Star Trek
- kind of an artistic brainstorm, of sorts.
This had been sitting in my queue for
literally
years. The sketch is so old that it's actually the second picture I'd based on LSST (after the
cover
), and the first time I'd ever drawn 419 (even before the
reference sheet
, IIRC.)
426
hadn't been created yet, thus his absence from the pic.
To be honest, when I first drew this sketch, and even when I started digitally painting it, I never really thought I'd be anywhere close to writing the scene into the actual fic when I'd finish it. But here we are, and this scene will be happening within the next few chapters. That's time (and procrastination) for you!
Update:
And we've finally gotten to that point! The encounter with Experiment 628 happens at the end of
chapter 56, Reunion
, and continues through
chapter 57, 'Tis The Bell
.
I'd also like to note that I've since completely redrawn the ref sheets for
Experiment 419
,
Experiment 426
and
Experiment 628
. The links in the original description are left intact for historical context.
Art notes
I kept on avoiding painting it digitally because I'd thought it would be too hard to pull off. And my first attempt in 2009 didn't do anything to put these fears to rest - the sketch looked OK by itself, but drawing the lineart to match the sketch made it look
really
sucky.
So, earlier this year, I decided to have another crack at it. I basically completely redrew most of the lineart, which I think made for a much better pic. Seriously, you should see the original. Or not, rather. It was
bad
.
OK, so Jumba looks kinda sucky on this too, but believe me when I say it's a hundred times better than the original.
Everything went smoothly until May, when I was having trouble getting the smoke to look like smoke at all (which I wanted to use to cover up the lack of detail on the wall, heh heh.

) I'd also decided that I didn't really have enough patience at the time to fill out all the little circles on the column behind Lilo. So I shelved it.
Then forgot about it. Oops.
In fact, I'd only just remembered it near the end of November, while working on another pic (also related to one of my fanfics.) After a re-watching of the
Voyager
episode "Dark Frontier" to get a feel for the Borg column designs (since it had been several years before the original sketch since I'd last seen any Borg episodes), I'd decided the original design from the sketch was terrible, and so drew the entire thing from scratch. I also added some of the symbols to the console, since I noticed the designs on Borg consoles in "Dark Frontier". Incidentally, this went
much
faster than I had first anticipated.
For some reason, I'd no trouble with the smoke this time around either. Odd.
Sketch:
Mid 2005
Foreground Lineart (original):
11-12 Jan 2009
Foreground Lineart (redo):
8 March 2010
(with slight modications on 1 December 2010)
Background Lineart:
8, 12 March, 25 May 2010
(with brightness modification on 23 May 2010)
Foreground Paint:
13, 23 March, 23-25 May, 1 December 2010
Background Paint:
12 March, 23-25 May, 1 December 2010
Borg Symbols, Smoke:
1 December 2010
App:
Jasc Paint Shop Pro 5.01, Jasc Paint Shop Pro 8.10