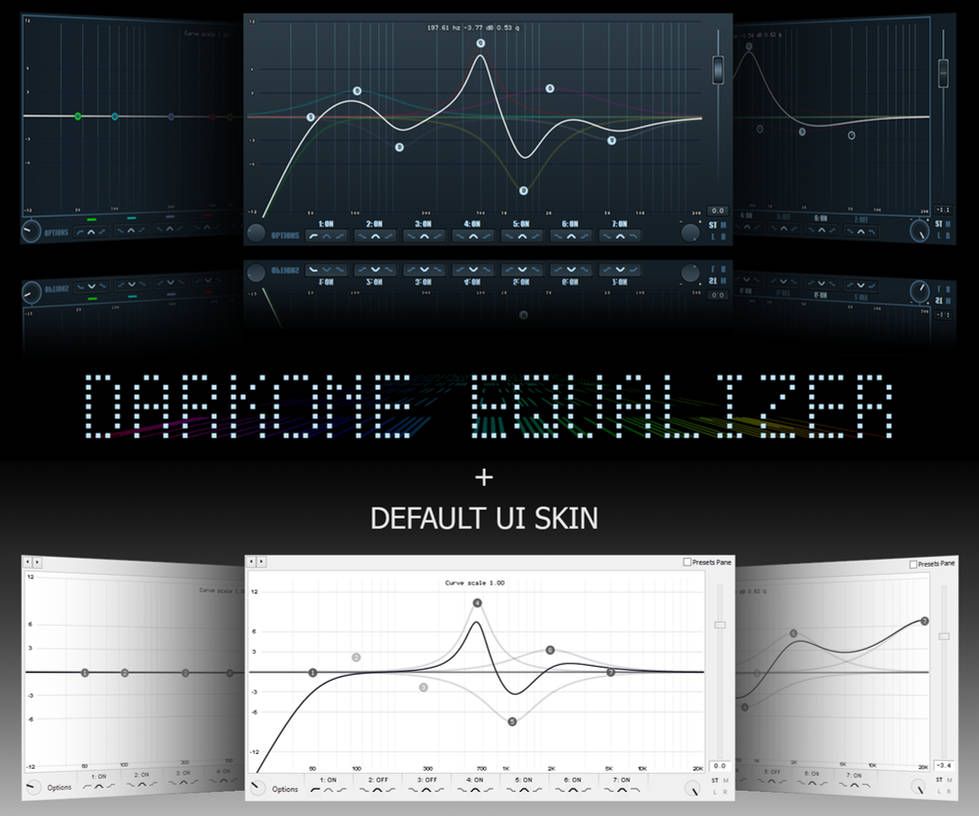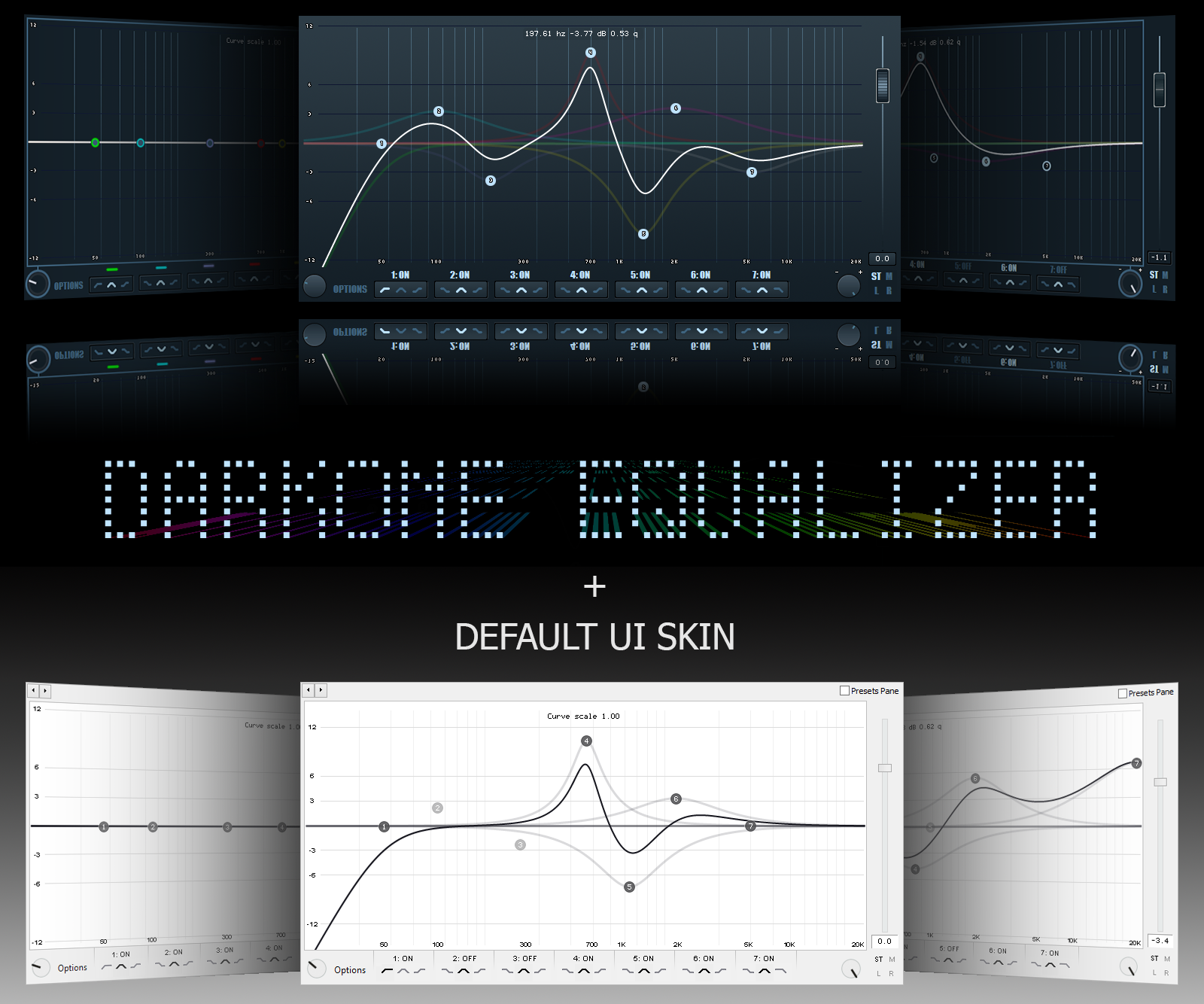 Watch
28/05/2013 edit:
I added a new skin for everyone that do like the plain style of foobar2000
Default UI.
See the preview for a first look!
Update!
I changed a little the style of the buttons in the default skin, see the preview central image.
More DarkOne-ish now

What it is? :
A Fnequalizer skin, made by me to match with the DarkOne foobar2000 style.
Fnequalizer is a free Parametric Equalizer VST plug-in.
Just an add-on to the beautiful foobar2000 skin by this great artist:
[link]
Requirements :
-foobar2000 music player.
-VST 2.4 adapter, known as foo_vst.
-Fnequalizer VST plug-in.
Step by step installation
, assuming you already have foobar2000 and DarkOne skin [optional but recommended] installed:
1) Download the VST adapter component here:
[link]
and install it in foobar2000:
[Foobar2000->Menu->File->Preferences->Components->Install...->choose the foo_vst.zip file->OK->OK]
2) Unzip the DARKONEfnEQUALIZER.zip in the folder* you chose for your VST Plugins.
*No need for a special folder, but i usually create a "vst-plugin" folder inside my foobar2000 main folder,
so it's easy to remember where you store your plugins.
3) Install the plugin:
[Foobar2000->Menu->File->Preferences->Components->Vst-Plugins->Add...->
browse to the folder where you unzipped the plugin and choose the file Fnequalizer.dll->OK->OK]
4) Add the plugin to DSP Manager:
[Foobar2000->Menu->File->Preferences->Playback->DSP Manager->
Double click on Fnequalizer from the Available DSPs box [right] to add it in the Active DSPs box [left].->OK.]
5) Foobar2000->Menu->View->DSP->Fnequalizer.
Enjoy!!
Tips:
-In OPTIONS->Skin you can choose the same skin but with a different style of indicators, a touch of colour!!
-If you want you can rename the skin to whatever you want, just remember to edit the folder's name [it's "Red" by default]
AND the relative entry in the Fnequalizer.ini file.
Just open it with a simple text editor and change the second line [Red] with the name you assigned to the skin folder too.
-When using the plugin you can have some useful info about the features going into OPTIONS->About.
Credits:
Foobar2000 developers:
[link]
tedgo
[link]
for his foobar2000 skin. Thank you so much for your work and your help too, really really really appreciated.
Yegor Petrov
[link]
for the VST adapter component.
Oceanturtlemusic
[link]
team for the VST plugin.

Hi Mark, Great work on matching the look of the EQ with the skin. That said, I am trying to install your EQ UI and having a problem. I think I've followed your install instructions but the Fnequalizer does not appear in the available DSPs box on the right to complete the installation.

My install:
1) Unzip foo_vst to "VST_plugin" folder I created in the root of "Foobar2000" located in Programs (X86) folder of my Win7 install
2) Unzip DARKONEfnEQUALIZER.zip in the same "VST_plugin" folder in root of Foobar2000 located in Programs (X86) and placed zip file there as well.
3) In Foobar2000, install VST component <<-------- At this step the dll file is not identified as as appropriate file (i.e not visible in dialogue box). However, the zip file is visible and when selected the "VST 2.4 adapter" appears as a installed component in this window.
4) Navigate to Playback > DSP Manager, but Fnequalizer is not found in the "Available DSPs" box on the right

What went wrong?

I've re-started both Foobar and my computer but still the DSP is not found in the "Available DSPs" box. Just for fun, after performing the above, I also copied the skin folder to the AppData / Foobar2000 folder but no joy there either.

Any help you could share would be much appreciated.
Reply

Hi, thank you for the nice words!
If i got it right the problem is that you're using the same mený to install VST adapter and the VST plugin, that's why you can't see the .dll file in the installation process.
Let's try to explain the procedure someway more detailed

1.1)You don't have to unzip the foo_vst in the folder you created. You have to
install
foo_vst!! How?
1.2)Download foo_vst.zip from here:
www.hydrogenaudio.org/forums/i…
1.3)Do
NOT
unzip it!
1.4)Open foobar2000 and select Menu->File->Preferences, than select "Component" from the left vertical mený (it's the first entry).
1.5)In the bottor-right part of the window select "Install..." and than browse to the folder where you saved
f
oo_vst.zip , choose it and give ok. You'll be asked to restart foobar2000. Do it.

At this point you have the VST adapter working, and that's what allow you to make any vst plugin working within foobar2000.
Now we need to install fnEqualizer. How?
2.1)Go to your foobar2000 installation folder and create a "Vst plugins" folder. (you already did it).
2.2)Dowload my deviation from this page. In this case, you have to unzip it exactly in the folder you just created. When done ... you'll end up with this: C:\program ...\foobar2000\Vst plugins\DARKONEfnEQUALIZER (some files in there).
2.3)Now let's intall this. As you can see from my pic here:
imgur.com/bI0tdKk
, the right mený entry is not the same we used before, you have to choose the "VST plug-ins" entry, that's exactly under the "Component" one we used before.
2.4)Right-bottom corner and select "Add...", than browse to your "C:\program ...\foobar2000\Vst plugins\DARKONEfnEQUALIZER" folder and select "Fnequalizer.dll". Give OK and restart.
Now both component are installed, you only need to enable it:
3.1)Mený->File->Preferences
3.2)From the left part of the window select "Dsp Manager" entry (the one under "Playback")
3.3)Now select "fnequalizer" from the Available DSPs box (the one on the right) and once selected you have to press the white arrow between the two box, the first one, that's pointing to the left box.
You should end up with the entry "fnequalizer" in the left box, "Active DSPs". Give ok.
Well at this point you can pop up the plugin whenever you want. Also during the playback. How?
4.1)Mený->View->DSP->Fnequalizer.
Sorry for being so verbose, did it help?

Reply

Hi Markeight,
Sorry it's been a while since I could get to this. I did follow your instructions and as I now have your EQ installed and working! The instruction were spot-on and perfect. Thanks so much for helping me out, it's much appreciated. Now I can use this great parametric EQ

Reply

I'm glad to help you, i know that the installation of the whole thing is not so easy ... so a good step-by-step guide is needed.
Reply

Hi, great job, can it be added to WSH Panel mod ?
Reply

Thank you!
Unfortunately that's not possible.
A VST is an external plugin inside foobar2000, lots of them aren't even resizable...
Maybe with a more complex VST adapter something could be done though, but i'm not a component developer.
Reply

Hi there! I like your work as an extra feature of darkOne skin. Congrats. Just one thing: I'm trying to add a button to the interface to call Fnequalizer but I can't seem to make it work. This is what I'm trying (according to tedgo's provided instructions):

fb.RunMainMenuCommand ("Fnequalizer");

I assume Fnequalizer is not a MainMenuCommand.

What shall I write?

Thanks!
Reply

Hi, first of all thank you !!

As far as i know, a VST plugin cannot be recalled with his own name but it needs the sintax that concern his position in the DSP manager.
Have you already added fnequalizer to the available DPS as i did in this image,
[link]
, right?
Well, as you can see here in the command picker list
[link]
, if fnequalizer is the first DSP in the chain, you need to write "View/DSP/DSP #1 config" , and the button will be mapped to popup the plugin.
Hope it helps!
Reply

Reply

That looks awesome! Shame I would probably ruin my music by using it wrong

Reply

Thank you!! I think that's at least nicer than the defaul equalizer.

Well it's a double-edged sword of course, don't you use it randomly...
I use it cause my sound equipement is everything but high-level, so a bit of equalization can help.
Trust your ears!
Reply