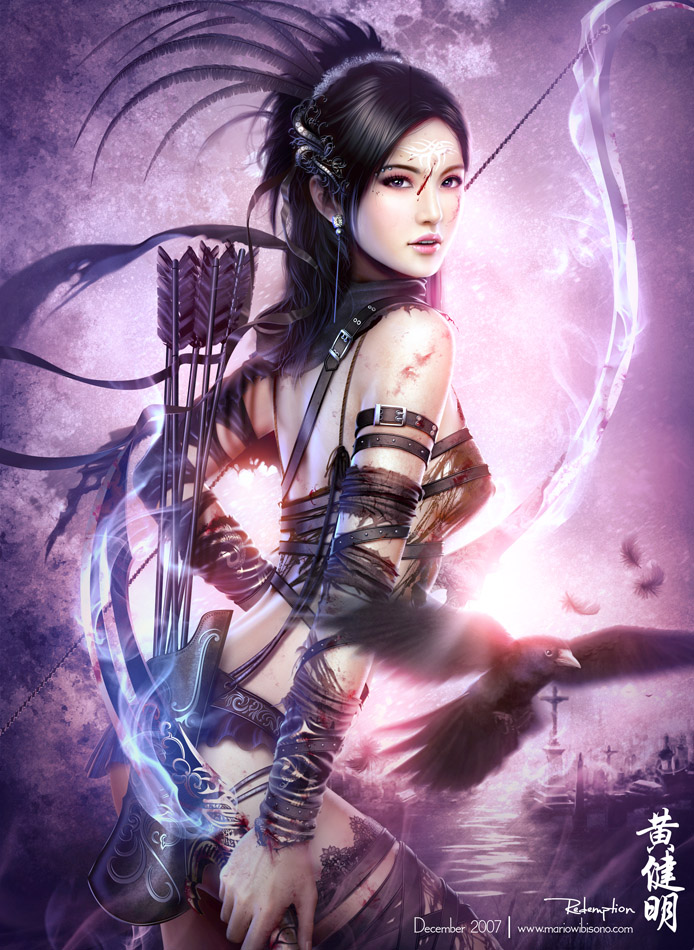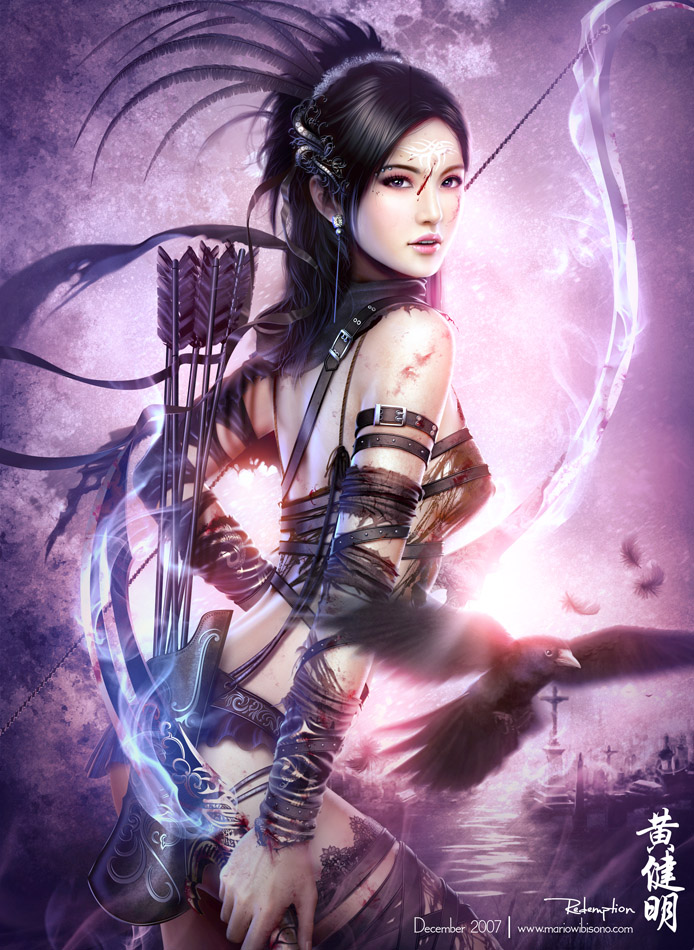 Watch
Facebook Page
|
Patreon
|
Artstation
|
Instagram


I shall go nowhere else but to follow the crow
Searching for you that had been lost in darkness
Wounds shall not stop my sorrow
And rain of blood shall not cleanse my sins

No glory down the forbidden path I carved
The sound of your heart beat is what left in my mind
Love had made both of our souls tainted
At the end of our journey only death awaits in kind

The curse upon you shall be forever my fault
So this sacrifice is my decision
To released the chain that bound us to fate
And only then shall i find my redemption
--------
BACKGROUND STORY
Rozalia is a warrior princess with unmatched skill and courage.
Falling in love with her bravery and beauty, one ancient god decided to grant her an eternal life and she became an immortal guardian for her land.
Unfortunate for the ancient god, Rozalia never have feeling for the god, instead one day she fell in love with a man with hart as pure as light. Knowing this, the ancient god became furious and decided to cast the man she loved into the underworld and banned the pour soul forever in darkness.
Now, she is going to release the curse that befallen her love, by killing the ancient god who give her mortality, which also means the end for her life.
--------
First of all, it's amazing how extraordinarily lifelike and detailed this is. If it weren't for the fantasy elements like the glowing longbow, one could wonder,
"Is this a photo or a painting?
"
I think the woman is quite beautiful. Her ragged black clothing and the feathers in her hair give her the appearance of being a crow herself, as if she could shapeshift into one. It's strangely fitting, not only because crows are commonplace where there has been war, but also because in Norse mythology it's said the Valkyries (mystical warrior maidens) sometimes assumed the form of ravens. I love all the details like the lace garter on her thigh and the intricate leather tooling on the hilt of her knife and on her belt. The luminescent tattoo on her forehead is a nice touch— it makes her seem all the more regal and warrior-like.
The only thing I can possibly mention (and it's only my opinion) is that the Gothic/European cemetery in the background seems to throw the Asian aura of the painting ever so slightly off. Overall, however, I think it's a magnificent work of art. I am in total awe.



The Artist thought this was FAIR
116 out of 120 deviants thought this was fair.
I am going to start this critique off by saying that I am a bit biased. This has been one of my favorite pieces of art for a while, and I had no idea who drew it, but now I know. I love the way you made the weapons glow, and I love the design and concept.

I love the way you made her look very crow/rogue like. This is pretty much perfect. I love the captivating look in her eyes. Even though her outfit is somewhat impractical for combat, I love it. I love the feathers and her ornate hairpin too.

My only critique would be that the blood splatter is inconsistent. On her forehead it looks like it just dripped there. On other parts of her body it looks like someone with a blood hand or finger just touched her and smeared blood on her.
The Artist thought this was FAIR
28 out of 30 deviants thought this was fair.