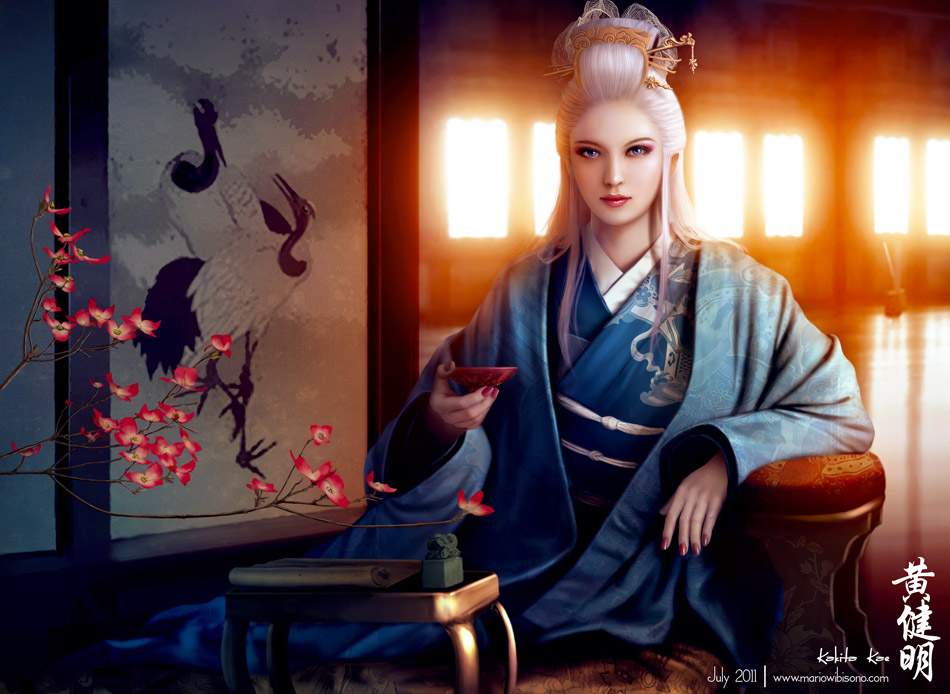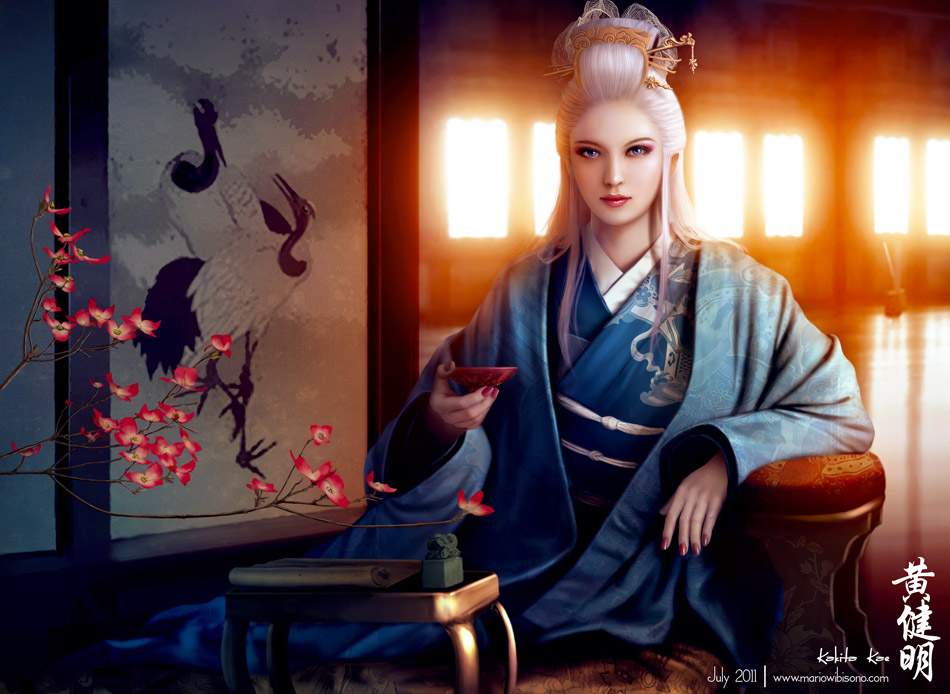 Watch
"Even the Scorpion are wary of her sweet words."
An extraordinaire courtier from The Crane Clan, she is a master of the court. With her excellence in the power of words, writing and politics, she is capable to persuade anyone to her benefit.
----------
An illustration done for Legend of the Five Rings CCG.
Legend of the Five Rings and Kakita Kae copyright Alderac Entertainment Group.
----------
Official L5R Website
www.L5R.com
More of L5R arts at
L5R Art Folder
Art Print Store at
BuyFantasyArt.com
L5R Custom Playmats Store at
L5R Playmats
Official Facebook page at
MarioWibisono.FacebookPage
Official Website at
www.MarioWibisono.com
Goodness, I had to really nit-pick to even find ANYTHING to critique!

First off, let me begin with your praises. What a beautiful kimono you've drawn! As someone who wears kimono somewhat often, I have to say I'm impressed. The obi-jime and obi-age perfectly compliment the wonderful whites and blues of the obi and the kimono itself. You even made sure that the nagajuban and the kimono robe crossed left over the right, and that the han-eri was visible over the kimono's collar, which was turned in as a real kimono would have to be. Many people don't know that, kudos to you! The obi-jime is even tied in what seems to be the correct knot, though I'm not wearing my glasses.

That being said, traditional hairstyles for kimono would not have hair down. It's traditional for hair to be up, either by tying or clips, so the tendrils hanging down really shouldn't be there at all, especially because she's dressed and ready to go. But her hair is lovely, and the ornaments are adorable. I would love kanzashi as elegant as that!

Her left hand, the one casually reposed, has a tiny, tiny thing out of place. Her ring finger nail is straight, whereas her finger is curved. It makes it look like her finger is just a little bit odd, though that's a very, very tiny little detail.

All in all, this is a lovely piece. The color choices could not be more perfect! There is never a place where it seems overwhelming or underwhelming, each detail is rich and beautiful.

Oh, and if you know of a place to get a kimono like this, do kindly let me know.
The Artist thought this was FAIR
19 out of 19 deviants thought this was fair.
The thing i love the most about this work is the amazing lighting. you've managed to make the setting with it. The detail and proportions are great as well, and the walls and background are simple enough to not detract from the main focus (obviously the woman).

that being said however, the flowers in the foreground are too bright. if the light is coming from behind the woman, then it stands to reason her shadow will fall across whatever is in the foreground. I think if you darkened them a bit and added some more shading and shadows to them then you would only improve the piece.
The Artist thought this was FAIR
20 out of 23 deviants thought this was fair.