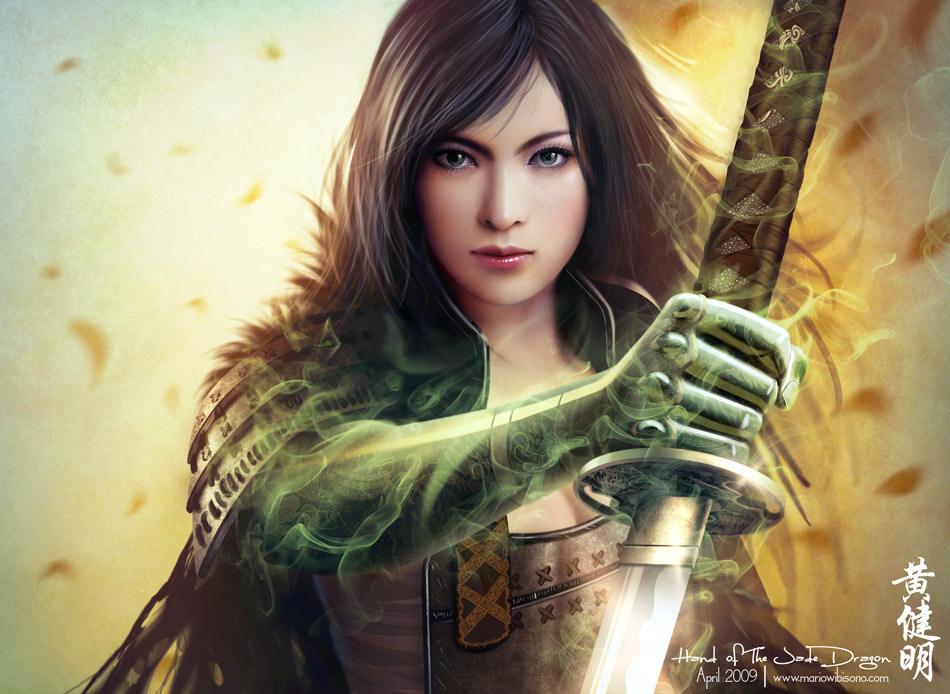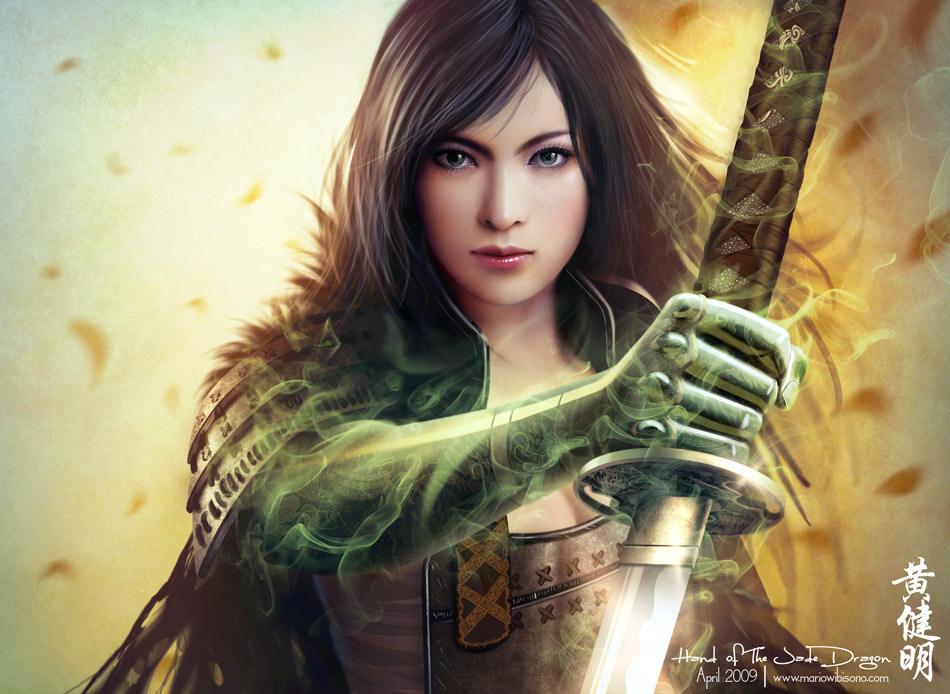 Watch
"I swear to be a beacon of honor, that all will desire to live by Bushido."
- Matsu Benika
The hand of the Jade Dragon is a unique gift bestowed to Matsu Benika given by Voice of the Jade Sun. Powerful almost beyond comprehension, this gift will prove to be an incredible asset for the clan whose hero carries it onto the field of battle.
----------
An illustration done for Legend of the Five Rings CCG.
Legend of the Five Rings and Hand of the Jade Dragon copyright Alderac Entertainment Group.
----------
Official L5R Website
www.L5R.com
More of L5R arts at
L5R Art Folder
Art Print Store at
BuyFantasyArt.com
L5R Custom Playmats Store at
L5R Playmats
Official Facebook page at
MarioWibisono.FacebookPage
Official Website at
www.MarioWibisono.com
First off, I'm not a professional art critic, I'm not even an artist. I just love looking at beautiful art and happen to have an opinion.

I like this version much more than the one on your website. The gold background really makes the viewer focus on the warrior.

I love her hair and eyes. In fact it was the first thing that drew me to the picture. The detail in the eyes is amazing. She looks like she's staring at you, calmly, assuredly. Her hair frames her face and body perfectly.

I love the emerald green colour blend of her armour but I'm disappointed that it's not as detailed as Shiba Tsukimi.

Also her armour doesn't seem to allow for her breasts, giving the impression that she's flat in that area. On Shiba Tsukimi, it looks natural because she looks younger. Please note I'm not encouraging powergirl boobs, I'm just suggesting a little give in the armour in that region for this drawing.

I've also noticed her arm length from her right shoulder to her elbow doesn't look long enough. This and the lack of armour curve are not immediately visible, it's only after staring at the drawing for a while that I noticed them.

Lastly, this reminds me of a Luis Royo drawing from his Secrets collection. I'm using it for my avatar.

I'd like to encourage you to continue your work. In my humble opinion, the quality of your work is right up there, definitely among the best I've seen.

There are too few good artists that portray warrior women with more than 3 triangles of clothing on (not standing in ridiculous postures) and even fewer that draw Asian warrior women. I know, I've looked. So I look forward to seeing more from you.

I wish you all the best.
The Artist thought this was FAIR
23 out of 25 deviants thought this was fair.