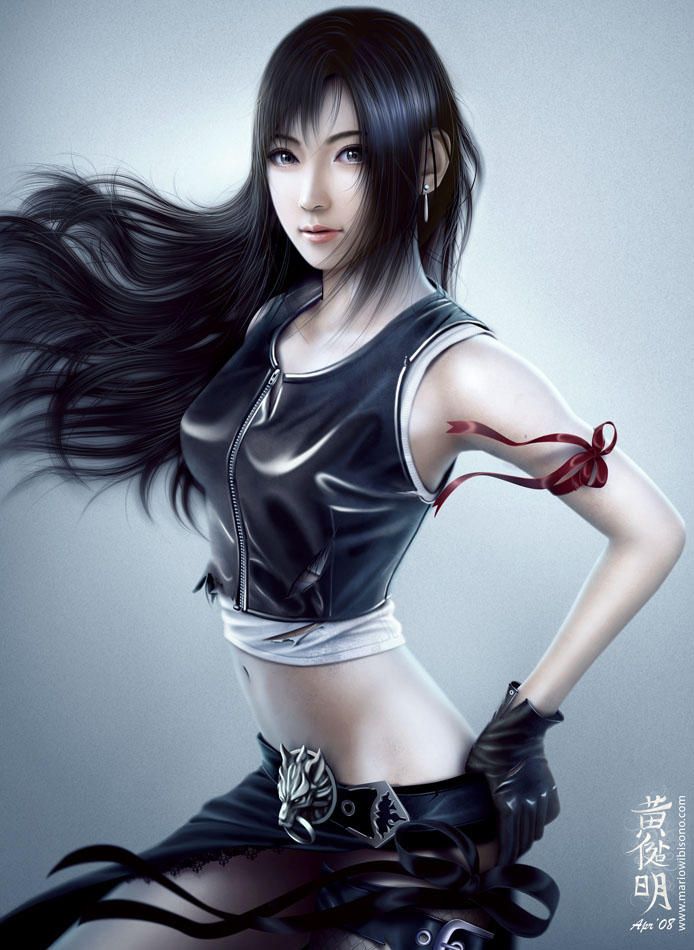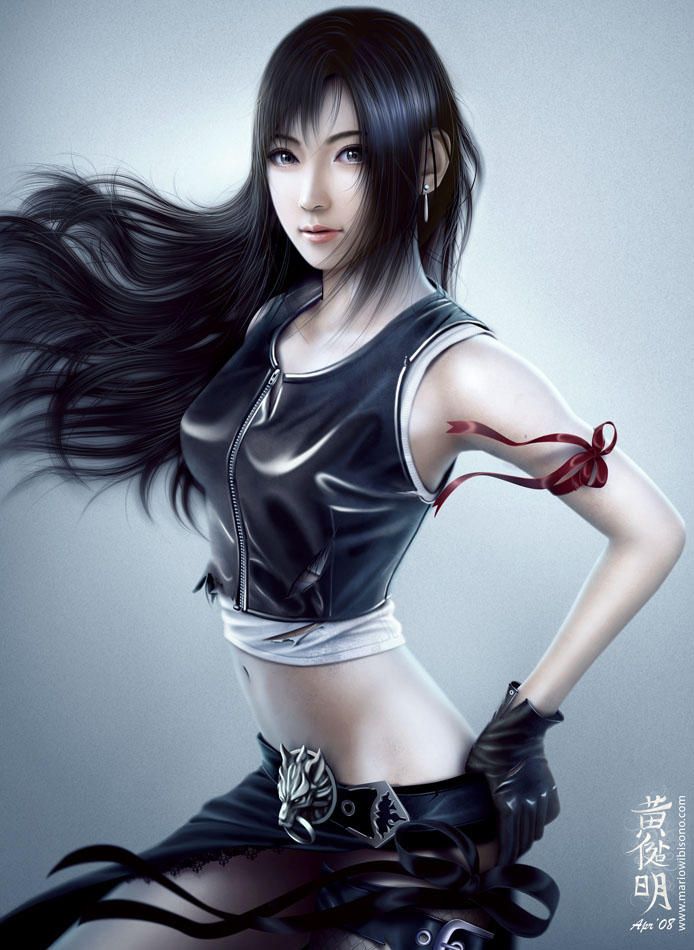 Watch
A custom fan art of Tifa Lockhart from Final Fantasy Advent Children.

--------

Tifa Lockhart & Final Fantasy Advent Children © Square Enix

Art Print can be purchased by sending enquiry to admin@mariowibisono.com or via online shop at www.mariowibisono.com
This is quite beautifully done to be frank! The details and the technique are astounding and done so well it just makes the impact of it so much better! The way she is posing almost makes it seem as if she is actually moving or that she just turned around in a startled motion. It is really quite brilliant how you chose to make her hair look as if it is flapping due to the fact that she turned around to face something or someone. The way you added a shine to some of the black suggests that she might be in some kind of lighting fixture. It is all so very realistic and amazingly well done. The only thing it lacks in some part is facial expression and perhaps that there is no background to speak of where she is. I do like how you added your own original spin in her outfit at the bottom. The belt is really very striking and different from her original outfit in Advent Children and it adds a bit of spice to the impact and originality factor. Over all this was very well done and brilliant!
The Artist thought this was FAIR
50 out of 52 deviants thought this was fair.
My favorite part about this piece is the detail in the texture--the leather vest, the ribbon, the metal buckle, and her hair are all given incredible care and for me, that really makes this, down to the tears in her shirt and vest. Another thing I love is the simple background--it compliments the piece beautifully without detracting from Tifa herself. I really like what you've done with her skirt ensemble--it keeps some of what we know from her AC clothes with the gloves and vest, but the skirt is beautifully original. I also love what you've done with the shading: while not a stark contrast, it emphasizes the highlights in skin and clothing very nicely and subtly.

One of the very best! It seems that no matter how often I look at it, I always find something new that I hadn't noticed before. Very well done!
The Artist thought this was FAIR
22 out of 24 deviants thought this was fair.