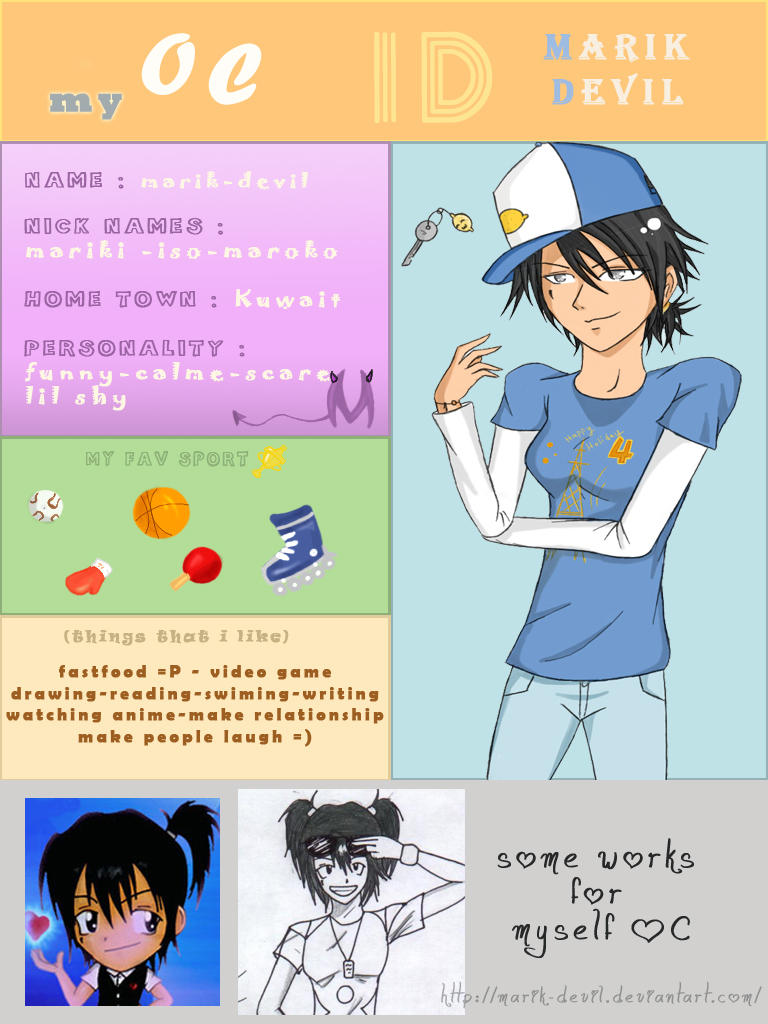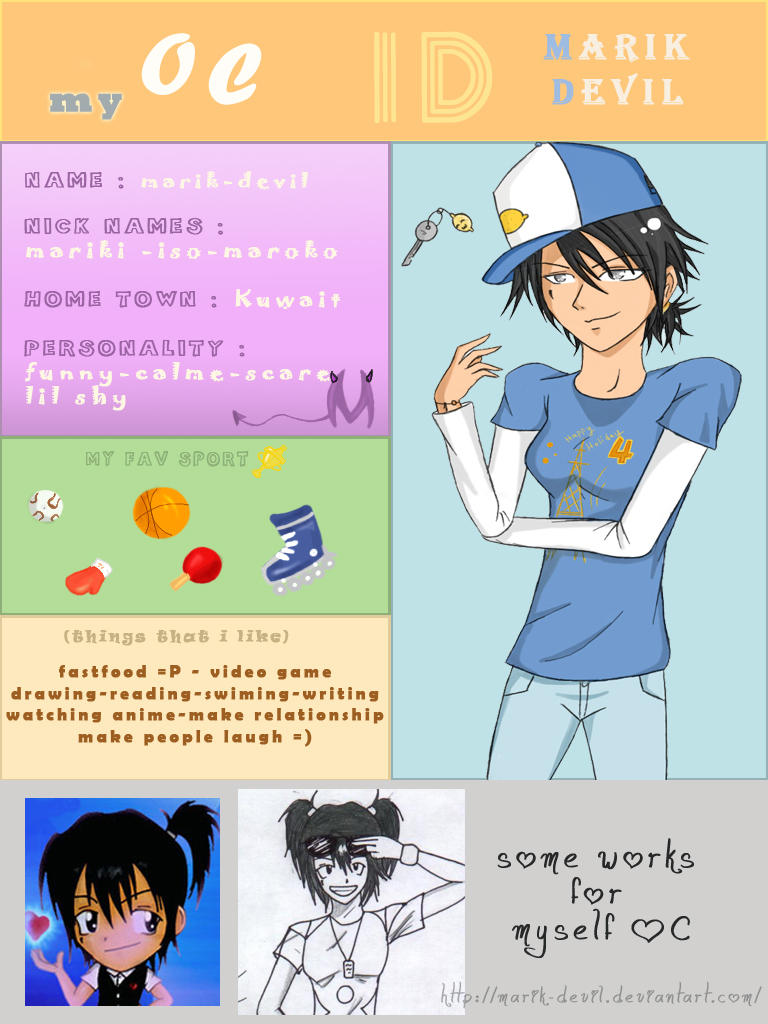 Watch
just a new ID

;-P
Credits: None
Fandom: None
Extras: my self oc in many style
[link]
Contests?: Free License
(GENERAL)
Name: marik-devil
N-name: mariki-iso
Nationality: Kuwaitian
Handedness: right
Gender: Female
Blood Type: O
Age: 17
Birthday: April 14th
Zodiac: aries
Weight: 56
Eyes: gray ( the lift eye become blue when the zombie power born XD)
Hair: black
Distinguishing Marks: little scar under the lift eye
Description: always wear skinny jeans-talk by the eye-dont talk very much- dont commenting on silly things-must of the time wearing hand band- tie hair up (hoarsetail)-must T-shirt that i wear gray with lemone logo on it-wearing scarfs in winter - dont wear watch - like to wear siple and sporty clothes.
PERSONALITY:
the mood changing fastly-dont easy to forget the badest moment and best moment-funny-lil shy-calme-friendly-fast to get angry-peaceful-always smile

-easy to lose my mind when getting angry.
(FavoriteS)
Favorite Colors: gray-blue-light green-purple-yellow
Favorite Scents: vanilla-nature
Favorite Foods: sea food-national food-italian
favorite sport: boxing-football-basketball-skating-table tennis.
favorite music: rock-k-pop-rap-hiphop
LOve : (zombies-vampire-novels-writing-swimming-dong sport-video game- dark-anime and manga-horror-friends and love relanship-beache-nature-make new friend-drawing)
HaTe : (study-noise-phisice-maths-being respansiple)
Ability: (study the character from seaing his eye )
(have the ability to talk with zombies and other strange (aliens-ghost).
super ability : become a zombie when the temperature of angry get high dosnt matter of it in the night or morning.
(FAMILY & Friends)
Friends: Mimi - Emotti
Pets: hamestere
best friend from zombies : Zopeet
"stories and events "
(how did i become a zombie?)
- in junior year in high school when we was at chemistry lab
a girl push me forword the table and some chemical fluid fall from the table and entire my mouth,i didnt feel anything until the second week from that moment.when my skin color change,also when i kill a cat untile i lost my mind and remove her brain from her head, and when i bite my sister strongly when she made me nerves. =3
(how i met zopeet)
when i was under control of zombie power i walk to zombie land idk where it is becouse i dont feel my self when i become a zombie so he notice that im half zombie and half humen so he is a peacfull zombie try to take me away from this way and made me a normal girl.