______________________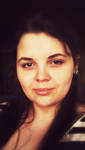 _________________________
En.
Classica Vipereus Draco
Description of dragon below:
Draco Classica Vipereus
War lizard dragon
She had grown enough, is tall about 16 meters from the ground to the head when standing on fours - she is no crumb. As she was born to fight it is one of the sturdier and heavier dragons. You can find some of small amount scars at different scales and plates on her body.
Head resembles Velociraptor and T-Rex. There are 3 pairs of horns placed around back of it. Normal eye without visible white is chocolate brown with black pupil. Teeth long and sharp, not overlaping. Tongue is longer and snake-like.
Flexible neck, body and legs are lion- or tiger-like but bulkier. Tail of lenght equal to the body lenght is ended by alien-like black spike.
Wings are proportional to body with color of black in background becoming into chestnut brown from half of surface with black markings to the edges.
Front foots are 5 fingers, like a human arm, rear foots are 4th fingered.
From the elbows and heels is growing one small horns. On each leg are another 3 horns growing from the outer side and heading slightly back.
Skin is made of different sized scales with enormous ability to absorb strokes. Belly is protected by tough large scale plates.
From the front of to the end of the tail has a black mane which is protected on sides by two rows of spines.
Color of body and head is iridescent brown with a hint of ocher. Color limbs from the elbow to the fingers pass from iridescent brown to dark brown chocolate.
The lower areas of the body including scales are darker brown than the rest of the body.
Over the body are brownish-black markings which are presented on wings too.
All horns and spikes are ocher-golden colored.
Dr. cl. vipereus is capable of Fire spewing and spitting, throwing fireballs. Even it uses echolocation. They are unproof evidences of reading minds.
________________________________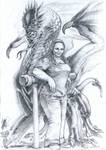 __________________________________