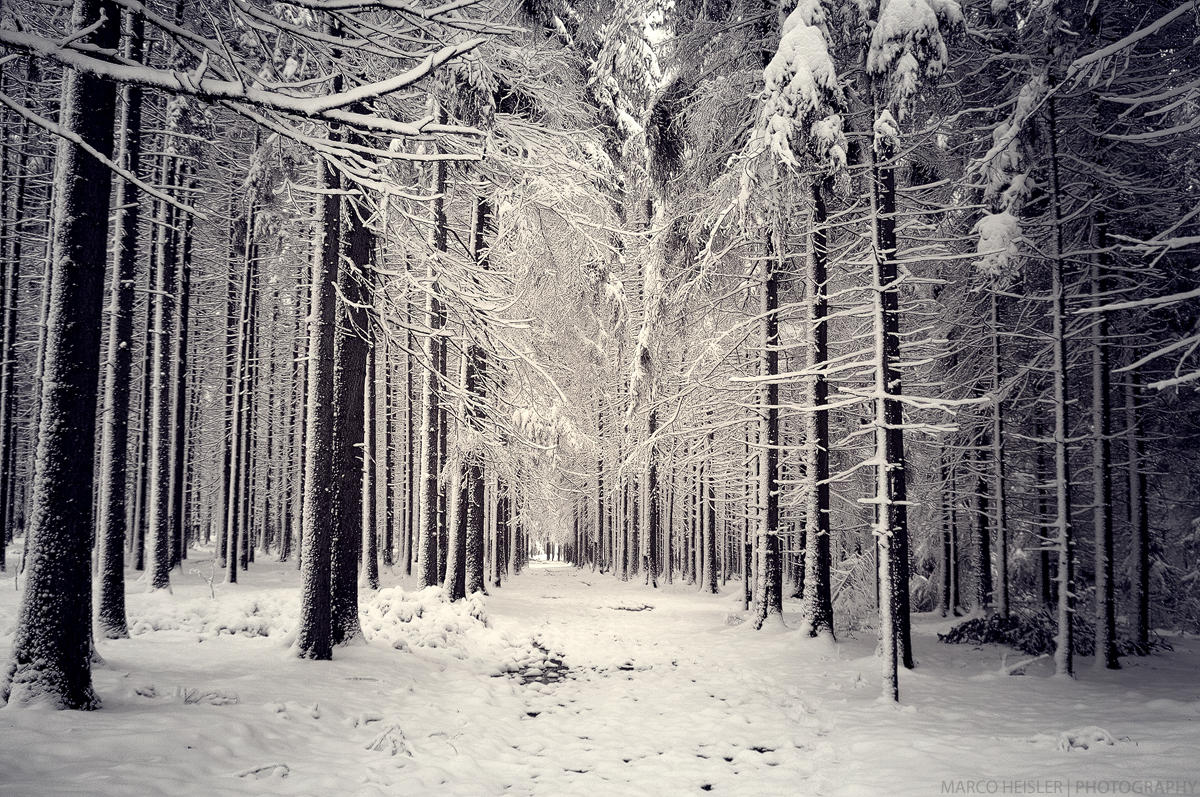 Watch
Shot this recently, when we had really much snow and wind.


At the moment, there's no snow anymore and we have +8°C

Hope you all have a great start in 2013, I wish you all the best! See you there!



location:
Vogtland, Saxony, Germany

equipment:
camera: Nikon D300
lens: Tamron SP AF 17-50mm 2,8 Di II VC
edits: post processing in Photoshop (saturation, brightness, contrast)

Thank you so much for viewing and all your support.

If you like what you see, please visit:


MY GALLERY



MY FACEBOOK PAGE


MY 500px PAGE



All my work is © Marco Heisler.
Please do not use it without my written permission.

This is a beautiful piece and looks like a beautiful place as well. It is just snow white with brown and hints of green. The pathway is beautiful and desolate at the same time. It's barren, yet serene. The lighting is just perfect, it doesn't come off too hot and provides the right amount of contrast against the tree trunks. The depth and focus is just spot on as there is enough activity in the foreground as there is in the background, it seems like the trees are endless and just lead on a pathway that does not end. It's interesting to note that the trees on the right hand side seem to be covered with more snow, or is it a visual trick? Anyways, beautiful piece and keep up the awesome work!

The Artist thought this was FAIR
3 out of 3 deviants thought this was fair.
I was surprised seeing this amount of snow in your country, since it's so warm in this part of Europe at the moment, but then I saw the date, haha. It's a beautiful photograph of a beautiful season (not my personal favorite, I don't like the cold much, but I do love looking at pictures like this from my warm house, haha). I love the contrast of the black and white. I always love how shots like these seem to be endless because of the point of view. Beautiful!
I also really love the snow on the left sides on the trees, gives you the knowledge of where the wind was coming from. Sticky snow! Always gives a nice look to the trees

I can't think of anything to improve! I just really like it!
The Artist thought this was FAIR
1 out of 1 deviants thought this was fair.