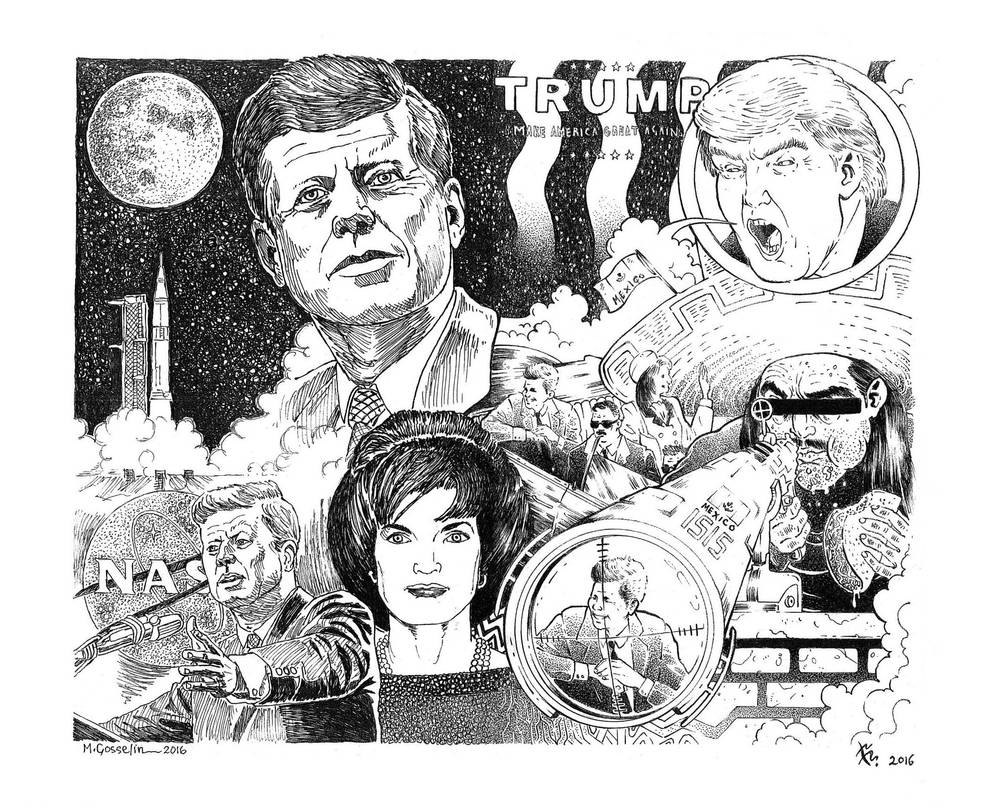 I love the concept here and think the core idea is really great

You sure have a talent for drawing and this is very evident.
I love the fact that your telling a non linear story with no dialogue on one page

A few things that could of just pushed this would be to consider the line weights.
I can see what you are trying to do, but there seems to be a flatness to the whole piece.
If you were to add a thicker line wight to the gun and the JFK in the bottom left hand corner it would make the gun pop a little more.
This could also be improved by changing the main pic of Jackie and the motorcade classic image.
As I said it looks really good and I can see the idea your going for, I would personally just add some extra line weights. After considering which element of the piece you want the viewer to see first.
You as an artist can guide the viewer around the page in a very subtle way by doing this.
Great idea, excellent draught skills, would love to see it pushed a little more

The Artist thought this was FAIR
3 out of 3 deviants thought this was fair.

another stupid thing from the blobfishs' mouth
Reply

Such great themes filling up this work. The Mexican ISIS though

Reply

It's following the idea that Trump is blaming everything on the poor Mexicans, we are not comparing them to ISIS at all.
Reply

Great work and collaboration Marc!
Reply

This was hilarious. I love the perfect depiction of Trump's demeanor, and this was a great, nonsensical elaboration of his ridiculousness. The skill on inking is amazing, and the creative imagery and placement of everything is fantastic. I love the content and I can appreciate the artistic value you two did. Great job for both of you!
Reply

Wow!!A fabulous,imaginative collaboration..and such fantastic drawing.They do make an amazing concept together.It's certainly got a topical connection .I wish I was there....I wonder exactly what is being said...Something unimaginable I should think from the look on his face!!
Reply

I guess he's blaming the Mexican culture for the assassination, more crazy redirect.
Reply

Reply

I think the whole world is hoping the American people do the right thing and vote for the other crook.
Reply

Good news !!!!!Things seem better!!!......but are they??????
Reply

Hilary has now been cleared of all wrong doing by the FBI, so let's hope that's enough.
Reply

Reply