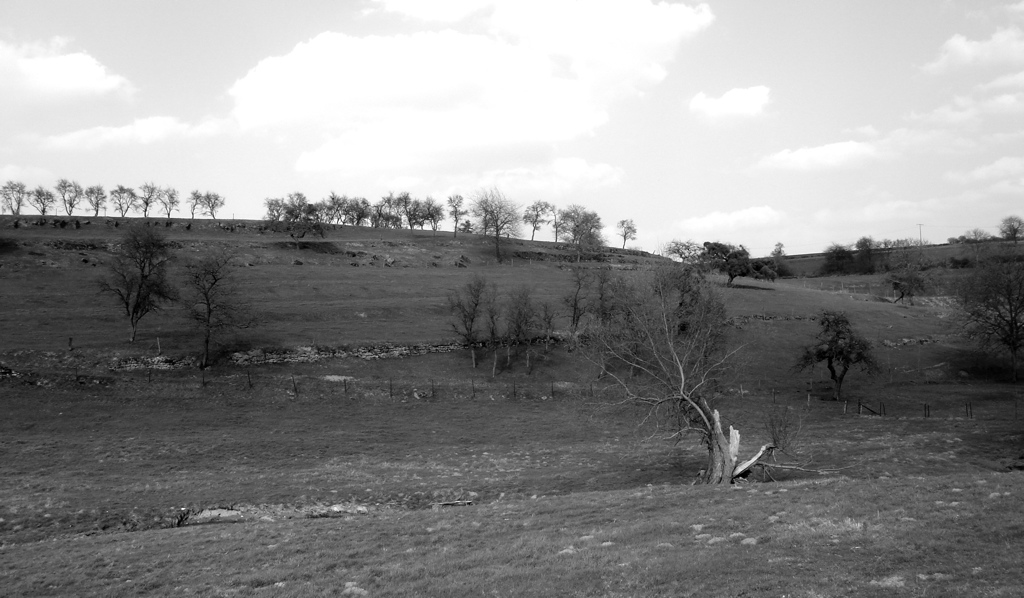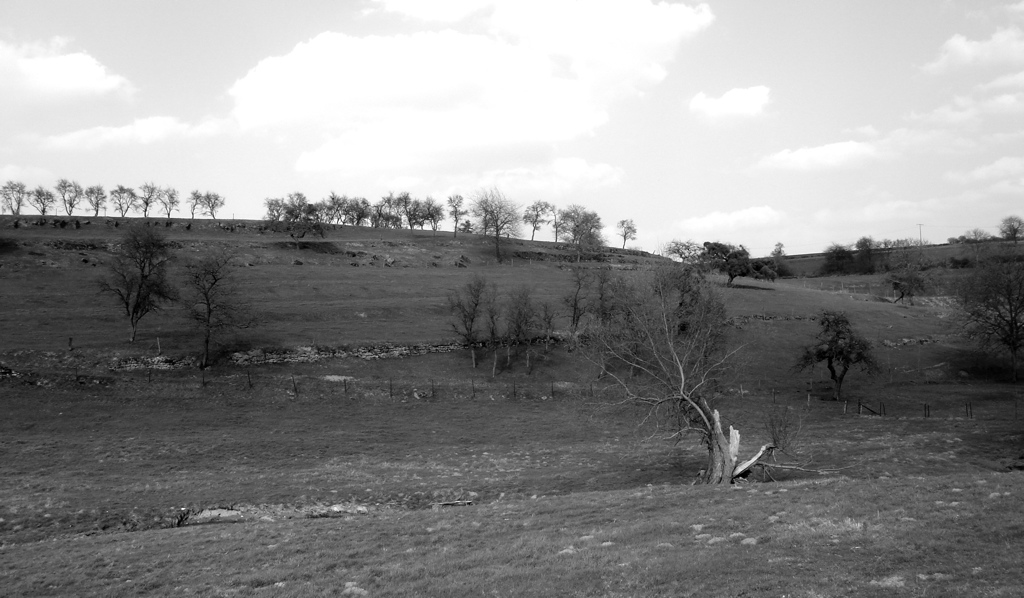 Watch
You may slay me for this picture if you want to. I mean, it's - wait - it might not be as good as the others I have taken. (Note that this is a relative statement - and that it does by there not imply that the other ones are worth anything).

The landscapes of different rural areas is something that I really do enjoy. I try to share my passion with those of you who do like them as well; and I try to get the people who to this date do not like them to do so. Big project, isn't it?

I agree with the other comments so far. Hmmm... Have you tried colour with a yellow filter? Spring is sort of hard to capture, what with no vibrant patches of colour, and black & white is sort of cheating

Reply

I don't like the word "cheating" in this particular context, but again, I believe to get your point. Yet I feel that there is a necessity to do so - I mean, swap the full color to black and white only.
Have a look at my latest
deviantart blog entry
if you want. It may shine a little bit of light on my decision.
Reply

It's hard to capture winter scenes. The camera's automatics always look for neutral grey when determining the exposure and you have to manually step it up a stop or two to get the right colours. Can't fake it later all that well in Photoshop

It's hard to capture early spring, because everything is dull grey, dull brown, and occasionally dull green. Since there are no leaves on the trees, then you get a jumble of branches that's hard to capture when you don't (ab)use the aperture setting and step that up a lot.
But if you just turn it into black&white, then you avoid the colour issue altogether. Instead of showing all the dull colours or finding the good-looking patches, you can shoot anywhere, just turn off the colours and that's it. IMO, that's slightly cheating

Yes, it looks good, but, well, show me your skills! Turn dull early spring into a joyful experience!

It's rather hard to do with most digital cameras, though.
By the way, instead of converting to grayscale, try just stepping down saturation in all channels. I feel it gives a sort of an "eery" look to the picture.
Reply

Yes, it is hard to capture winter scenes on almost all compact camera. And it is virtually impossible to correct it in Photoshop. I am all with you there. DSLRs make that possible though by giving you the opportunity to shoot in RAW, so that you can change the white balance of the picture afterwards, which helps quite a bit.
Every season has gotten it's specific techniques if you want to capture it. Be it Winter, Spring, Summer or Fall.
And yes, you may call it cheating. But once again, I am not after colors, nor am I trying to force people to like my pictures. Sure, I appreciate and actually love it if I get positive feedback, but that doesn't imply that I'll have to do this or that just to please them. Mind you though, I perfectly get your point. Most of the time I like the pictures better in black and white as well. Which is why I convert them to grayscale. But - hm...
I'll try to show you my skills. Once I finally got myself a DSLR. I'll definitely try. Until that date however, you'll have to take what comes.

You know, I am not able to speak to you, and discuss with you quite a lot these last weeks. I sincerely miss that. Perhaps I'll try to explain it all on IRC or wherever. Comment boxes just aren't useful in that regard.
See you, one day or another.
Bob
Reply

I like this one. It is very surreal, I mean, I guess it's the cloud shadows, but the lighting looks false, and the relative perfectness of the composition and it's juxtaposition of trees, the only thing I could relate it too is a stage, it almost seems as if you set this up yourself. Very cool and wonderful capture!
Reply

huh, that one's funny... the lighting gives it a somehow surreal touch, not that easy to comprehend the acctual circumstances of the light for the grass is lighter in the foreground... :/
Reply

Heh, true.

It definitely has something which might be understood as surreal. The shadows thrown by the trees, the walls and stones definitely helps in that regard.

@ not that easy to comprehend the acctual circumstances of the light: That's basically what I meant when I said that it may not be as good as the other pictures I have taken. After all, the beauty of a picture should be felt more or less instantaneous, right? (At least in the majority of the pictures taken)
Reply

well that's the funny thing i've talked about, it didn't please me instantaneously but it i found it interesting, that's a diffrent aspect of a good picture, even ugly things can be a great motive (which does not mean now that your pic is ugly of course

)
Reply

A very peaceful scene!! Beautful!
Reply

Thank you again. Even though I have problems to understand what exactly you could like on this picture. Would you mind trying to explain yourself to me? Please

Reply

Ahhh, I like the feeling of space and air. Room to move! Where I live there are forests everywhere and you cannot see for distances like this. We go over the mountains every year to visit relatives, and it is much more like this photo, I love it! I also liked how the trees were silhouetted on the top of the hill...

Reply

Ah well

Thank you. I appreciate just as much to hear that the picture is appreciated, then to hear that people like the Luxembourgish landscape(s) or a part of it.

If you are ever to pop over to "good ol' Europe" and plan to visit Luxembourg, be sure to sent me a note. I'd be glad to show you and your companions, if any, around.
Reply

Oooohhh, I would love that!! I so want to visit Europe, the only problem is that I won't want to leave!!!

Reply

How come? I some kind of got the urge to see the world. Moving, traveling, whatever.

All those cultures, all that wisdom, all that kindness and intellect to be shared. It's just there, waiting to be grabbed and memorized.

Than again, I may be far from normal in that regard. I can't tell.
Reply

That's exactly!! I so want to travel all over Europe, and there are so many cultures to absorb I would want to stay. Of course the Orient would be fascinating also... and then there are the Islands... I guess I'd better get busy, no?

Reply