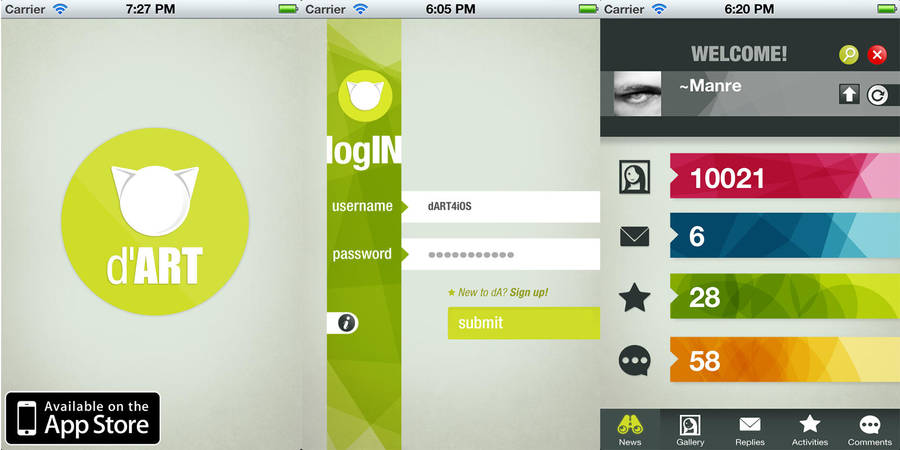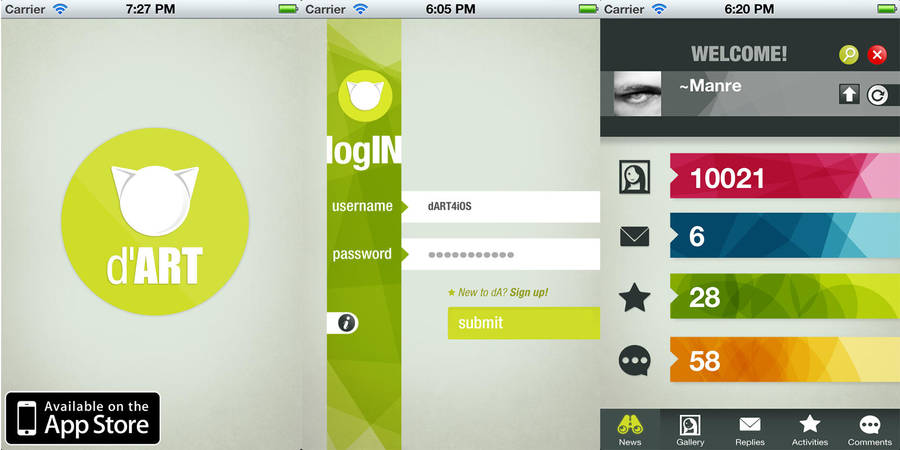 Watch
[IMPORTANT NEWS] 10.02.13

d'ART for iOS is no longer available

... due to recent changes made by deviantART on its website the app is no longer working.

I will start working hard to fix it!

Wait for dART for iOS 2.0 soon!



----------------------------------------------------------------------------------------

Weeelllll here it is, my first iOS App

!! :: d'ART for iOS
It started as a personal project because honestly I was tired of the Web Interface hahah, and here it is !
just for $0.99

,
[link]
With d'ART you will be able to:
- Upload your artwork!
[New Feature!!]
- Tap to see more information
[New Feature!!]
- Create accounts if you are new to dA
- Autologin capability
- Search Ability
- View, remove, save and mail elements from your inbox.
- Check your comments and reply them

!.
- Check your activities (devWatches, Favourites, etc)
You can follow my work on :
- Webpage ::
[link]
- Twitter Account ::
[link]
- Facebook Account ::
[link]
- Google+ Account ::
[link]
I will be forever grateful if you can give me some feedback about the app, new features, crashes, everything

Thank you sooo much

!

u are famous

Reply

Reply

Muchas gracias Patricia!

me alegro mucho que te haya gustado

si tienes algún comentario, duda o algo jaja me puedes decir por acá por dA o por Twitter o FB jajaja o donde quieras

.
Que tengas un excelente día

Reply

This is awesome!
There should be an iPad dA app, just like this one!

That'd be even awesomer. :'D

Excellent job!
Reply

I'm on it I'm on it! hahah

Reply

Awesome dude !!!!!!! ANDROID will great too !!!
Reply

Thank you so much for your comment Gabriel, I'm going to create the Android version but first I want to finish the iPhone/iPod one, it will be easier for me because I'll be able to reutilize code

.
Have a great day

Reply

Reply

En esas estoy xDD solo necesito un poco de tiempo, primero quiero dejar lo más estable posible la versión para iOS

Gracias por el comment men

Reply

I actually really like this. I love how you've designed the login page, and the colors you've used are really popping. ;D Nice.
Reply

Reply

Reply