Welcome to my profile!
---
Hi! I'm Yenthamí, but you can call me Yen. I study in the Manolo Blahnik Arts School.
For those people who think I only understand spanish or English or asdhdaf(?), I Speak Spanish and English , I've been studying English and French since I was in the primary school, but I can speak/understand italian too.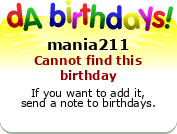 ♠ ---------------------------------------------------------- ♠

CAT

COW

GOAT







TOCAYAS Ami/Ami




UTA-DUET
A-ADUO/BUNNY-GOAT


---
●Age: 16 :3
●I'm a: student
●Height: 1.66 cm
●Hair: long , brown
●Eyes: light Brown
●I speak:canarian spanish ,english, french and little Italian
●Operative system: Windows8.1
●Favourite games: Warcraft III,World of warcraft,MAGICKA and Borderlands1/2/presequel
I'm