Josh © me.
If this looks familiar, it's because it's a redraw of an old piece from 2008: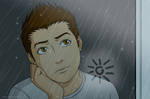 I've been trying to get away from Photoshop in favour of a vector program called Affinity Designer, but the learning curve has been steep. Until last weekend, that is, when something suddenly clicked! My partner suggested I redraw an old piece, to see if I could use the same process in Designer as I've been doing in Photoshop for years, and I picked "The Great British Weather" because of all the rain we got in the UK after a few days of intense heat. I did reuse the window/rain layers, but only to speed things up.
I love Affinity Designer, and I'm looking forward to recreating a few more pieces before I try to create something entirely new with it.
Please click on "Download Image" for full view!!
Image details
Image size
2048x1365px 1.15 MB