EDIT: END DATE EXTENDED TO JULY 10TH (I'm not going to be available on the 30th lol)
Hey y'all! I have some points that have been sitting there for a while now and I decided to get rid of them. What better way to do so than a contest!
1st Place:
403 points, waist up drawing with small bg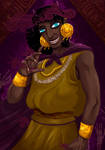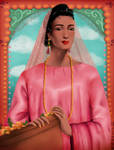 2nd Place:
Waist-up drawing, simple bg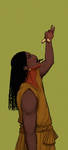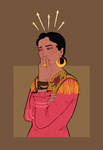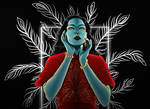 3rd Place:
B&W portrait drawing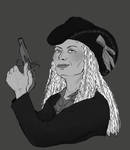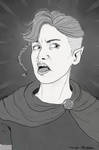 Here is what you have to do!
Design a deity and create a mythology around them. So its a drawing and the writing will be in the description. Remember to be original, there is no formula to follow here! You also don't have to make everything super detailed for the written portion, just give me an overview. If you want to go all out by all means, do so!
I will be judging them based on originality and creativity of the art and writing.
Examples of what you can do with the written portion:
(I am not expecting anything too complicated, there is no reason to connect it to a
made-up
culture (unless it is smth related to an original universe you have already created), these examples are from already existing deities). These are not the only ways to do it, I don't want to put to much writing:
You can make it like this:
Juracán, the is a Goddess of chaos, disorder, hurricanes and other evil weather. The reason she is the Goddess of chaos as well is that her whole thing was disturbing the balance. She would cause hurricanes and strong winds by swirling her arms around very fast. She would also threaten other deities in order to get them to participate in the chaos. She always tries to destroy the mountains that served as a barrier from her evil weather but never succeeds.
When people first emerged into this Fourth World, they asked Maasaw (the Earth Guardian) if they could live here. Maasaw offered a bag of seeds, a water gourd, and a planting stick, and explained that the people's way in the Fourth World would be hard, but that his way would provide a long and good life. Maasaw, also known as Skeleton Man, and as Lord of the Dead, teaches the people to live a simple and self-sufficient life. He was known to offer a bag of seeds, a gourd of water, a digging stick and a cloak, demonstrating virtue through hard work and cultivation of the land. If people dedicated life to their agricultural duties and respect for nature, Maasaw promised to watch over them and ensure a smooth passage into the afterlife. The result is a strong tradition of ethics, with an emphasis on generosity and humility. As the Death Katsina, Maasaw can be scary and intimidating, but a force of good for all well-behaved people. This is because he tells them to not see death as the end of life but as a necessary part of its cyclical nature. Death is required for survival, just as hunters rely on it to feed themselves and others. Death must be accompanied by respect to ensure that the animal spirits remain within the cycle of rebirth. In sickness and war, Maasaw is also called upon as the Katsina responsible for the passage to and from the Fourth World.
Rules:
Its ok to take references from already existing mythologies and deities, however, if you are just copying from somewhere know that you will definitely not win. Originality and creativity, remember.
Only one entry per person.
Submissions!