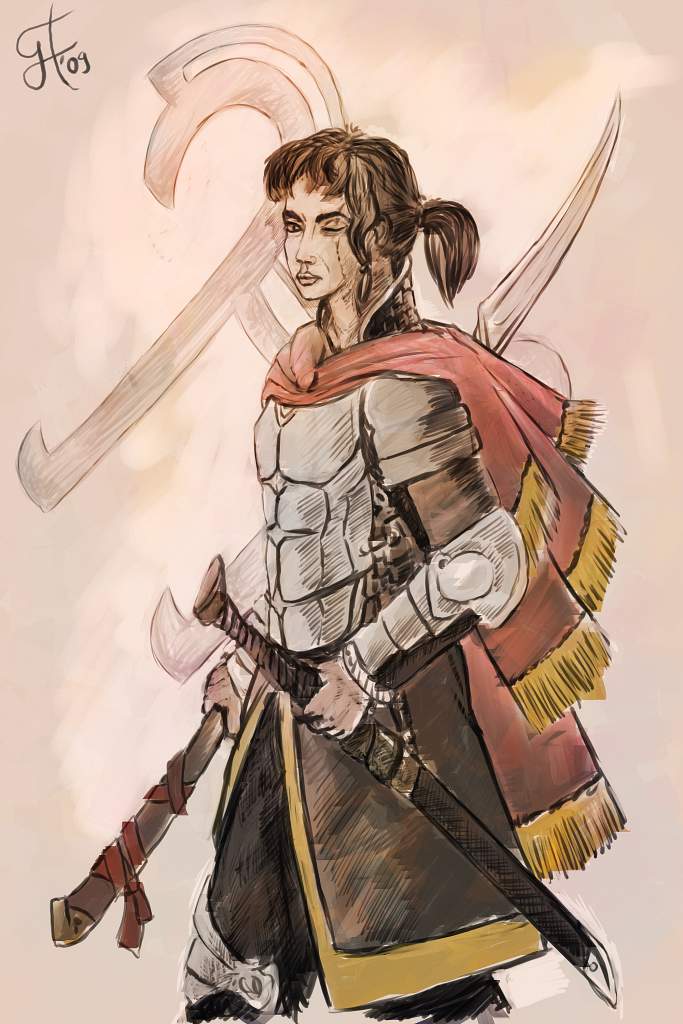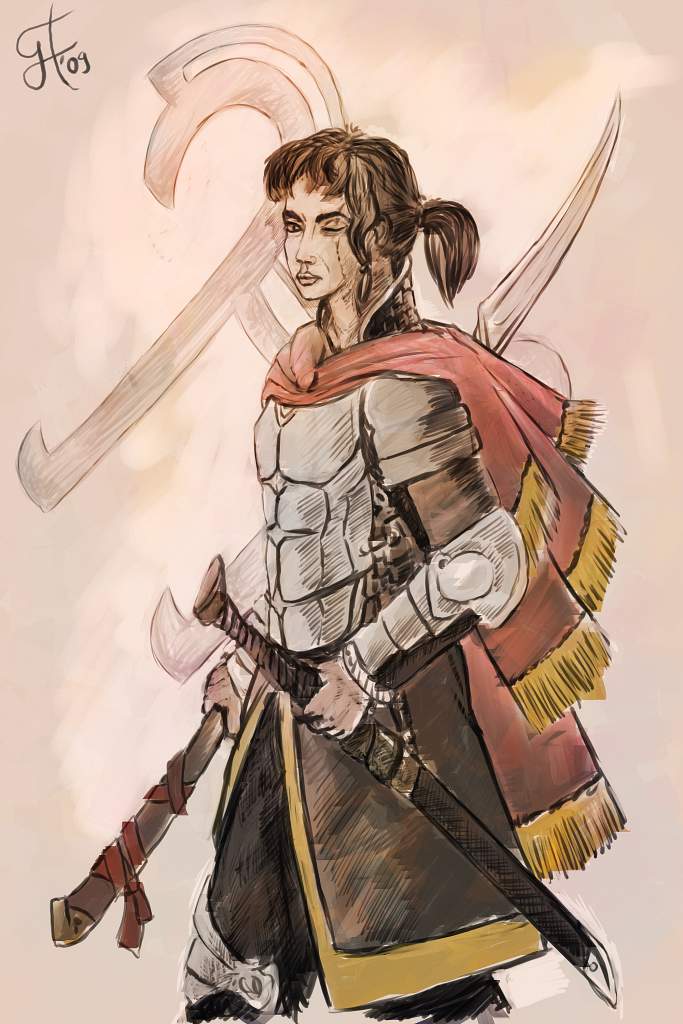 Watch
Another character sketch for my upstart fantasy world.

This time a household guard of the House of Beren. Their Glyph is the horse. Allied to the House of Kýfe the House of Beren has suffered greatly by the hands of the House of Thális in the quarrels of the Nine sisters and has diminished greatly in power. As one could expect they are great horsemen and probably the only ones that can compete with the House of Thalis and its nomad allies on the plains.

I currently have a kind of thing for presenting more seasoned warriors who evidently have seen some nasty stuff in their life. Hence the scar and blinded eye. She wields a Warscythe - kinda reverse naginata - which can serve as nasty weapon on horseback or be wielded like a Bardiche in close combat. For more personal protection she wields the Peckas, a one eded shortsword.

On the art: I try to feasle my way to a more economic, but interesting way of drawing by mixing lineart with simpler coloring scheme (compared to my realistic pieces). Still have to work on my linework though.

Hey, finally came around to check to Deviantart again and am glad that you like it and I like your group's objectives. I like more of a "realistic" fantasy setting for my characters (men or women) myself so I wholeheartedly support your agenda.
I also have this one laying around which might also fit the theme so the setting is more of a hunting/swamp one
[link]
Reply

I love it! [the art in the link provided]

I am a strong fan of realism, though I am completely aware of
why
unrealistic depictions of warrior women are present (1) Sex Sells and (2) Sexism sells. It is pretty much a fusion of the two.
I just wanted to add some balance to the disproportionate ratio of groups that cater to the sexualized/sexy warrior women and groups that aimed to please an audience that were looking for art that strayed away from the "bikini armor," cliche.
Reply

Sure, the marketing reason is simple and I can not complain about that but for me the interesting thing about the fantasy genre is always the unique characters and stories, Which is difficult enough giving the loads of stereotyping in fantasy stories.

Anyway, have luck with your group. Maybe I can cook some new art stuff up in the near future.
Reply