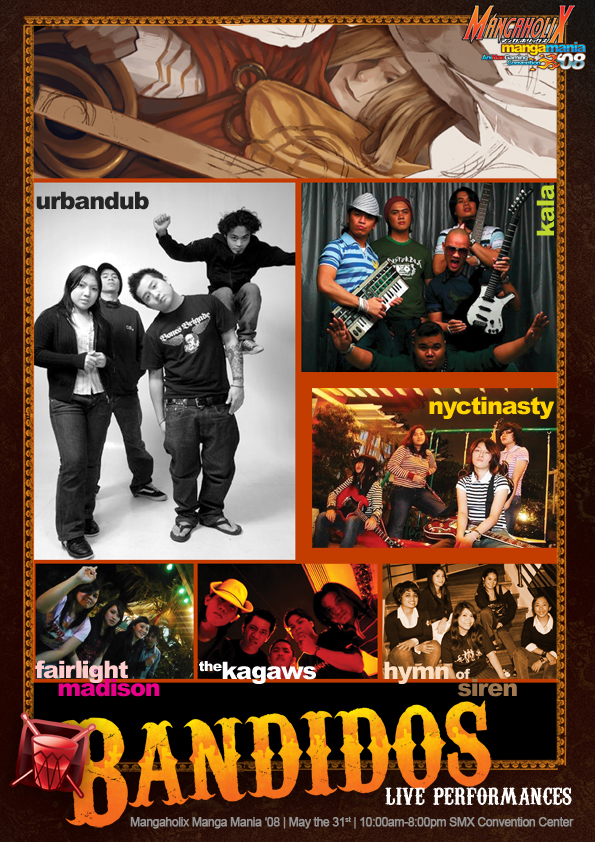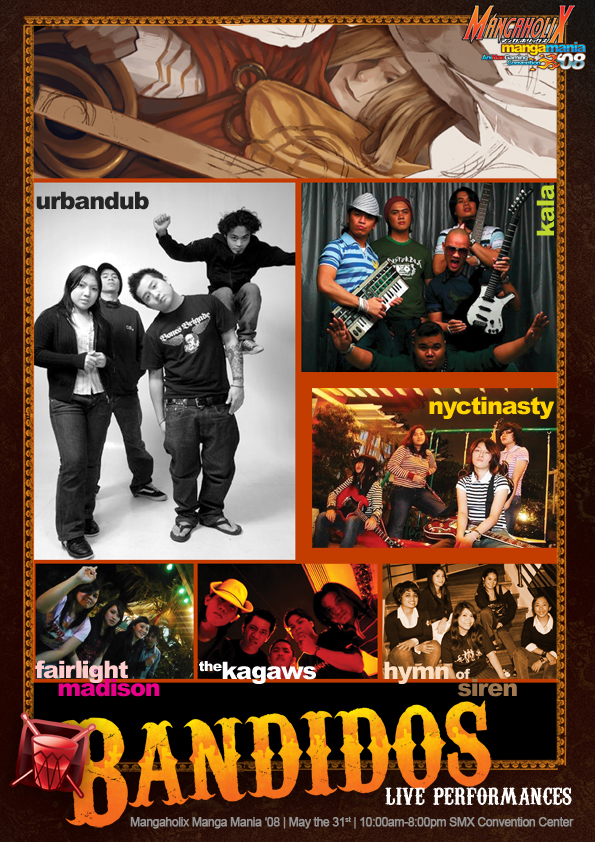 Watch
Catch their Live Band Performances at Mangaholix Manga Mania '08 on May 31st at SMX Convention Center, Mall of Asia!
Urbandub
The Sound Of The Giant South is gaining more recognition around the nation like never before. At the forefront of the whole movement is a band that has a record that surpasses most bands than that of the bands that have come out of the Queen City of Cebu. They are none other than Urbandub.
From the very first day that this band was formed (in the year 2000), they were destined to be something more than the ordinary. Forced to be independent due to the lack of support coming from major record companies, Urbandub released their debut album called BIRTH. Off of this album, the hit tracks "Come", "Give" and "Would You Go" launched and took their world by storm. Unique, timely and yet experimental, it was something that entertainment scenes around the Philippines needed: a kick start into the future of original music.
With the release of their sophomore effort, INFLUENCE (Lighter Records), Urbandub took on a new form, changing their sound with a new drummer (From Jed Honrado to Jerros Dolino). It was the sound in this album that clearly defined the steps that Urbandub would start to take. The track "Soul Searching" later won the award as Song of the Year in the NU107 Rock Awards 2003. Pushing the sound further, the collection bagged the Album Of The Year Award in the NU107 Rock Awards 2004.
Today, Urbandub now offers yet a third helping of what they are capable of. With the 2005 release of the album EMBRACE, Urbandub has proven that there is hope for the struggling artist. With help from their community and the noise they have created, they were able to grab the attention of EMI Music Philippines. Not one to take chances, the band has kept Lighter Records as their management arm and guide. In line with their ideals, EMI allowed them the creative freedom to record their album on their home soil of Cebu. Added to that, they have been able to maintain their independent principles while taking major steps into the scene that has awaited their new sound.
Nyctinasty
NYCTINASTY is composed of 4 very talented girls who have dreams of sharing their common passion, Music. They get the listener's attention by their technical melodic riffs and head-twisting drum licks. Their songs were scaffolded by fusing their knowledge from different roots and influences to produce a variety of mind-blowing songs. So what is difference of Nyctinasty from all the all-girl bands out there? Well... feel free to be the judge.
The Kagaws
The Kagaws is a 5-piece band hailing from the "dirty" south whose major influences range from alternative, rock, blues and pop. The band is currently working on their materials as they are planning to release their first EP.
Their name actually came from a silly inside joke while they were trying to come up with something with local flavor & a bit of style and one of them was brave and dumb enough to suggest some stupid names you've never heard in your entire life. Unfortunately for him, majority of the band agreed to settle on this one.
Kala
The success of their first single and Number 1 hit, JEEPNEY has introduced the resurgence of a sound that is distinctively Pinoy Manila Sound.
They followed it up with the current chart topping single, Manila High. Their second single carries the title of their debut album released under SONYBMG Music Entertainment. Manila High's current success proves to show that Pinoys (not just people from Manila) have been yearning for a fresh new positive sound that they can relate to.
Hymn of Siren
Hymn of Siren is a female band that defies all genres. These girls are influence by all kinds of music: classical, prog rock, pop, indie, hiphop, and yes, even emo. Their passionate performance transfixes and amazes.
Fairlight Madison
FAIRLIGHT MADISON is made up of three girls from the now defunct girl-band shades of ivory. With Migo and Lystra on guitar and vocals, dazzle on bass and the addition of Jei on drums, they are set to bring their blend of influences into the songs they play, creating a band that is still very much confused over what genre they should fall under. Then again, genre is over-rated and results in creating a musical divide, clearly not evident in their brand of rock. They play whatever they want to play.
Art by:
Layout by:

OMG!!!!!!! URBANDUB IS PLAYING!!!! I'M TOTALLY GOING!!!!

Reply

waaa DUB!!!
T_T'
waaa KALA!!!
"KAPIT NA UNTI NA LANG FIRST OF SUMMER NA!!!"
T_T'
waaa...
me wanna watch na...

nga pla...
meron po bang slots para sa ibang bands?..
lets say bando ko po gusto 2g2g ped po ba?..
Reply

Band line up is already full. We also have other bands who want to play but we couldn't fit them in the schedule. Thanks for showing interest. Sorry.
Reply

waaa...
typo...
T_T'
Banda po not bando T_T'
Reply

wow! you used my art XD ahahahaha akala ko wala nang kwenta yan XD
Reply

I friggin love udub!!!!!!!!!!!!!!!
Reply

whoa! Udub will play on Holix!! Double cool!

Pupunta na talaga ako!!
Reply

Hey Mister, You Forgot The Newly Released Album Of The Urbandub Just Last December 2007, It's called UNDER SOUTHERN LIGHTS. Thee Got Their New Singes In It, GUILLOTINE and EVIDENCE.

just an info.
Reply